An all-purpose electric car for Africa
Custom-designed for Africa, specifically for rural passenger and cargo transportation, the aCar will be presented as a prototype to the public at the International Motor Show (IAA) in Frankfurt, from September 12 to 15.
Scientists at the Technical University of Munich (TUM) and partners have been working intensively towards this goal for four years. The objective was to conceive a vehicle that precisely meets the requirements of the rural population in sub-Saharan countries.
"The aCar is an affordable off-road vehicle that is capable of transporting heavy loads. The modular structure also allows other uses such as a water treatment station, or a physician's office," explains Markus Lienkamp, head of the TUM Chair of Automotive Technology.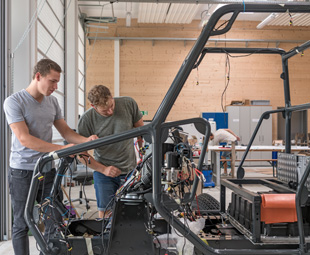 The vehicle is intended primarily for transporting passengers and cargo, with a total load capacity of one tonne. The 3,7-m long, 1,5-m wide and 2,1-m high vehicle has a tare weight of 800 kg and seats two. The top speed is 60 km/h.
Four-wheel drive and an electric powertrain are the basis for the driveline. The 20 kWh battery capacity gives the vehicle an electric range of 80 kilometers. It can be charged from an ordinary 220-volt household wall socket within seven hours.
The battery offers a variety of other possible applications, for example as an energy source, or as a drive for high-consumption applications such as winching.
Solar modules mounted on the roof of the aCar gather energy throughout the day. Optional solar collector sheets can be unrolled to significantly increase the amount of solar energy produced for self-contained battery charging.
The scientists produced the first prototype in May 2016 and conducted initial tests in Germany. It was then shipped to Ghana, where it was tested under local conditions in July 2017.
"It spent six weeks in a container on its way there. We unloaded it, switched it on and it functioned perfectly until the last day of testing," says Sascha Koberstaedt from the Chair of Automotive Technology. Locals were also asked to drive the car and were thrilled by what they called the "solar car".
The impact of higher temperatures and air humidity on the electric systems were also tested. "We can already say that the aCar fulfills all the necessary requirements and has exceeded our expectations," says Koberstaedt.
To make sure the idea of the aCar becomes a reality, the company Evum Motors has been founded. "We'll have to master all the technical procedures before the car can be made in Africa. Then we can train people from Africa who can, in turn, pass on their knowledge there," Koberstaedt concludes.
In order to make the automobile affordable, the price for the basic vehicle in Africa will be kept under €10 000 (R152 531).
Focus on Transport
September 7, 2017
Published by