The concept Mercedes-Benz X-Class, dubbed the first pickup from a premium manufacturer, has created an aura of excitement and anticipation over the last couple of years – now the production version is finally here!
Was it worth the wait and the hype? Well, for starters, it is a pickup, thus it offers the typical minimum traits expected of any laudable pickup; such as robustness, functionality, strength and off-road capabilities.
What sets the X-Class apart from the average, however, is that it also offers exquisite design, comfort, driving dynamics and safety features that we have come to expect from Mercedes-Benz.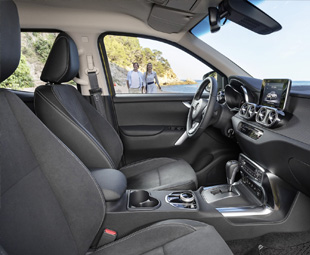 The X-Class pickup boasts characteristics of an SUV, which, says Mercedes-Benz, allows it to suit different lifestyles and work environments ranging from the classic workhorse to the quality feel and comfort demanded by brand-conscious buyers.
The X-Class will offer a V6 diesel with 190 kW/550 Nm as its top-of-the-range engine. This X 350 d variant will be released in mid-2018, making it the most powerful mid-size pickup.
Engine options available at launch include the diesel X 220 d (120 kW/403 Nm), the X 250 d (140 kW/450 Nm), as well as a petrol engine (122 kW) for selected left-hand-drive markets. Payload ratings go up to 1,1 t, while braked towing capacity is set at 3,5 t.
Customers will have the option of giving the vehicle a personal touch through wide range of Mercedes-Benz accessories. These include a styling bar, side bar, canopy, various covers, as well as numerous cargo and off-road solutions.
Comfort has been guaranteed thanks to the wide track and the spring and damping system tuned for the comfort of a typical Mercedes-Benz. The result is excellent off-road and superb on-road performance.
The 4MATIC all-wheel drive system also offers high safety and stability standards, while the Active Brake Assist, Lane Keeping Assist, and Traffic Sign Assist systems add further peace of mind.
Uniquely, the X-Class offers intelligent connectivity, which allows owners to connect to their vehicle via smartphone at all times. They can then call up useful information such as the location of the vehicle or the fuel level.
"The segment for mid-size pickups is ripe for a premium vehicle. With the X-Class we will open up this segment to new customer groups, just as we redefined the off-road segment with the M-Class more than 20 years ago.
"Our pickup convinces as a workhorse, yet also as a family and lifestyle vehicle. In short, the X-Class is the Mercedes among pickups," explains Dieter Zetsche, chairman of the Board of Daimler AG and Head of Mercedes-Benz Cars.
The X-Class will arrive in South African showrooms at the beginning of 2018. Look out for the full launch report that will be published in the September issue of FOCUS.
Focus on Transport
July 18, 2017
Published by