Fuel and cash: big challenges in india
Transport and logistics companies in India are battling delays caused by long queues at petrol stations, the cancelation of various bank notes and a push towards e-commerce. MARISKA MORRIS reports
In India, long queues at petrol stations have become a common phenomenon. Around 350-million people are estimated to visit fuel stations every day. Fuel consumption increased by 10,7 percent to 196-million tonnes in 2016, and this number is estimated to grow by 6,3 percent in 2017, which means 4,4-million barrels of fuel will be consumed daily.
In an attempt to reduce these queues, the government is considering home deliveries. If this initiative is implemented, India will be the first country to have a home delivery system for fuel. Consumers will book fuel online, which will be delivered to their homes by the oil companies. While a similar system is under trial in the United States, it has not yet been legalised.
There have, however, been concerns about safety. For example, dispensing fuel requires a nine-metre safe zone, where mobile phones are not allowed. Home deliveries would make it difficult for companies to abide by these safety regulations. The oil industry has also shown concern about the proper enforcement to ensure the service is delivered by accredited companies.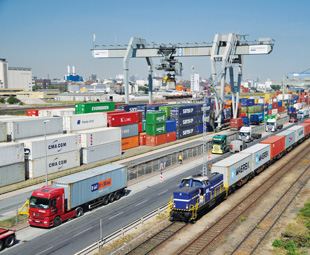 It is unclear whether fuel will be delivered to businesses. This initiative would, however, shorten the delivery time in the country's transport and logistics sector. The transport sector is the largest consumer of fuel in India.
Business World quotes joint secretary of the Ministry of Road Transport, Abhay Damle, who states that trucks and buses make up 2,5 percent of vehicles on India's roads, but consume 65 percent of the fuel utilised in the country. Up to 25 000 rupees (R4 925) is spent by truck drivers on fuel for long-distance trips.
Yet, while the wait for fuel might be shorter, trucks on India's roads are facing other delays caused by a shift to e-commerce and demonetisation – the cancelation of various bank notes.
Late last year, India scrapped the 500- and 1 000-rupee notes in the hope of limiting tax dodgers and counterfeiters. Shortly after the announcement, various businesses, such as petrol stations, refused to accept these notes, which left many trucks stranded. A reported 90 percent of the three-million trucks on India's highways were stuck for up to two days.
An estimated 80 percent of the trucking industry is dependent on cash for various transactions.
"Only 30 percent of the transporters pay by cheque at diesel outlets, while others have to pay in cash," says Ramesh Agarwal, chairman of Agarwal Packers and Movers, as quoted by The Economic Times.
This is not unique to the transport and logistics industry.
PricewaterhouseCoopers estimates that India is one of the most cash-reliant economies in the world with 98 percent of all transactions (68 percent by value) done in cash.
The United Kingdom logistics publication, The Loadstar, quotes Janesh Gulati, CEO of Boxco World Logistics: "The logistics industry in India is dependent on daily cash, as most of the drivers don't have credit or debit cards, nor do villages through which they traverse have banking facilities."
Despite this dependency, there is a large push towards e-commerce. This is especially true for the fuel industry. Oil companies are offering 0,75-percent discount on cashless transactions. Over 72 000 e-wallets have been activated to assist in paying for fuel.
Daily cashless transactions have increased from 150 rupees (R19,71) per day in 2016, to 400 rupees (R78,83) per day. The Times of India quotes Ravi Shinde, president of the Petrol Dealer's Association: "We are surprised by the sudden increase in cashless transactions at the pumps. It shows that demonetisation has prompted citizens to make maximum use of credit or debit cards for payments."
According to the association, in 2016, around 650 to 700 customers preferred cashless payments at fuel pumps. This number has increased to 2 400 customers. Annual transactions at fuel stations are worth up to 25-billion rupees (R4,9 billion).
The government is eager to improve fuel efficiency in the transport and logistics industry, especially as it is set to grow. Truck sales are estimated to increase by 8,9 percent from 80 million in 2012/13 to 2,2 billion in 2024/25.
To improve fuel efficiency and reduce pollution caused by the transport industry, the government has introduced the Roll-On Roll-Off (Ro-Ro) initiative. In March, 30 loaded trucks were transported 85 km on an electrified goods train from Garhi Harsaru station in Gurugram to Muradnagar in Uttar Pradesh.
The Ro-Ro system is also expected to reduce emissions and save money for logistics companies. The Daily News and Analysis notes that truck operators can save on toll taxes, fuel as well as the Environment Compensation Charge, which ranges from 1 400 to
2 600 rupees (R275 to R512).
Although the initiative is still being tested, it might offer the trucking industry in India a solution to the fuel and cash-flow challenges it currently faces.
Focus on Transport
July 17, 2017
Published by