GAVIN MYERS has the JMC Vigus for review again, and comes away pleasantly surprised a year down the line
In November 2014 we published a review on the just-launched JMC Vigus, concluding that in some respects it moved the game on for Chinese bakkies while, on the other hand, it was filled with too many niggles and short on some features expected the price.
Shortly after that review, JMC revised the pricing and now – almost a year later – we've had the opportunity to revisit that exact same vehicle and see if some of the niggles have been ironed out.
Given general factors affecting vehicle prices, the 4×4 SLX 2,4 diesel version today costs R365 990; R14 000 less than its original, unrevised launch price. The price still includes a five-year/60 000 km service plan, three-year/100 000 km warranty and 24-hour roadside assistance.
After a year of use, the high-quality interior looks and feels as good as new. Some issues still need to be addressed, though – such as the fiddly semi-touch-screen entertainment system and the tendency for its screen to be unreadable in sunlight. Nonetheless, not a squeak or rattle can be heard after a year, which bodes well for the JMC's build quality.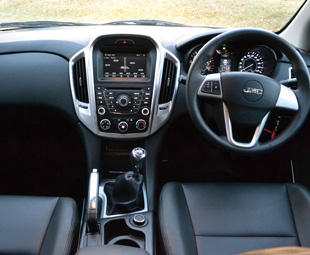 As far as driving the Vigus is concerned, our first review criticised the gearbox for being notchy and having a tendency to "lose" the gate, with one unable to move the gear lever over to select first gear. It seems that some miles have worked this issue out of the system, with the five-speed gearbox as easy to operate as it should be.
JMC claims a fuel consumption figure of 8 l/100 km from the 90 kW/290 Nm four-cylinder turbodiesel.
As before, the Vigus's compliant suspension impressed with its comfortable ride. We packed full the 1 475 (l) x 1 475 (w) x 500 mm (h) rubberised (as standard) load bay when needing to transport some heavy boxes, putting the 815 kg payload capability to the test. The Vigus easily swallowed the boxes, though the soft suspension setup is noticeable with weight on the back.
Since our original review, rival Chinese manufacturer GWM launched two very appealing vehicles in the Steed 5E (FOCUS March) and Steed 6 (yet to be tested).
However, the only direct rival for this range-topping, 4×4 SLX diesel Vigus is the Foton Tunland 4×4 (FOCUS June 2013), with which it competes favourably on price and spec, but loses out to with regard to outright power and load capacity.
To choose between these two value-oriented 4×4 double cabs would be difficult – but the opportunity to sample the Vigus after some real mileage has shown that it has what it takes to stand up to use and abuse.
Focus on Transport
October 16, 2015
Published by