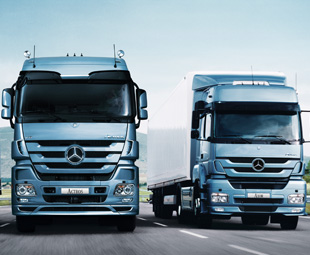 Mercedes-Benz recently freshened up its Atego and Axor models. GAVIN MYERS finds out that, in true Mercedes tradition, they pack some serious kit
Mercedes-Benz is a company that takes its business very seriously indeed. Look at its range of passenger cars; they are some of the most popular vehicles on the planet, and it's not difficult to see why. They are stylish, safe, dependable, extremely well made and have an illustrious reputation dating back over a century.
This should then remain true for its commercial vehicles, too. The first truck made by Mercedes came to the world in 1895 and, as can be imagined, over the decades that same approach to its passenger vehicles has been applied to the commercial ones. Again, this has earned these vehicles a great reputation.
Now Mercedes has enhanced its Atego and Axor ranges. Firstly, the new vehicles have been restyled to more closely resemble big brother Actros, which is no bad thing. The whole range has a consistent, "we mean business" family look. Secondly, the new Atego and Axor boast a variety of new features with the aim of improving safety and the driving experience.
The new Atego comes in two cab sizes; a standard cab with two individual seats for the driver and co-driver or the optional long cab with additional space allowing for safe storage, or a bench seat for carrying a small crew. The new Axor still offers the choice of three different cab sizes: a standard short cab suited for day to day operations (with a fold-up bunk in the freight carrier and truck tractor models), the low-roof sleeper cab suited for medium-distance haulage, and a high-roof sleeper cab for long-distance driving. The low roof sleeper cab has a standard bed, while the high roof sleeper cab gives a feeling of extra space and allows additional stowage space behind the seats. The doors on both the Atego and Axor open to 90°.
The interiors have also received an upgrade. Both the new Atego and Axor have new seat covers, head restraints integrated in the backrests and a clothes rail with adjustable hooks. According to Mercedes, the cockpits of both these models have been designed to cater for specific needs, and feature a host of stowage options as well as ergonomically positioned controls. Most noticeable when on the move is the new anti-glare instrument cluster, which also incorporates a new function check system that automatically checks engine oil level and pressure, coolant level and brake lining wear and lighting.
In an effort to enhance ease of driving, the cabs are now equipped with a new multifunction steering wheel (adjustable by a height of 66 mm and angles between 22° and 39°) to operate the on-board computer, radio and telephone – there is now Bluetooth connectivity. Air-conditioning is also standard. The driver's job is also made easier by the electronically adjustable, aerodynamically designed exterior mirrors, the wide angle rear view mirrors, and the new bumper-view mirror that makes manoeuvring in tight places a lot easier. The exterior mirrors are also heated to reduce misting. For further safety whilst manoeuvring and parking, a reverse warning buzzer has been integrated in the reverse lights.
Engine wise, the Atego is served by two engines designed to Euro 3 compliance. These are a 130 kW (177 hp) four-cylinder with 675 Nm of torque, and a six-cylinder in two guises: 170 kW (231 hp) and 810 Nm and 205 kW (279 hp) and 1 100 Nm of torque.
The Axor's engines are also Euro 3 compliant. They are six-cylinder engines with displacement of six and 12-litres. Power and torque figures range from 205 kW (279 hp), 260 kW (354 hp) and 295 kW (401 hp), and 1 100 Nm, 1 850 Nm and 2 000 Nm respectively.
Both trucks come with Merc's "Telligent" engine management system – designed for near-perfect combustion and to allow the engines to reach their peak torque in the rev range so as to offer the lowest fuel consumption and emissions for the prevailing conditions. There is a series of lights housed within the rev-counter to guide the driver for economical driving. The optional Telligent automated gearshift is designed to relieve the driver from having to shift gear, though he can still intervene manually if needed. This automated gearshift is designed for drivers to have a comfortable ride, but with a specific focus on economy.
Naturally, being a Mercedes, safety is top-drawer. Antilock braking (ABS) is standard across both the Atego and Axor ranges, whilst the Axor (260 kW model) is fitted standard with the "Turbobrake" engine brake – a wear-free auxilliary brake which increases the boost pressure and therefore the engine braking effect to as much as 300 kW – or Voith retarder (295 kW model). Cabs are designed to European ECE R 29 crash test standards, plus only flame-retardant, splinter-proof materials are used in the interiors. You can also expect to see some interesting new safety innovations coming from Mercedes in the near future.
Warranty wise, Mercedes-Benz Commercial Vehicles offer an extended warranty on the powertrain, of three years/450 000 km for the Axor and three years/250 000 km for the Atego.
So, then, it's very clear these new models from Mercedes-Benz are stylish; safe; dependable; extremely well made; and have a reputation dating back over a century, and we're certainly not talking about their passenger vehicles!
Focus on Transport
April 1, 2011
Published by