Behind the driver's wheel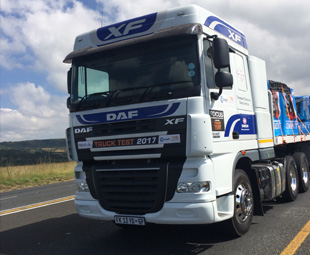 Although Truck Test aims to test the performance of trucks, drivers are also put to the test. Their skills were especially tested at the Van Reenen's Pass, which is a slow, winding drive up and down the Drakensberg mountain range. Participants were limited to a maximum of 60 km/h and trucks were not allowed to overtake on this part of the route.
"The most difficult part of Truck Test was going up Van Reenen's Pass. Unfortunately, while I was driving up the pass, there were trucks moving very slowly in front of me. I had to go up at approximately 20 km/h and I lost momentum," said DAF driver Denford Mamvura.
Fellow driver Richard Khene, driving for Hyundai, agreed with Mamvura. Khene also drove up the pass at 20 km/h. Other dirvers did not find the pass so challenging. We overheard comments among some drivers that the pass was, in fact, their favourite part of the test – because it truly tests a truck.
Khene and Mamvura both enjoyed the route from Midvaal to Harrismith the most, as it was an open stretch of road.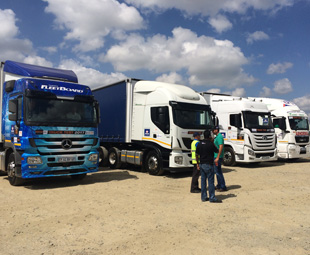 Although the drivers had different views on what was the most difficult or enjoyable part of the test, they all agreed that having an observer in the vehicle from the opposing team benefited them.
For Mamvura it was about fairness, as the observer checked that the driver obeyed the rules of Truck Test and the rules of the road. A unique pairing, however, was Khene and William Dudley-Owen from Aero Truck. The two not only shared their knowledge, but they built a new friendship.
"I have a very competitive nature and I did everything in my power to make sure Khene was doing a good job. We talked about how to make it the most economic trip. I wanted our truck to do well. Obviously, I wanted the Aero Truck entry to do even better, but I wanted us to do well, too," Dudley-Owen said.
"I think what makes Truck Test wonderful is just the exposure and rubbing shoulders with other guys from the industry," he concluded.
Focus on Transport
March 30, 2017
Published by