General Motors South Africa boasts an impressive range of pickups – from the Corsa Utility to the workhorse Isuzu KB and the uber cool Ute. CHARLEEN CLARKE travelled to the Eastern Cape to go play with them…
Some people head to Port Elizabeth with a bucket and spade or swimming costume when they go to "play". Not me. My playthings were three light commercial vehicles: the Corsa Utility, Isuzu KB and Chevrolet Lumina SS Ute.
Beats a bucket and spade any day…
I kicked off with the bab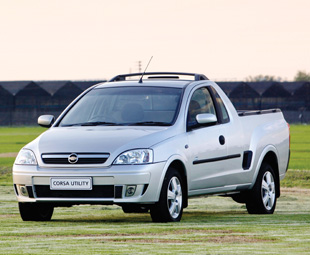 y in the range – the Corsa Utility, which we featured extensively in the November 2010 issue of FOCUS. Its all-new successor is on its way (apparently it's drop-dead gorgeous). But the Corsa Utility remains a very good half-ton LCV; it is comfortable, extremely well built and a good vehicle all round. I drove it from Port Elizabeth in the direction of Grahamstown, and it wasn't hard to see why it's the market leader in its segment. After all, it offers the best payload in its class (790 kg for the diesel and 680 kg for the 1,4 entry level model) and it's really spacious too. In fact, the seat travel accommodates the tallest of drivers in comfort without compromise. The head and shoulder room are equally generous while interior storage, often a shortcoming in pick-ups, is well catered for with a voluminous storage space behind the seats.
We stayed at a game reserve outside Grahamstown… this meant it was time to play with the Isuzu KB. Like the Corsa Utility, it's a bit long in the tooth. But this remains an excellent bakkie; one which is also highly capable off-road. The really nice thing about the KB is that it is ever so easy to engage low range: this is done by pressing a button on the dash. I was joined by a novice off-roader and she took to 4×4-ing like a politician to lying. Within moments, we were even travelling through White Knuckles Gorge (so named because it is so terrifying that drivers have white knuckles!), with my novice driver at the wheel. I explained to her that she should simply pop it into first gear and then not use the brake or clutch – she followed the instructions and the KB made mincemeat of White Knuckles Gorge and all the other off-road obstacles that we threw at it.
All too soon, it was time to stop playing in the bush, and head back to Port Elizabeth on the main road. This time, my choice of wheels was the Lumina SS Ute, which is powered by Chevrolet's all-aluminium 6-litre Gen IV V8 engine. This delivers 270 kW of power and 530 Nm of torque. Trust me; it's impossible to find a pickup that's more fun to drive on-road than the SS Ute.
But it's not just a fun, exhil
arating vehicle to drive… it's also safe. En route back to the airport, I was reassured by the fact that the Chevrolet Lumina SS Ute has become the first utility in Australia to receive a maximum five-star safety rating from the Australasian New Car Assessment Program (ANCAP) and the Euro New Car Assessment Program (EuroNCAP).
This follows the recent announcement that the Chevrolet Lumina Ute had achieved another Australian safety first by becoming the first Light Commercial Vehicle (LCV) to offer six airbags as standard across the range.
The ANCAP result reflects the long list of safety features found standard across the Lumina Ute range – including side impact airbags, curtain airbags and Electronic Stability Control (ESC) which incorporates an Anti-lock Braking System (ABS), Electronic Brakeforce Distribution (EBD), Electronic Brake Assist (EBA) and a Traction Control System (TCS).
As I said, the Ute is really safe. So you can buy one with your heart as well as your head…
Focus on Transport
December 1, 2010
Published by