UD Trucks has launched its new heavy commercial vehicle (HCV) for global growth markets. It's called the Croner, and it's superb. GAVIN MYERS went to Bangkok to bring you this scoop
The soundtrack to the Croner launch in Bangkok, Thailand, was Big Yellow Taxi by the Counting Crows – well, it was for me, anyway. After what I know about Thailand's tourist spots, like Phuket, the line "they paved paradise to put up a parking lot" ran through my head…
I was disappointed (albeit a little fascinated) by the capital city – what with its haphazard hustle and bustle, smog you can taste and narrow, gridlocked streets that are impossible to navigate without local knowledge, but this isn't a travel rant…
Rather, it's a report on a very important new vehicle for UD Trucks. Revealed to the media from Africa, Asia, the Middle East and South America at the flagship UD Trucks Bangkok dealership, the Croner stood proud in its eye-catching launch colour, whimsically dubbed Honey Yellow.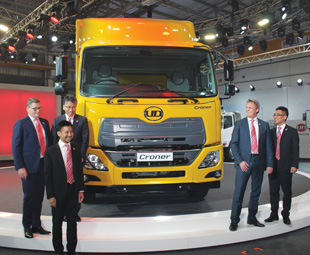 Cue Big Yellow Taxi once again – but, this time, for completely different reasons … based on media and customer reactions, the Croner is very likely set to shake up the local HCV landscape when it lands in South Africa around mid-year. It should, really, be the Big Yellow Taxi that takes UD Trucks back to a leading position in the segment that it vacated around two years ago.
So what makes this new model so impressive?
According to UD, the Croner was developed over six years specifically for growth markets across Asia, Africa, the Middle East and South America. To meet this brief, an equivalent of three-million kilometres in reliability and durability testing was completed, while it was also entrusted to customers in six countries and three continents for 18 months and 1,4-million kilometres of field tests in actual operations. In South Africa, this honour fell to Vital Distribution, which covered 175 911 km with its test mule.
The result, says UD Trucks, is a vehicle engineered to help its customers stay ahead of the competition, through the simple concept of saving time. Croner is, after all, named after the god of time in Greek mythology.
Uptime, productivity and being able to offer the right vehicle for the job were among the biggest development targets. To this end, Croner is available in 21 derivatives. The range starts with the compact MKE version with its 10,4 to 11-t gross vehicle mass (GVM) and 2,1-metre-wide day or sleeper cabs.
The middle derivative is LKE multi-purpose model that fills the 12 to 14-t GVM spectrum, using the same cabs as its smaller brother. The big daddy in the rage is the PKE, which has a GVM of 15 to 17 t and a 2,3-metre-wide sleeper cab. The new cabs improve aerodynamics by five percent.
Then, of course, there is the plethora of engine, gearbox and wheelbase options.
Powering the Croner is a new range of five- and eight-litre engines with either Euro-3 or Euro-4 emission ratings, spanning from 136 kW (180 hp) to 209 kW (280 hp). These can be paired with six- or nine-speed manual gearboxes or a six-speed automatic developed in partnership with Allison.
Purchasers of the manual versions will be pleased that UD has fitted the biggest clutches in this class, meaning they should last longer. A cerametallic clutch plate is also available to ensure reliability in high-temperature conditions. All versions are offered with a range of power take-off (PTO) options, which deliver more torque than previous PTOs.
Six basic wheelbase options, ranging from 3 450 to 5 500 mm, are available. Longer wheelbase options of 6 000 and 6 500 mm are also available for 15 and 17-t variants.
UD claims that the Croner has a chassis frame (which has been pre-punched for easy mounting of equipment) with the highest tensile strength in its class, while being engineered to be flexible.
Then, of course, there are the advancements made in suspension and braking.
Croner offers several suspension options including leaf springs and air suspension. A taper-leaf system can be fitted at the front for extra comfort, while a heavy-duty version of the multi-leaf spring suspension is available; offering increased carrying capacity for operations such as construction.
Optional rear air suspension is also available for customers that transport sensitive freight. A front stabiliser is fitted to aid body control.
From going to stopping, the Croner again features another "largest in class" … its S-cam, full-air brake system has the largest brake foundation size (in terms of diameter and width) for better stopping power, heat dissipation and service intervals. ABS will be standard on South African models.
The result is an accomplished, high-quality vehicle that – as far as could be deduced on the very short test route – operates with exceptional comfort and ease. It boasts so much more, as well – like the standard-fitment telematics, multi-function instrument display, dual-setting speed limiter and ergonomic interior design – but those details will have to wait for the full local launch report…
Oh yes, we'll be counting down the weeks until this Big Yellow Taxi officially arrives on local shores – and we know UD fans won't be disappointed.

Focus on Transport
April 18, 2017
Published by