Bird's eye view of trailers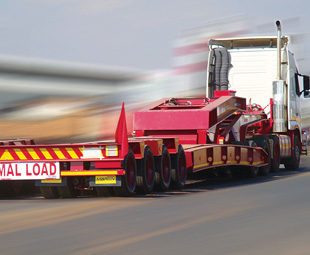 The South African trailer industry has a lot to talk about at the moment. GAVIN MYERS continues the conversation with some of the country's top trailer manufacturers.
Thanks to the increasing power of computerised technology, it is becoming easier, quicker and more efficient to design and build trailers – from the biggest beams to the smallest nuts and bolts. This is a common theme across specialisations, but, while this positive is undoubtedly making life better for trailer manufacturers, allowing them to build vehicles comparable to the best in the world, the industry is suffering a few challenges at the moment.
The design requirements are uniform across most of the applications. The process begins with an interview to ascertain the needs of the client, find out exactly what will be transported, where the trailer will be used, how many drops it'll make in a day and how far it will be travelling. Those specs are then fed to the engineers, who make use of sophisticated AutoCAD and 3D modelling programs to come up with the ideal design for durability and longevity – if a solution doesn't already exist.
Unfortunately, in the case of a new design, testing isn't always possible. Time and costs preclude this. (The enthusiastically driven Performance Based Standards (PBS) project – a topic deserving of its own full feature – is an exception.)
Some manufacturers, like Afrit and Paramount Trailers, will offer prototypes to valued clients for real-world evaluation. "That's probably only ten percent of the time in South Africa," says Tjaart van der Walt, Afrit East Rand branch manager. "Unfortunately we do it the wrong way around in our market … Ideally, we should have our vehicles in the market for two to three years and see what actually happens during operation," he continues.
Trailers
Van der Walt explains that, with 3D design, the whole model can be tilted, flipped and inspected from every possible angle. The design process is, therefore, a lot more efficient. Warren Marques, MD of Paramount Trailers, agrees: "The trailer can be fully viewed in 3D and tested on the computer using stress analysis tests. This enables the designers to identify areas of concern prior to manufacture."
The manufacturing process is also changing with the times. Robotics, laser technology and dedicated production lines are buzzwords for these two juggernauts – allowing more dedicated, focused work on each trailer, while at the same time, significantly improving quality and speed. "Technology is allowing us to build trailers, that are neater and lighter, more quickly," says Marques.
"We've always tried to stay ahead with regard to technology and materials," explains Van der Walt. "The biggest component is Domex steel. It's the best material you can get. We buy it directly from the mill in Sweden. Besides this, we source everything else we need locally."
Marques says that most of Paramount's trailers are built using carbon steels. "The technological advancement in steel is allowing us to build trailers using thinner materials, while not compromising on the strength of the trailer," he notes.
Van der Walt points out that there is also a move towards the fitment of Electronic Braking Systems (EBS) instead of the standard anti-lock systems fitted to trailers over the past few years. This results in extra benefits for the customer, such as enhanced stability. "Our products are directly comparable to European standards," he says proudly.
Despite all these efforts, both Van der Walt and Marques say there are operators that need to pay more attention to their trailers. A managed maintenance programme is often lacking. The vehicles also have to be spec'd for the correct application and environment in which they're expected to work, and then used for the intended application.
Bodies
"The transport industry will continue to grow as living standards and demands increase," says Ettiene Tukker, GM of Icecold Bodies (a finalist for the 2014 Truck of the Year "Best Body/Trailer Builder" award). He notes that the company has an obligation to ensure its customers can serve their own customers properly.
"Setting new trends in production and the supply chain will allow us to become leaders in the field. But respect between manufacturers will benefit everyone – the pie is big enough and all can share in this multibillion-rand industry," he says.
He warns, however, that surviving in the transport industry over the next five years (the company increased its capacity by 50 percent in the last year) will be difficult if body builders do not commit to comply with new regulations and standards. "With current government involvement and initiatives, such as implementing refrigeration standards, and with full industry support, this will become an ever-changing process."
Tukker notes that the industry has already changed significantly over the years; with greater demand for logistics and increasing running costs. "It's become essential for us to ensure that our customers can remain competitive. We must, therefore, constantly adapt our designs and operations to suit new demands from the industry in order to ensure our customers can run at optimum performance," he says.
In this regard, materials are a critical consideration. Tukker gives an example: "Poor insulation has the potential to affect the perishable goods being transported and higher fuel costs result from having to keep the goods at stable temperatures." The build process is also important. Icecold Bodies is implementing a production management system using tools such as Lean and Keizen to improve reliability, lead time, cost and quality.
Specialised applications
John Harding from Martin Trailers, a specialised trailer manufacturer for over 30 years, says that, if designed and maintained correctly, even those trailers operating in arduous conditions can expect a long and productive lifecycle.
"Our low-bed trailers have a design life of 20 years, but there are Hyster trailers (as the company was originally named) that were built in the 1970s and are still running daily!" he says, noting that the key to preserving the life of a trailer is regular maintenance and operating only within the manufacturer's design specifications. "In other words, don't overload," he stresses.
Harding notes that Martin Trailers' core design philosophy has for decades been based on the use of high-quality, high-tensile steel – but the company has begun experimenting with even stronger steels in an effort to gain an extra margin of payload. This, he says, is becoming ever more difficult.
"The quest for additional payload using traditional South African configurations is near exhaustion, yet machines continue to get bigger and heavier. A major challenge, for example, is moving mining equipment in the range of 100 to 120 t. These machines are becoming more and more common …" Harding notes the last big shift was in the 1990s when operators moved from the folding gooseneck design to the removable gooseneck concept (which he is proud that the company pioneered in South Africa).
"It is inevitable that we will start to see many more European-type extendable and steerable trailers on South African roads. This can already be evidenced by the number of imported trailers in the Western Cape. Unfortunately, a lack of certainty and assurance by transport authorities is hindering local manufacturers from recouping this lost market share.
"Manufacturers and operators are desperate for a modern, concise, clear and firm set of guidelines on these types of trailers so that they can accurately plan their equipment designs and purchases," he says, adding that: "we are entering an exciting period where a handful of trailer manufacturers are likely to set new boundaries in design and innovation in response to the recent tide of European imports."
All that's then needed is strong guidance and support from the transport and roads authorities …
Primed and ready for bodies
The corner of Boundary and Trichards roads, Boksburg, is where Serco's customers can now find the company. The trailer and body builder moved into its new Gauteng headquarters in early September. Located about 20 km from O.R. Tambo International airport and easily accessible from the N3 and N17 highways, the 13,4 hectare site gives the company much needed space for expansion.
The facility includes about 3 400 m2 under cover and extensive outside working areas. Important features of the new premises include a generator that could power the entire plant in the event of electricity disruptions and fibre optic and satellite links for the IT infrastructure. The high-tech plant also features an environmentally friendly trailer washing and irrigation system, fed by an on-site borehole.
Space has been set aside for a soccer pitch and there is also a canteen on site. "At a later stage we plan to convert one of the spare existing buildings into a dedicated on-site training centre," says Serco MD Clinton Holcroft. "The exciting thing is that, as and when demand increases, we have plenty of space for expansion," he continues.
Serco is also continuing extensions to its Durban truck body and trailer plant in Phoenix Industrial Park, which should be completed by the end of the year.
Focus on Transport
October 1, 2014
Published by