Bloemfontein is where it's at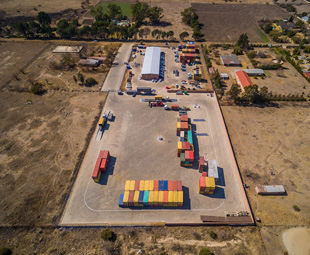 Bloemfontein Container Park (BCP) and Logistics Intelligence (LQ), in partnership with Onnyx Network Holding, have opened the only shipping-line contracted container park in central South Africa. There is also a state-of-the-art bulk-products packing and distribution centre at adjacent premises in Bloemfontein.
The facility covers a total of 22 000 m2 and boasts facilities which enable a full bouquet of services including the provision and storage of containers, packing and warehousing. At full capacity, the facilities will employ more than 50 staff.
Dirch Olsen, senior partner of all three entities involved with this development, says the bulk handling side of the facility boasts a state-of-the-art irrigation system piloted and developed by the University of the Free State.
"This is the first time that this type of stock-pile irrigation is being built on site. The goal is to reduce dust and stock loss to zero. The impact on the health and safety of employees and the surrounding environment is also reduced to an absolute minimum. This is a clean and green site – the most environmentally friendly site of its kind in the country," he says.
"Our vision is to be the leader in the provision of total landside services to the South African freight industry within the next five years," says Jan Nair, CEO of Onnyx.
"We are committed to the development and maintenance of sustainable partnerships with customers and suppliers, investing in people and infrastructure, as well as innovation in delivering service excellence, while reducing the overall cost of logistics," he adds.
Focus on Transport
August 31, 2015
Published by