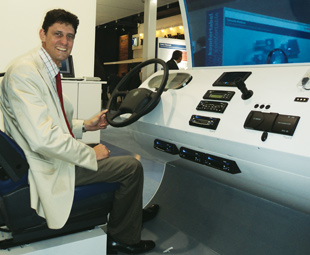 Bosch Car Multimedia Professional Systems, represented in South Africa by Fixtrade, had as strong a presence as ever at the IAA. We caught up with Darryl Gallan, managing director of Fixtrade, to tour the stand…
Fixtrade was established in 2000 with the full backing of Robert Bosch Midrand South Africa and Bosch Car Multimedia Germany. Since then, the business – which became autonomous in 2002 – has grown in leaps and bounds and is now responsible for the marketing, sales and distribution of Bosch Car multimedia product ranges both nationally and in Namibia and Botswana. Fixtrade is also responsible for after-sales service including Coach audio/video entertainment systems. As Gallan notes, "Today we have a staff complement with expertise in assisting with all sales and service functions."
Business is very good in South Africa, according to Gallan. "We equipped 460 buses for FIFA with multimedia systems; that was a fabulous deal to secure," he noted. "We will carry spare parts for 10 years, so this equipment will be well looked after."
Gallan reported that the FIFA buses were fitted with the Basic Line; however, a Classic Line is also available in South Africa for high-end coaches.
But back to Germany… The Bosch stand at the IAA featured a typical coach cabin, equipped with a whole range of multimedia systems – and Gallan took us through the product range.
The Classic Line 2 allows the driver and passengers to enjoy music or video programmes independently of one another, thanks to the separate setting options. This line consists of a coach head unit and an iPod-ready radio with a CD/MP3 drive – both units being equipped with an integrated amplifier with 2 x 20 Watts of power. "It is the perfect choice for city buses or long-distance coaches," Gallan enthused. "Nothing can shake up a CD/MP3 drive that's made by Bosch."
The Coach CRD 47 MP3 system is not just about entertainment, other features include sound reproduction for the telephone, driver warning system and navigation, a telephone mute, and night design for the operating keys. As for the coach head unit (CCA 47); "Thanks to the easily accessible MAP key, the navigation map can be displayed directly on the passenger monitors," says Gallan.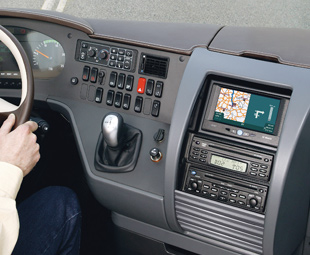 As well as the Classic Line for coaches,  a brand new range in Bosch's 24V Truck and Off-Highway Multimedia Systems collection was also on display at the IAA. The Calais USB will be available in South Africa in eight months' time. The guarantee from Bosch, as expressed by Gallan, is that "Whether in Europe, North America or anywhere else in the world – Bosch radios will play all the stations available. That's why each of the truck radios – the Rotterdam UBT, the Calais USB or the Dover USB – is equipped with all the wavebands for any particular region.
"With the USB and AUX slots integrated directly into the front panel, the radios from Bosch also provide for connectivity on the road, making it possible to hook up USB sticks, external hard disks or MP3 players quickly and easily. As a result, your personal music collection becomes your loyal companion wherever you go," reveals Gallan.
The Calais USB incorporates a radio with different tuners for different regions, 36 station presets on six levels and Travelstore and Traffic Announcement. An easy, direct USB connection with a front panel USB slot able to play both MP3 and WMA files is also featured along with AUX input and a CD drive and amplifier, all with a speed-dependent volume adjustment, illumination and night design, and an anti-theft code.
Other products on display which Gallan is considering for the South African market included the latest infotainment system for coaches and city busses featuring on-board monitors, an individually designed Coach Navigation PX-V system and an innovative multi-channel audio system as well as a special system designed to record and store images in city busses. A second product displayed at the IAA and under consideration by Gallan was the new platform for telematics control units, with infotainment system applications including open software architecture on Linux-based applications and systems allowing regular updates and upgrades.
Gallan is justifiably extremely proud of these products. "No one can match our quality," he concluded with confidence. No doubt business will continue to be very good in the future too! For further information contact 011 315 6346, info@fixtrade1750.co.za or visit www.fixtrade1750.co.za.
Focus on Transport
November 1, 2010
Published by