GAVIN MYERS drives a van with a bit of added zest, as Volkswagen (VW) livens up its enduring Caddy.
I love funky, different vehicles. As automakers attempt to stand out from the growing crowd, they invent niche models to give their brand a bit more oomph.
Commercial vehicles, though, are more tools for the trade than something in which to be seen … so, while the odd limited-edition, crowd-attracting version might appear now and then, it's not too often that this trend applies to commercial vehicles in production form.
VW thinks otherwise. It has injected its Caddy with some added style, pepping up the range with its Cross treatment. It's a van-based people mover, with a bit of added bling.
On the outside this consists of black fairings on the fenders and side skirts, carrying through to the front and rear bumpers, accentuated by silver "underbody protection" and side guard strips on the door sill. Silver-coloured roof rails are also fitted. These silver accents tended to blend into our Reflex Silver test unit (thankfully, a range of other funky paint schemes is available), but the most noticeable design element is the set of sexy 17-inch Canyon wheels.
While the front end of the Caddy still looks sharp, the vehicle is ageing now. All in all, though, the Cross treatment lifts it nicely.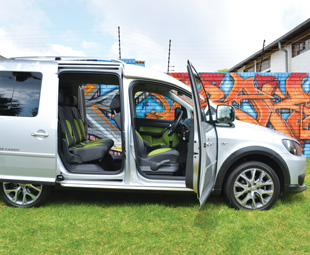 The interior (probably where you'll notice the vehicle's age the most, especially after jumping into the new Ford Connect), has also been "Crossed". Funky, two-tone Viper Green and Grey Anthracite upholstery and leather-trimmed driving controls grab your attention. This isn't merely luxury treatment, though, as the tactile feel of the materials reminds you that, at heart, the Caddy was built for business.
Adorning the cabin are 24 storage spaces. There are also sliding rear passenger doors, optional side-opening rear doors and an optional cargo net. With the rear seats in place 750 l of loading space is available (these remove to open up 3 030 l).
A third row of seats is optionally available, which reduces the available loading space to just 190 l. (The total payload is 727 kg.) Cargo can be kept out of sight and rear passengers can enjoy anonymity thanks to standard privacy glass.
This is, however, a vehicle designed to stand out from the crowd … you'd obviously want to be seen behind the wheel of the Cross Caddy. From here you can enjoy the standard cruise control, Hill Hold Assist, automatic lights and windscreen wipers as well as the six-speaker Bluetooth sound system.
You can also enjoy VW's 81 kW, 250 Nm 2,0-litre turbodiesel engine. This is one aspect of the Caddy that belies its age – this drivetrain is fantastic. It's an exceptionally free-revving engine that pulls strongly throughout the rev range. The engine is coupled to a smooth five-speed manual gearbox (that gear lever is quite a stretch), for which a sixth ratio wouldn't go amiss.
Overall, VW claims the Cross Caddy will consume an average of 5,7 l/100 km and emit 149 g/km CO2.
The Cross Caddy also rides comfortably, handles well and has a strong set of anti-lock brakes. These key driving aspects are aided by Electronic Stabilisation Program, an Electronic Differential Lock and VW's Traction Control System.
So, is the VW Cross Caddy a funky, different vehicle that I could love? The basic Caddy is still a good, solid vehicle, but it feels outdated. The Cross treatment goes some way to liven it up, but the R340 600 asking price (including three-year/120 000 km manufacturer and 12-year anti-corrosion warranties) is steep when compared to the newer Ford. Especially since the VW's service and maintenance plans are optional.
Me? I'd choose new kid on the block over funky and different.
Focus on Transport
June 16, 2015
Published by