Businesses line up for Tyrexpo
Tyrecor, Tubestone and Hofmann Megaplan are already turning their thoughts to Tyrexpo Africa 2012, South Africa's only dedicated tyre trade and garage equipment show.
Major names from Southern Africa's tyre and equipment sector have announced plans for a strong presence at Tyrexpo Africa 2012 in Johannesburg.
Tyrecor will mark the occasion by promoting the latest products in its Infinity range, as well as introducing Solideal industrial tyres for the first time since it secured sole distributorship for the brand in South Africa.
"After the success of Tyrexpo Africa in 2010 we are looking forward to meeting new and existing customers at the 2012 event. Tyrecor has grown tremendously in Southern Africa over the past two years and we will definitely make use of the next show to further boost our presence in the market. We have since added more exciting new products to our ever-expanding range of Infinity tyres, which will be showcased next year," says managing director, Charl de Villiers.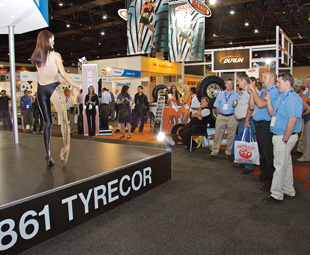 "We will also, for the first time since becoming the sole distributor for Solideal Construction, OTR and rubber tracks, display the Solideal range of products. We are very pleased with the introduction of Solideal and expect great things to come in the near future."
For Tubestone, the emphasis will be on its BKT and Nankang distributorships, managing director Pieter Kruger explains. "Tubestone is a successful South African-based company importing and distributing high quality tyres from BKT Industries in India and Nankang Rubber Tire in Taiwan. We will use Tyrexpo Africa to raise our presence in the market, showcase new and existing products and interact with show visitors.
"Delegates can once again expect an impressive stand from Tubestone, BKT and Nankang. We encourage visitors to stop by our booth where Tubestone personnel will be happy to discuss our products, supply information and answer questions," he says.
Wheel service specialist Hofmann Megaplan will be returning to Tyrexpo with its popular ranges of Hofmann wheel balancers and tyre changing equipment. "This is an important show for us to be able to demonstrate the latest developments in the wheel service equipment market. The sector is becoming increasingly sophisticated as it looks to provide efficient solutions for developments in tyre and wheel technology – such as larger wheel sizes and run-flat technology," says MD, David Barendse.
"In addition to our Hofmann Megaplan and Carmen ranges, we are constantly looking to bring the best equipment into the market and hope to announce exciting new developments at Tyrexpo."
Since its launch in 2004, Tyrexpo Africa has established itself as an influential niche event that brings together leading domestic and international suppliers specialising in tyre and equipment manufacturing, distribution, retailing, servicing and repair.
Paul Farrant, managing director of exhibition organiser ECI International, says the event has established a loyal following since it was founded seven years ago and it's good to see major companies already thinking ahead and planning their presence. "The 2012 exhibition promises to be the best-attended yet, with many companies from across the global tyre industry expressing interest in doing business in southern Africa," he notes.
Show dates for Tyrexpo Africa 2012 are 6-8 March at the Sandton Convention Centre. Visit www.eci-international.com for more details.
Focus on Transport
October 1, 2011
Published by