The "Swiss Army Knife of the automotive industry" turned 70 years old late last year. So, in (rather belated) celebration, we did the only appropriate thing to do … we banded together with a bunch of die-hard enthusiasts and had some fun
There are some vehicles out there that simply need no introduction. Their versatility beggars belief; their talent and ability are undeniable; they worm their way into your heart; and they go down in history as the stuff of legend.
The Unimog has been one such vehicle for nearly three-quarters of a century. In celebration of this legacy, Mercedes-Benz South Africa (MBSA) invited a bunch of gung-ho journalists to join the Unimog Freunde Club of South Africa at the Gerotek testing facility outside Pretoria.
Here, the Mog enthusiasts would put their prized possessions – generations of Unimog stretching back to the original U 2010 from 1951 – to the test on the various obstacles and off-road tracks the facility has to offer. And we'd be bundled into the modern U 4000 to, well, quite simply have our eyes widened…
Seven up and with Unimog expert Ferdie de Beer behind the wheel … the U 4000 crawled through sand as fine as talc powder, whirled through a mind-bending axle twister, powered up and down Gerotek's steepest incline (100 percent/45°), and flattened a rock-ridden mountain pass untouchable by your everyday 4×4.
While we, arguably, experienced only the tip of the U 4000's ability, that sort of all-conquering awesomeness does not come without some serious pedigree. Over the generations, the Unimog has evolved – as Mario Alvelos, business development manager, Mercedes-Benz Special Trucks, says – "to not just be a vehicle, but an entire fleet". Alvelos joined the MBSA Special Trucks team in January to reignite the Mog passion.
"Unimog is well known in the leisure market; the clubs and enthusiasm are big, but we now need to get it back into a working role. Yes, it's a niche product, but it's not as simple as it looks…" he says.
That opening reference to a Swiss Army Knife on wheels … Alvelos's words, and, honestly, one would be hard-pressed to find more of a multi-purpose tool (on wheels) … now or even before the conception of such a vehicle in 1944.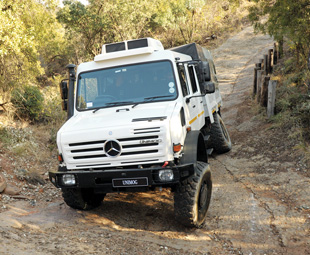 The story goes that Daimler engineer Albert Friedrich had been working since October 1944 to develop an agricultural motor vehicle that would "open up entirely new perspectives". In June 1945, he returned to Stuttgart-Untertürkheim to help rebuild Daimler-Benz AG.
Later that year, on August 4, an engineer under Friedrich drew up the first blueprint, the final version of which was presented to the board on September 7.
The members, however, showed little interest in the project. Undeterred, the project blueprint was submitted on October 9 to the "Production Control Commission" of the responsible American military authority, with an application for permission to manufacture ten test vehicles. This approval was granted on November 20 and the implementation of the basic plan began in January 1946.
At this point, Friedrich passed the leadership of the project on to his former subordinate, designer Heinrich Rößler, who took up the post of head designer on January 2. Between January and March 1946, the definition of the "engine-driven multi-purpose machine" was finalised and the rest – as they say – is history.
(That includes a more elegant name: in March 1946, Hans Zabel from Gaggenau, who had been part of the project from the beginning, coined the term Unimog – standing for Universal-Motor-Gerät, in other words, universally applicable motorised machine.)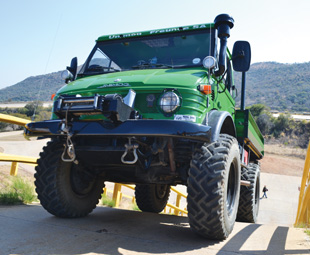 Friedrich and Rößler's designs were so strong that the fundamentals have remained through each of the 30 different Unimog model series. For example, the engine and gearbox were positioned directly to the right of the middle line of the vehicle. This meant that the torque tubes – which protect the drive shafts – could be at right angles to the axles. As a result, only four drive joints were needed for the chassis. This design is still used for the highly mobile U 4000/U 5000 series available today in South Africa.
Okay, so time has moved on and not everything has remained true to the original – which, for example, had a top speed of only 50 km/h. (This, however, was impressive at the time as it was twice as fast as an average tractor of the day.)
Today's two Unimog ranges – the high-mobility UHN models (U 4000/U 5000) and the latest Euro-5/6 UGE implement carriers (U 218/U 530) – amplify the capabilities of all Unimogs before them. Their technical details are impressive…
"The UHN range goes where others don't," says Alvelos. (The UGE is only available to countries with high labour costs that need efficiency.) "Its main frame is designed to twist and is not bolted together, but welded, pressed and riveted – while different sub frames for mounting of components allows the main frame to maintain a total of 60° torsion (including 30° of the axles).
It has a water clearance of 1,2 m, 500 mm ground clearance and almost half a metre of wheel travel. The result is wheels on the ground at all times.
The drivetrain has also moved on… While the engines have been kept simple (off-the-shelf, four-cylinder OM 904/924 units) the gearbox is an impressive technical achievement. With 16 gears (plus crawlers), the fully synchronised automated gearbox features a drop-down clutch to allow manual control if needed, as well as an Electronic Quick Reverse (EQR) function. At the press of a button, EQR allows the gearbox to quickly switch between drive and reverse to easily rock out of a sticky situation.
A full complement of electronic diff locks allow easy switching between drive modes, portal axles grant an additional 15 cm ground clearance, and a central tyre inflation system runs inside the axles to adjust tyre pressure between one and six bar while on the move.
Want to carry something? Gross vehicle mass ratings between 9,5 and 13,8 t allow for payload ratings of around five to eight tonnes – depending on configuration and equipment fitted.
If there's one thing our celebration at Gerotek proved, it's that the Unimog's legend is undoubtedly deserved and as strong as ever. There's little wonder that almost 400 000 of them have been sold to date. I'd like to personally add another one to that number one day!
Focus on Transport
August 27, 2017
Published by