Chimera roars towards the future
Famed Swedish custom truck builder, Svempa Bergendahl, is renowned for his elaborate, and hugely powerful, vehicles built around the Scania brand. His latest creation, the Chimera, is, undoubtedly, his best yet.
Readers may remember the Svempas Red Pearl show truck from the 2013 Johannesburg International Motor Show (JIMS). This topless red beauty, with its gold flake "39" livery and designated R999, was in all probability the star of the show that year.
What the company has created since, however, is something else entirely … Behold, Chimera.
"Chimera is the natural successor to the R999, but you can see how the design has changed; it's more modern and stealthy, but you can still see the R999 DNA in it," comments Alexander Taftman, product and marketing director, Scania South Africa.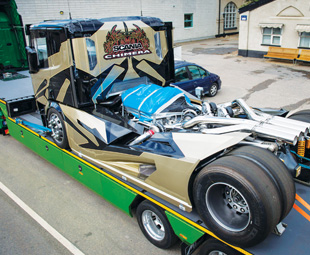 Designer Jan Richter, from Svempas, says: "Chimera fills a gap in our collection. It is a truck with a clearly futuristic outlook. With its beautifully exposed engine and engineered design it takes styling to the extreme. It also features state-of-the-art technology using high-end materials and is prepared for future hybrid e-technology."
The headline figures of Svempas's futuristic stunner are simply out of this world. A stainless-steel exhaust header system snakes around the Scania 16,4-litre V8. The addition here of six Holset turbochargers allows for the delivery of 1 088 kW (1 460 hp), which allows this super truck to reach 100 km/h in as little as 4,6 seconds!
It doesn't end there, though. The system is to be augmented with hybrid technology, which will deliver a truly astonishing 1 633 kW (2 190 hp)!
All this fury is transmitted by a modified Allison six-speed transmission. Everything is contained in a bespoke chassis with independent A-link front suspension, with dual shock absorbers on each side. Thanks to the tubular stainless-steel frame, Chimera weighs a mere 4 780 kg.
"Unlike the beauty of the exterior, the interior is all business … There is a roll cage and a race seat to allow the driver to handle the acceleration," Taftman adds.
The team at Svempas began sketching the truck more than five years ago. It underwent numerous design alterations before the finished product was ready and raring to go, aside from some additional engine adjustments.
"Previously, we've had an eye towards a slightly retro appearance, but have now gone all in for a truck that is decidedly contemporary in all aspects," Richter says. "It also has more of a racing expression with attitude, yet we've continued to carefully adhere to the signature Scania design language, albeit taking that quite a few steps further."
The coachwork was formed by Laxå Special Vehicles using a modified P-cab with R-cab components.
"Our fans expect something out of the ordinary and I can proudly say that is precisely what we are providing," Richter boasts.
The response from South African Scania fans is overwhelmingly positive, with the Chimera garnering
1 000 likes on the company's Facebook page. "There have been some requests to bring it to South Africa. Now that would be cool …" Taftman says fervently.
The vehicle is named after the Chimera, which, according to mythology, was a monstrous fire-breathing, three-headed hybrid of a lion, a drake and goat with a snake as its tail. What better name could there be for such a stunning vehicle that packs up to 2 000 hp?
Focus on Transport
March 7, 2016
Published by