Today … South Africa, tomorrow … the region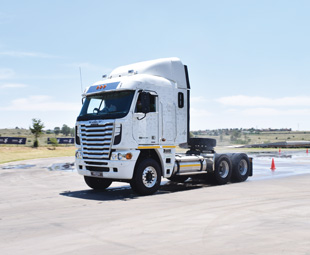 In its drive to get closer to the customer and provide a full suite of solutions, Daimler Trucks & Buses has launched its Regional Centre Southern Africa (RCSA).
Based right here in South Africa and managed by Mercedes-Benz South Africa (MBSA), the RCSA will be responsible for Daimler's full commercial vehicle portfolio in the region – which includes the markets of South Africa, Namibia, Botswana, Zimbabwe, Mozambique, Malawi, Zambia, Lesotho and Swaziland.
"The people who manage our business should feel the same problems, read the same news and be immersed in the same culture as our customers," begins Wolfgang Bernhard, member of the Board of Management of Daimler AG responsible for Daimler Trucks & Buses.
"We need to be closer to our dealers to better service our customers and be more responsive to their needs. Many of our customers traverse these countries and we need to make sure we have seamless service, parts availability, quality and standards."
The Regional Centre Southern Africa is the third of six Regional Centres being opened for Daimler's commercial vehicle business around the world. Just two days prior to opening the RCSA in February, the Regional Centre for East, Central and West Africa started operating out of Nairobi, Kenya.
The first Regional Centre was opened in October 2015 in Dubai, as Daimler Commercial Vehicles Middle East North Africa (DCV MENA). Similar bases will follow for South Asia, Southeast Asia and Latin America within the next few months. In the past, Daimler had managed these regions primarily from its group headquarters in Stuttgart, Germany.
Says Kobus van Zyl, executive director: Daimler Trucks & Buses Southern Africa (and head of the RCSA): "Having a stronger presence in the southern African markets means that we are able to react faster and be in touch more frequently with our commercial vehicle customers, as well as the various distributors in the respective countries. The RCSA provides further opportunities for all our commercial vehicle endeavours, including sales, after-sales services, marketing, client services and parts."
"We know these markets are dominated by used vehicles, so we want our customers to benefit from TruckStore as well," he adds.
And benefit they should, as southern Africa is seen by Daimler as a promising growth region for all its commercial vehicles. In 2015, Daimler sold approximately 5 500 trucks and buses in the region. This number is expected to grow at a rate of 3,75 percent in 2016 and by more than 4,5 percent annually between 2018 and 2020.
"There are opportunities in southern Africa," says Van Zyl. "Even though there is risk at the moment, we believe the companies that succeed will be the ones that move now. We plan to have our sales in the region more than double in the next three years," he adds confidently.
Bernhard adds that, on a global scale, the company is in a very good position in terms of sales. "Last year was challenging, but we sold 502 000 trucks worldwide – making us the biggest truck manufacturer in the world. Our bus sales dropped by 50 percent, mainly due to the collapse of the Brazilian market.
"We turned record revenue last year and are very proud to have managed that in the difficult economic environment. These figures show that our global set-up works; we can balance strong and weak markets for a stable business going forward.
"It's better to have people in specific regions to manage those specific markets. We believe it's much better to implement a commercial vehicle business that makes sure customers make money with their vehicles," he says.
Van Zyl agrees: "We know that our customers look beyond the purchase of a truck. They look for solutions; they want us to make a difference in their lives."
"Opening our new Regional Centre Southern Africa, we are able to respond even faster to our commercial vehicle customers and their requirements," reiterates Bernhard.
"We've been doing business in South Africa for more than 60 years; we have great heritage and history in the region and look forward to a bright and prosperous future for everybody involved. We're expanding at a time when things are not easy, which should show our commitment to the region," he concludes.
Focus on Transport
March 7, 2016
Published by