Commercials strut their stuff
The Johannesburg International Motor Show (JIMS) was a hive of activity and the Bus and Truck Show, running concurrently, was no exception. FOCUS trawled the halls to bring you the best of the action.
DAF
DAF placed emphasis on all aspects of its business at JIMS this year. Excitingly, the DAF product range in South Africa will be expanded in the future and a number of Euro-5 vehicles will also be introduced. The brand announced that sales in the first year under the leadership and support of Babcock included an order from Reinhardt Transport for 85 DAF XF105s, with an additional 28 vehicles ordered by the company in September.
DAF is planning to expand its Benoni, Gauteng outlet to include an additional drive-through workshop, and Parts Distribution Centres (PDCs) have been established in KwaZulu-Natal and the Western Cape.
Plans for a new Babcock-owned dealership in Woodmead, Durban, have been approved and building will commence before the end of 2011. Plans for a similar dealership in Middelburg, Mpumalanga are also in the process of being finalised.
Dongfeng
Dongfeng Automobile Corporation Africa (DFAC) made it clear that it understands that local customers have trust issues with newly-introduced Chinese products. But this manufacturer is going to slowly attempt to crack our market.
The first vehicle introduced at JIMS was its Captain four-tonne workhorse, which is fitted with a 3,8-litre Cummins engine, full air brake system, and will retail for R199 900. To emphasise its commitment to the local market, DFAC is offering a 24-month unlimited mileage warranty, 24/7 roadside assistance and technical support, as well as a courtesy truck if repairs are required. DFAC is also offering a mobile service solution, whereby technicians go to the customer's premises in order to minimise downtime.
FAW
No details were made available by FAW for its medium and heavy commercial vehicle ranges. However, the company did exhibit its full range of products at JIMS, as well as show off its forthcoming J6 truck-tractor, a vehicle which seems to showcase an exciting new generation of vehicles from the Chinese brand.
Foton
Foton Trucks was launched in 1996 and has produced over a million vehicles to date. The company has joint ventures with Cummins and Daimler-Benz, and has been in the South African market since July. Since then, sales of its Aumark range have totalled 50 units, and the company feels it is almost time to expand into the extra-heavy segment of the market.
Foton therefore previewed its Auman BJ3253 6×4 tipper and BJ4253 truck-tractor models, to be launched between now and the third quarter of 2012. A long-wheelbase version of the tipper will also be available in the first quarter of 2012. The vehicles all feature a three year/350 000 km warranty.
Freightliner
Freightliner launched the new-generation Argosy, a "commander of the highway", which has been developed specifically to ease the driver's intervention and to achieve good consumption.  This results in reduced CO2 emissions.
The new Argosy features, amongst other enhancements, an Eaton Fuller ultra-shift PLUS transmission with two rather than three pedals, and offers a quantum leap in shift logic and speed of gearshifts.  This means that, with minimum driver intervention (even in difficult topographical conditions like South Africa) the truck will produce fuel economy very close to what an outstanding driver could achieve while shifting the transmission manually.
Hino
JIMS was an auspicious event for Hino, as it unveiled its all-new 300. South Africa is the first of Hino's knocked-down assembly countries to have the new 300 introduced, and the president of Hino Motors in Japan, Yoshio Shirai, made a special effort to be present for the occasion. Shirai noted that this was an important milestone for Hino in South Africa, as the country is one of the company's most important markets in terms of size and growth potential, as well as providing important feedback for product improvements.
This was, however, only a preview of the 300 MCV, as its official launch is scheduled for the first quarter of 2012. The new cabs are designed to be more aerodynamic than the current range and will be available in wide, narrow and crew cab configurations. Engines are improved versions of the Euro-3 Hino power units and are said to be more economical and with lower emissions. The big news is the introduction of a conventional six-speed automatic transmission in addition to 5- and 6-speed manual gearboxes. Safety is also improved, with standard airbags and seat belt pretensioners, ABS and front disk brakes.
The model range will consist of: the 614 with a 100 kW (140 hp) version of the four-litre engine; 714 and 814 derivatives fitted with the same engine, producing 392 Nm of torque; and the 815 and 915 models, with a 110 kW (150 hp) version of the same engine.
Hyundai
Hyundai Commercial Vehicles announced that 107 000 medium and heavy commercial vehicles are produced annually by the company and that its local market penetration is growing. Hyundai is now looking to open separate commercial vehicle dealers and will launch two new models into the HCV segment of the market next year. Also on display was the Mighty range of medium commercial vehicles.
Isuzu
Isuzu Trucks South Africa was celebrating five years in the SA market at JIMS and announced that the AMT transmission from the N-Series will be carried over to the F-Series next year.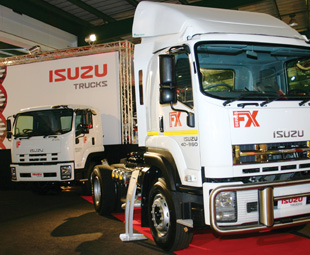 As for the rest of the product range, Isuzu will focus on product "tweaking" for the immediate future. The company confirmed investment in a new plant in Port Elizabeth, which is to be completed in 2014. The plant is being designed by Isuzu Japan for the local market, and will allow Isuzu to continue evolving in our market.
International
International had plenty to shout about, especially with a 250% increase in sales figures from 2010 to 2011 and a further 25-30% growth prediction for 2012. This was evidenced by its impressive display, which included the infallible 9800i 6×4 truck tractor.
Already offering one of the lowest tare weights in its class, this is now further reduced by 300 kg. The vehicle now also features an improved driver seating position, with a double sleeper bunk as a standard feature. The only other change to the 9800i 6×4 for 2012 will be the fitment of aluminium rims and Michelin tyres as standard. International is adamant that the 9800i will continue for the foreseeable future, although the new Aerostar will run parallel to it from the third quarter of 2015.
The International TranStar 6×4 on-highway truck was shown in South Africa for the first time at JIMS and is expected to launch in March 2012. The TranStar's low tare weight when operated with a lightweight tri-axle trailer will offer similar payload capacity to a traditional 6×4 interlink combination, and will provide customers with reduced licensing fees, optimal fuel efficiency, and lower maintenance and tyre costs. There's also a significant initial purchase price saving on the complete combination.
This vehicle features the proven North American driveline, including Cummins ISM 298 kW (400 hp) engine, Eaton Fuller autoshift transmission, Meritor rear axles and Hendrickson HAS 460 air-suspension. The TranStar 6×4 truck-tractor has a conventional extended single-bunk sleeper cab, with a standard day cab option.
Also previewed was the International MetroStar, a new line of cab-over rigid products to be launched mid-2012 following six months of testing. Previews of the cabs for two model configurations were on display, both of which will be available in day and sleeper cab options. The MetroStar 4×2 freight carrier 164 kW and 194 kW (220 hp and 260 hp) will be well suited to distribution, flat deck and tipper applications. The MetroStar 6×4 235 kW (315 hp) sleeper cab will suit local and regional haul applications, whilst the day cab is ideally suited for tipper, mixer and refuse applications.
Mercedes-Benz
The Actros 2654 Special Edition, which featured a number of fuel enhancing measures and safety features as standard, occupied pride of place on the Mercedes-Benz commercial vehicle stand at this year's JIMS. The Actros Special Edition was decked out with a number of standard features to make any transport operator's dreams come true, including an aerodynamics kit for improved fuel consumption.
The Axor 1828 AK was on display outside, alongside the iconic UNIMOG 5000.  Rugged roads and harsh working conditions require vehicles that are proven and able to withstand tough terrain.  The indestructible UNIMOG has long since become one of the living legends in automotive engineering.
Visitors were also attracted by the Mercedes-Benz Econic NGT eco-friendly natural gas drive truck. The Econic is a low-entry vehicle, ideally suited for city transportation and ancillary services.
Emission-free technology could also be seen in the Vito E-CELL on display. This unit is now fully integrated into series production in Vitoria, Spain, and was recently given the design and technology award in Europe. The Vito plays a valuable role in the company's van portfolio and it performed a number of practical demonstrations with this electrically-driven, zero-emission and virtually silent van.
Mitsubishi FUSO Truck and Bus Corporation
Mitsubishi FUSO Truck and Bus revealed the Canter Hybrid, one of the world's cleanest light-duty trucks. It boasts a diesel-electric system, which is both environmentally-friendly and economical.  In series production since 2006, more than 1 100 units have been distributed in Japan, Australia and Great Britain.
The company also introduced a new model to the extensive FUSO range, the FUSO FN25-270. A 6×2 freight carrier, it is ideal for regional and urban distribution.
Scania
Scania probably attracted the most attention to its stand of all the commercial vehicle manufacturers, with its beautiful array of limited edition and one-off vehicles. First-off were its six limited edition trucks (all sold, with the handovers taking place at the show). Themed "Nordic Blue", the trucks are a continuation of the previous "Liquid Gold" and "Carbon White" limited editions. The theme was conceived as an introduction to the company's AdBlue vehicles, the thinking behind the theme being taken from the AdBlue tanks. The trucks feature Scania's 462 kW (620 hp) Euro-4 engines, though the first trucks with Euro-5 engines are being assembled as per a customer request. The theme will be extended with an additional six trucks and, depending on interest gained at JIMS, a further 12 thereafter.
Quite possibly the star of the show, though, was the one-off R999 convertible show truck created by Scania enthusiast and truck builder, Sven-Erik "Svempa" Bergendahl. Bergendahl, who accompanied his pride and joy to JIMS, has been building Scania-based show trucks since 1982 under the name of Svempas. The Pearl Red beauty was built as a tribute to the "T-bonnet" Scanias so loved by Bergendahl and is truly a one-of-a-kind machine.
The vehicle weighs six tonnes, yet with its 746 kW (1000 hp) twin-turbo V8, Bergendahl runs it to 100 km/h in under five seconds and crosses the quarter-mile in 11 seconds! The vehicle also boasts a paint job which cost US$20 000 (approximately R160 000), Perspex floor, and the number "39" (Bergendahl's birth date) in nine-carat gold on its doors.
TATA
TATA went all out at the show, taking up half of Hall 10 for its "World of TATA" exhibition. However, given the brand's many new product launches, this was hardly surprising. The most important of these was the new Prima range – first introduced in 2008 in India as the company's 'Global truck'. To be launched in early 2012, the Prima is Euro-4 compliant and Euro-5 ready. The range comprises six models designed for the needs of the South African customer, and researched via a series of interviews, customer clinics and testing cycles in local conditions.
These models are the 4938S 6×4 tractor, 4038S 4×2 tractor, 4028S 4×2 tractor, 2528K 6×4 10 m3 box-tipper, 2538K 6×4 14 m3 box-tipper and the 3138K 8×4 19 m3 scoop-tipper.
The company has already equipped its service network to support the Prima range, ahead of its launch.
UD TRUCKS
Just over a year has passed since the re-launch of UD Trucks, in which time the company has retained its title as South Africa's top truck exporter, as well as reporting a 31,3% increase in sales to September 2011. JIMS proved a platform for the company to announce a product of a different kind – its range of branded oils and lubricants. To be launched fully in 2012, the products form part of UD's commitment to keep customers' lifecycle costs per vehicle to a minimum.
The first product to be launched is VDS3 engine oil that has specifically been designed to provide maximum protection for engine components by reducing wear and minimising bore polishing. UD Trucks Southern Africa's dealer network has started phasing in the use of UD Trucks Oils and Lubricants in its workshops.
Western Star
The Western Stars on display at JIMS represented but a small sample of the huge range of bespoke trucks that Western Star builds.  On display were a fleet-spec tanker tractor unit, an abnormal hauler and an off-highway dumper.
Used extensively in earthmoving and open-cast mining applications, the Western Star's efficiency is proven when comparing the sheer volume of rock that can be moved at one time, translating to greater fuel efficiency.
Trailers and accessories
Numerous trailer manufacturers also had displays and products for show-goers to admire.
TFM announced its acquisition of 100% of the issued share capital of Customizing Centre in KwaZulu-Natal – a specialist in vehicle customisation, painting and coating of door panels for interior trim production, used by some major OEMs. TFM also announced that its BBBEE partner, DEC Trust, has increased its equity stake in the company to over 25%.
Top Trailers wowed those in the know with its innovative Tandem-Tandem Swingbin Interlink Multi-purpose trailer. This new design – where the bin forms part of, and falls into, the trailer instead of being a separate component – was designed with a focus on bringing increased safety to the side-tipper market.
Top Trailers lists 24 individual advantages for this product, with the most notable including a lower centre of gravity, elimination of tipper tilting (it only opens to 50° as opposed to 135° of a traditional side tipper), and tarpaulin handling time reduced by 50% as a result of the tipping process.
Focus on Transport
November 1, 2011
Published by