In his monthly review of global news for local truckers, FRANK BEETON looks at the latest generation of European integral panelvans, discusses the first fuel- consumption standard proposals for US heavies and reviews some interesting exhibits at the Brisbane Truck Show.

Integral panelvans and their spun-off chassis/cab models are big business in Europe, having taken the lion's share of the 325 000 unit sales in the 3,5 to 6,0 ton Gross Vehicle Mass segment of the Western European market in 2010.
This category was first pioneered by the Ford Transit in 1965, but has since been defined by somewhat larger models such as the Mercedes-Benz Sprinter and Iveco Daily. Because applications dictate that these vehicles all look very similar, various manufacturers have identified this category as a low risk area for cooperative ventures.
Hence we have the following: the Sprinter and Volkswagen Crafter with common structures (although the powertrains are unique to each nameplate); the Sevel joint venture which builds the front-wheel drive Fiat Ducato, Citroen Jumper and Peugeot Boxer models; and the General Motors Europe/Renault/Nissan co-operation which spawned the Vivaro/Trafic/Primastar and Movano/Master/Interstar ranges.
Every few years there are a raft of new model announcements in this category. Logically, the manufacturers tend to coordinate the timing of these developments to ensure their opposition does not steal a march on them, while there are also other considerations (such as progressively intensifying emission standards) which tend to concentrate new product introductions into short timescales.
The first indication that another "new van season" was about to break were the announcements last year of model changes from the Opel/Renault/Nissan axis. The Opel Movano and Renault Master were first into the arena, while Nissan unveiled its related new NV400 at Hanover in September, but has held back the technical details until later this year when the van goes on sale in Europe. The "New Van" nomenclature, which fits in with Nissan's latest global designation practice, has replaced the Interstar nameplate used previously for the equivalent product.
The most interesting feature of this new family is the availability of both front- and rear-wheel-drive variants. Previously, intending buyers had to choose between rear-drive Mercedes, Volkswagen or Iveco products, or front-wheel drive offerings from the other brands. Specification details gleaned from the Opel and Renault launch publicity include the availability of four panel van lengths, three roof heights, a choice of platform, chassis, crew cab and combi versions, single or dual rear wheels, cornering lights, a multi-function double bench seat, rotating laptop table and multiple power supply connection.
Technically, power comes from all-new 2.3 four-cylinder common-rail diesels with optional outputs ranging from 74 to 110 kW (100 to 150 hp) and complying with Euro- 4 or -5 emission standards while driving through six-speed manual or automated transmissions. GVM ratings range up to 4,5 tons, while standard safety equipment includes ABS, EBD, and ESP.
Meanwhile, Volkswagen's Crafter has been given a new engine line-up, substituting the manufacturers' latest 2.0 TDI BlueMotion common-rail diesel for the previous 2.5 Blue TDI unit. Power outputs for the new engine range from 81 to 122 kW (109 to 163 hp) and the manufacturer claims a saving in unladen mass, with a consequent increase in payload, reduced carbon dioxide emissions, improved levels of low-speed torque and significantly improved fuel consumption. The new engine also does away with the need for the use of AdBlue urea solution to meet Euro-5 and Enhanced Environmentally Friendly Vehicle standards. The downsizing of engine displacement for a given size of vehicle has also become an established recent trend with Volkswagen for its passenger car range and this has now spread to commercial vehicles as well.
Finally, Iveco is currently launching the latest evolution of its popular (two million units sold) Daily van family, which originally came to market in 1978. Interestingly, the engines powering the latest incarnation are branded "FPT", for "Fiat Powertrain Technologies", the ex-Fiat Group company that now resides within the Fiat Industrial SpA family alongside Iveco and Case New Holland and provides powertrain solutions to both family members and outside customers. These include 2.3 and 3.0 Euro 5-compliant power units, which deliver outputs of up to 153 kW (205 hp) and are claimed to be the highest power available in this market category.
The larger displacement engine has twin sequential turbochargers, while the smaller unit employs Multijet II multi-event fuel injection to increase torque output. Both units use enhanced Exhaust Gas Recirculation and a Diesel Particulate Filter to achieve Euro-5 emission compliance.
Other features of the new range include daytime running lights, cornering fog lights, ESP, ABS, EBD, ASR, engine- speed management to control over-run braking, hydraulic brake assist, brake fade compensation with rear-wheel brake boost, Hill Holder, load-adaptive braking control, trailer sway mitigation, roll-movement intervention and roll-over mitigation. The range will retain its characteristic separate chassis frame configuration, as well as full coverage of the GVM spectrum from 3,5 to 7,0 tons, with a loading volume up to 17,2 m³. It will also continue to offer alternative natural gas and electric drive options.
Iveco's Daily could benefit from this considerably expanded global marketing footprint if it is chosen by Fiat-controlled Chrysler's Ram division for distribution in North America. It has been reported that the Daily, along with Fiat's Ducato and Doblo vans, are being considered by Ram to expand the scope of its commercial vehicle range.
While the lighter Fiat products could take on the likes of the best-selling Ford E-Series and Nissan's new North American NV van line-up, the Daily would extend market coverage upwards into territory covered by the likes of Mercedes-Benz' Sprinter, which, in both Mercedes and Freightliner-branded formats, is gaining substantial momentum in the US van market.
Fuel economy standards coming for US heavy trucks
In 1975, the United States Congress enacted Corporate Average Fuel Economy regulations, usually abbreviated as CAFE, for light motor vehicles. These set separate goals for sales-weighted harmonic mean fuel consumptions (in miles per gallon) for any manufacturer's fleet of current model year cars and light trucks manufactured for sale in the US.
The original goal, which came into effect in 1978, was 18 mpg for passenger cars and, one year later, light trucks came into the regulatory net at 17.2 mpg. The standards have been progressively raised and, in 2011, reached 30.2 mpg for cars and 24.1 mpg for light trucks.
If a manufacturer's annual fleet of cars or trucks falls below the defined standard, penalties of $US5,50 per 0,1 mpg, multiplied by the manufacturer's total production for the US domestic market, are applied.
Until now, no equivalent fuel economy standards have been set for heavier commercial vehicles, although they have been subject to increasingly stringent emission controls. The most recent of these, EPA 2010, which, inter alia, set the NOx emission ceiling at 0,20 g/bhp-hr, came into force on 1 January 2010.
This scenario has sparked an intense debate in the US trucking community on the relative merits of Exhaust Gas Recirculation and Selective Catalytic Reduction as the most efficient means of beating the regulated emission limits. The main argument hinges on the use of urea-based Diesel Exhaust Fluid in the SCR technology, with the EGR lobby (headed by Navistar International) advocating the cost benefits of their design which does not require the application of DEF.
However, on 9 August, President Barack Obama made a policy announcement that fuel efficiency and greenhouse gas pollution standards for heavy duty vehicles, including buses, would come into effect for the 2014-2018 period.
Although no specific values have been announced at this stage, some generic targets were set. These include savings of approximately $US50-billion in fuel costs, a reduction of 530 million barrels in crude oil consumption, and 270 million metric tons less greenhouse gas pollution. More specifically, these vehicles are to be categorised as combination tractors (truck-tractors), heavy-duty pickups and vans and vocational vehicles (transit buses, refuse trucks, delivery trucks etc.). Category targets for fuel consumption and greenhouse gas emission reductions have been set at 20% for combination tractors, up to 15% for pickups and vans (differentiated between petrol and diesel), and 10% for vocational vehicles.
The US Environmental Protection Agency and Department of Transportation, in concert with vehicle and engine manufacturers, operators and environmental groups, have endorsed the broad plan, but agree that much work still needs to be done in defining the actual standards that will apply to the multifarious applications that are encompassed by the three vehicle categories.
It will be interesting to observe the outcome of the SCR/EGR debate, but it could be that both will be required to work together in order to achieve the emission reductions envisaged in the preceding paragraph.
What's Up Down Under?
With the Johannesburg International Motor Show upon us here in South Africa, it will be interesting to compare the truck exhibits on view with those that were displayed at the Brisbane Truck Show in Queensland back in May. This dedicated commercial vehicles-only event was staged over a four-day period in the Brisbane Convention and Exhibition Centre and attracted more than 250 exhibitors and nearly 35 000 visitors. Here are details of some of the more interesting exhibits:
• Australian heavy-duty market leader, Kenworth, put on the first public showing of its locally produced K200, the latest incarnation of the pivotal K-Series cabover premium hauler, optimised for use in Australia's B-Double combinations, which are similar to South African Interlinks.
Differentiating features from previous models include a comprehensively redesigned and more spacious cab interior, while exterior changes include new headlights and LED turn signals. Power choices include Cummins ISX or Signature 15.0 engines with outputs of up to 615 hp (460 kW). Examples of Kenworth's latest '09 series of conventional (bonneted cab) models were also on display.
• In a country where road train combination masses can run to several hundred tons, the World's Most Powerful Truck was sure to grab a huge slice of attention – and Scania did not miss the opportunity to show off its R730, the latest claimant to that "title". The model has not yet been launched on the Australian market, but its presence surely declares intent. The Scania R730's 16.4 lV8 diesel has outputs of 537 kW (730 hp), and 3 500 Nm (2 600 lb.ft), which impressed the judges sufficiently to name it "Truck of the Show".
• Freightliner's Brisbane exhibits included the recently launched Coronado conventional, a further step in the ongoing Argosy upgrade programme, the Century Class CST112 and the Columbia CL112. The latest Argosy reportedly carries a raised cab and larger grille to accommodate a single radiator of greater cooling capacity than the previous twin radiators. Power unit choices include the in-house Detroit DD15 or Cummins ISX.
The Century and Columbia models have been identified as replacements for the now discontinued Sterling products, in applications such as shorthaul prime mover, rigid tipper and "dog" drawbar trailer, truck mixer ("agitator" in Aussie parlance), construction and distribution. The Daimler Truck family's increasing application of its HDEP global engine platform was characterised by DD13 and DD15 installations in several of the Freightliner models.
• Japanese trucks dominate the middle and lower reaches of the Australian market, while harbouring ambitions to improve their share at the top end. As a result, there is always great interest in new model introductions from the Land of the Rising Sun. As reported last month, UD Trucks is looking for a greatly improved Aussie market performance from its brand new Condor cruiserweight range, which was given considerable prominence in Brisbane. Initially, the series consists of MK and PK-badged models, covering the 4×2 GVM spectrum up to 16,5 tons, with power outputs from the ECO Fleet GH7 diesel topping out at 206 kW (276 hp).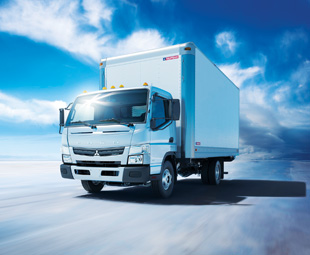 • Fuso's show emphasis was placed on a preview of the eighth generation Canter light truck (MCV) series, of which there will be no fewer than 38 derivatives available in the Australian market. These will cover the GVM spectrum from 3,5 to 8,2 tons, offering narrow, wide and crew cab options. All will be powered by versions of the same new 3.0 diesel with Blue Tec SCR emissions control system.
When this new Canter was first announced in Japan and the US, the question arose about the possibility of a larger displacement power unit for heavier applications, but the Australian execution will offer 3.0-litre power outputs ranging from 96 kW (129 hp) to 130 kW (174 hp), so it seems this one basic engine design has it all covered.
Much interest was also centred on Fuso's pioneering Duonic six-speed dual-clutch automated transmission, offered as an alternative to a five-speed manual unit. Safety features on the new Canter include ABS, EBD, driver and passenger airbags, independent front suspension on models up to six tons GVM, and hill-start assist on manual transmission variants.
• Hino's Brisbane show centrepiece was the all-new 300 Series light truck (the Toyota Dyna/Hino Dutro successor), easily distinguishable visually from its predecessor by a two-element grille. The changes go much deeper, however, and Hino claims that this new range has considerable Australian development input. Safety features being highlighted include dual SRS airbags, high-intensity discharge headlamps, traction control, hill-start assist, four-wheel ventilated disc brakes with ABS and EBD and vehicle stability control.
The new cab design has narrow windscreen pillars to enhance driver visibility and optional equipment includes up to three rear-facing cameras with a dashboard-mounted display. Power outputs of up to 121 kW (162 hp) will be offered, with the Euro 5-compliant diesel driving through a choice of six-speed manual or automatic transmissions, while all models have factory-fitted air-conditioning. An expanded range of hybrid driveline variants will join the 300 Series line-up later this year.
• This plethora of new Japanese-source product has arrived just in time to confront the first waves of serious Chinese and Korean competition entering the Australian market. Although the reception accorded to these new entrants has reportedly been lukewarm up to now, there can be no doubt that manufacturers in those two countries have their sights set on establishing a firm foothold and will use pricing as a weapon to prise open any gaps left uncovered by the presently dominant Japanese marques.
It has been reported that Hyundai's HD Series has enjoyed some early sales success and the Korean manufacturer used the Brisbane Show to announce increased torque and kilowatt outputs for the 3.9 turbocharged and intercooled common rail diesel powering its HD 45, 65 and 75 models. Upcoming range additions will reportedly include factory-supplied tipper bodies and a full crew cab to complement the present extended Super Cab option.
• Of the Chinese brands, Foton Aumark was first into the Aussie market more than a year ago, distributed alongside MAN and Dennis Eagle by Western Star Australia. The Aumark light trucks are powered by Chinese-built Cummins ISF diesels, built by a joint venture between Foton and the US engine manufacturer. The same 2.8 and 3.8 engines are also utilised by JAC, whose 4,5 and eight ton GVM models are due to enter the Australian market around the time that these words are being read, distributed through two major dealer networks by the White Motor Corporation. The Cummins power units drive through five and six-speed transmissions built in China under ZF licences, or an optional Allison fully-automatic unit.
---
Global FOCUS is a monthly update of international news relating to the commercial vehicle industry. It is compiled exclusively for FOCUS by Frank
Focus on Transport
October 2, 2011
Published by