Could Freightliner launch a Revolution?
In his monthly review of global news for local truckers, FRANK BEETON looks at a really interesting "concept" from Freightliner, details Daimler's rapidly growing involvement in the Russian truck market, reports on the long-anticipated switch by Volkswagen trucks to MAN power units, and describes ZF's new auto box.

Progress in truck design tends to be evolutionary rather than revolutionary. Because trucks are working vehicles, any claimed improvements are carefully weighed against possible downtime side effects before being accepted by the market. As a result, most advances made over the past 60 years – direct fuel injection, multi-speed gearboxes, retarders and many others – are buried deep in truck DNA, rather than being visually apparent.
The more obvious visual developments have related mainly to the fine-tuning of vehicle aerodynamics, while numerous adaptations have been made to comply with increasingly onerous environmental legislation. Driver comfort and convenience have been advanced by continuous fine-tuning of the in-cab environment. Power steering is now found in even the smallest of trucks, and drivers' welfare greatly improved by the adoption of suspended seating, flat cab floors and comfortable overnighting arrangements. It is in this area that most potential has existed for the creation of concept vehicles, although very few of the really radical shapes that have emerged from time to time have approached production status yet.
The US market, with its continuing demand for "conventional", or bonneted heavy trucks, has presented a unique challenge to manufacturers committed to servicing its requirements. The Kenworth T-600 "Aardvark" of the mid-1970s marked the first move away from traditional conventional truck styling, with the previously prominent high radiator profile lowered to provide a 22 percent improvement in fuel economy. A spate of aerodynamic designs has followed, although most US brands have largely retained the "traditional look". At the recent Mid-America Trucking Show held in Louisville, Kentucky, Freightliner celebrated its 75th Anniversary by presenting its "Revolution" concept, which appears to have taken the idea of a conventional cab to new heights.
At first glance, this vehicle looks remarkably like the typical American pick-up of the mid-1950s, but there the similarity ends. Based on the current Freightliner Cascadia chassis, the concept's "crossover" cab, integrated sleeper and side fairings have been fine-tuned in the wind-tunnel to optimise airflow, but the interesting difference is that this tractor is designed for a one-man crew! It doesn't even have a door on the passenger side, and the driver's seat folds away to make room for a sleeping bunk normally stored against the cab back panel, thus keeping the cab overall length to a minimum. The space normally occupied by the passenger seat has been replaced by a comfortable work area, and access to the cab is either through the driver's door, or via a chassis access step and deck plate, and then through a power sliding door cut into the cab's back panel.
Other features include stalk-mounted cameras replacing conventional rear-view mirrors, a Daimler 12-speed automated transmission with newly-announced "Detroit" badging, a rear bogie set that switches from single (6×2) to tandem (6×4) drive only when additional traction is required, electronically-powered heating, ventilation and air-conditioning which allows for a smaller radiator air intake, LED lighting, laptop Internet interface, and a dashboard iPad docking station that enables the use of numerous communication and entertainment apps.
The "crossover" element of this concept refers to its intended suitability for both short and long-distance applications, without suggesting that it will completely replace the fully-equipped transcontinental hauler. However, the styling could clearly be adapted to alternative cab configurations, and this is perhaps its major attraction, as it is certainly different, but not unattractive. It is also interesting to note that Daimler is emphasising the Revolution's use of a fully integrated driveline, with all major aggregates coming from in-group sources. The exposure and education of North American truckers to this European modus operandi is certainly now in full swing!
Daimler embraces more Russians
Global FOCUS previously noted that Daimler AG was intent on establishing a meaningful presence in China, reporting on unfolding developments at the German company's truck joint venture, Beijing Foton Daimler Automotive Company Limited. While the rapidly growing Chinese market was obviously an area that demanded attention, other geographic areas also need to be addressed by this global leader – and the Russian truck market is reported to be the largest in
Europe, with total sales above six tonnes gross vehicle mass (GVM) of more than 154 000 units during 2007. Volumes declined from 2008 as a result of the financial crisis, with only 112 000 units sold in 2011. However, analysts expect sales to grow substantially to a total of around 230 000 units by 2020, with emphasis on heavier payload vehicles.
Late in 2008, Daimler Trucks announced an important development in a strategy to strengthen its Russian presence, with an agreement signed between Daimler AG, Rostechnology State Corporation and Troika Dialog Group, covering the establishment of an exclusive strategic partnership between the German company and Russia's largest truck manufacturer, Kamaz. Daimler was to progressively acquire a 10 percent stake in Kamaz for a total consideration of US$ 300 million, and the two companies agreed to engage in technology transfers and joint projects. In June 2010, Daimler and the European Bank for Reconstruction and Development jointly acquired 15 percent of Kamaz's total shareholding.
In June 2012, the relationship was expanded to include a licensing agreement covering the supply by Mercedes-Benz of Axor truck cab components to Kamaz, which will ramp up local assembly and support a new range due for launch in 2013. An early clue to the make-up of this range was provided by the Kamaz 5490 prototype exhibited at the ComTrans show in Moscow last year. This truck-tractor was fitted with an Axor cab sourced from Mercedes-Benz, and equipped with that manufacturer's 320 kW (428 hp) OM457LA Euro-5 diesel engine and Daimler HL6 drive axle. The target life volume for this project has been set at more than 20 000 units.
The original 2008 agreement resulted in the setting up of two local companies, Mercedes-Benz Trucks Vostok and Fuso Kamaz Trucks Rus, to manufacture, distribute and support Actros, Axor, Atego and Canter trucks for the Russian market. However, between the end of 2010 and May 2012, Daimler also finalised an agreement with GAZ Group to facilitate the production of previous generation Sprinter vans at Nizhny Novgorod, and OM 646 2,4-litre diesel engines at Yaroslavl. Sprinter production in Russia is scheduled to commence during the first half of 2013, and the joint venture will require an investment of more than €100 million from Daimler, and €90 million from the GAZ Group. Russia's current annual market demand for mid-size and large vans is around 150 000 units, but is expected to grow to 300 000 units by 2020.
The GAZ Group is a subsidiary of Basic Element, Russia's biggest business group and the country's leading producer of commercial vehicles with GVM ratings greater than 1,5 tonnes. In 2011, GAZ manufactured 90 705 trucks and 14 604 buses, representing 41,5 percent of the combined national total. The majority of these were from the company's Gazelle range of vans and minibuses, which were present in the South African market from 2005 to 2007 (after a series of technical and product support issues, these vehicles were withdrawn from local distribution). At the same time, Russian manufacturers have come under intense pressure from imported brands, including numerous foreign products now assembled in the country. These have captured slightly more than half of total market sales. Notably, GAZ made an unsuccessful attempt to buy bankrupt UK van manufacturer LDV and its newly-developed Maxus van range in 2006, and subsequently started using Chinese-built Cummins engines to power its Gazelle line-up.
Just recently, GAZ Group used the Moscow International Automobile Salon to present the GAZelle NEXT, which is due to go on sale in March 2013. The line-up will consist of trucks and minibuses with GVMs ranging from 2,8 to five tonnes, and numerous bodywork options including dropsides, crew cabs, platforms, full metal vans, buses and more than 100 speciality vehicles. The Euro 4-compliant Cummins ISF engine has been carried over, with the possibility of later upgrades to meet Euro-5 and -6 emission standards, and other technical features include independent front suspension, rack-and-pinion steering, active electronic brake management, airbags, safety belt pretensioners, and galvanized steel cab panels.
The clear intention is to market the GAZelle NEXT range alongside the Russian-built Mercedes-Benz Sprinter, despite the overlap suggested by the former's GVM envelope. Notwithstanding the obvious risk of divided volumes, this arrangement, together with the Kamaz partnership, promises to give the German manufacturer a firm footing in an increasingly important area of the global market.
Constellation gets MAN power
Since Volkswagen AG's announcement that it would sell its Brazilian truck and bus operation, Volkswagen Caminhöes e Ônibus, to affiliate MAN AG during the first quarter of 2009, there have been expectations that the Volkswagen Constellation trucks would switch from bought-in proprietary engines to MAN Group power units. In July, it was announced that this range has been redesignated "Constellation Advantech", and that the lower-powered models would give up their erstwhile MWM International power units and adopt Brazilian-manufactured four- and six-cylinder variants of MAN's D08 engine family, with outputs ranging from 112 to 255 kW (150 to 340 hp).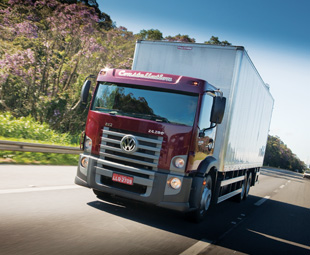 These MAN engines employ continuously controlled exhaust gas recirculation to comply with the Euro 5-equivalent emission standards that were introduced in Brazil at the beginning of the year, without the need for urea solution injection in the exhaust system. Other enhancements made to the Constellation Advantech range include modernised instrument panels, coalescence filters in the full air-braking systems for improved air dehumidification, and revised cab styling. The manufacturers claim that the Advantech models will return improved fuel consumption results when compared to their predecessors.
MAN Latin America has also announced that the 24.280 Advantech model will be offered to the market with a hydraulic hybrid-drive system. This follows on from the showing of a diesel-hydraulic hybrid refuse collector at the 2011 Fenatran truck show in São Paulo, Brazil. In this application, the hydraulic motor/pump is coupled directly to the vehicle's propeller shaft. During braking, hydraulic pressure is generated, and stored in high pressure accumulators, to be released back to the hydraulic motor to aid acceleration. Claimed benefits include reduced fuel consumption and improved acceleration.
At this stage, the 290 kW (390 hp) Cummins ISL engine has been retained in the most powerful Constellation Advantech model, which is designated 26.390. This, presumably, is intended to provide some measure of product differentiation from parent company MAN's TGX range, which is now also being built, in 330 kW (440 hp) 6×2 and 6×4 formats, at the recently expanded facility in Resende, Brazil.
TraXon – ZF's latest automatic
Transmission manufacturer ZF Friedrichshafen AG launched its completely new modular TraXon automatic transmission for heavy trucks at the 2012 Hanover IAA exhibition. The modular concept employed in its design provides vehicle manufacturers with a wide range of available alternatives when tailoring the driveline specifications of their products to specific applications. Claimed benefits include more torque, a greater gear spread, and reduced noise, while the option list includes dual-clutch and hybrid functionalities.
The compact basic transmission consists of a main gear group, splitter group and range change group, offering 12 or 16 forward speeds, up to four reverse ratios, and direct or overdrive top gear options, with the gears running on one main shaft and two countershafts. Torque capacity is claimed to be well in excess of 3 000 Nm, and the transmission is cleared for gross combination mass (GCM) applications of up to 60 tonnes. ZF claims that, through design refinements, the TraXon is an average of six decibels quieter than its predecessor, the AS Tronic, and that this transmission has an efficiency of about 99,7 percent in direct drive.
Five application-specific modules can be accommodated between the engine and the front end of the transmission. The first choice lies between single or twin plate dry clutches, according to the torque requirements. The "TraXon Hybrid" module includes a 120 kW electric motor and separating clutch, and can accommodate energy recovery, all-electric drive, power supplementation, and a start-stop function. Electronic power can also be supplied for ancillary uses such as payload refrigeration, or in-cab convenience and comfort functions such as air-conditioning, heating, communication, and more, while the vehicle is parked and its engine is shut down.
The "TraXon Dual" module introduces dual-clutch technology, and enables seamless shifting between gears when the vehicle is operating at high speeds on slight gradients. This allows the vehicle manufacturer to specify very long (numerically low) drive axle ratios, and the engine to operate at lower rotational speeds. The downshifts necessary to negotiate these slight gradients can be performed without torque interruption, which is potentially beneficial to both fuel consumption and average speed. ZF claims that this innovation will start a future trend in truck driveline optimisation.
"TraXon Torque" consists of a hydrodynamic torque converter, torque converter lock-up clutch, and a dry clutch, and is intended for use in heavy road tractors, with GCM ratings up to 70 tonnes, allowing for high input-torque (up to 3 500 Nm) pull-offs and manoeuvring without clutch wear, and also has a primary retarder to assist in braking. Finally, there is an engine-dependent power take-off for use at any vehicle speed in fire trucks, mobile cranes and concrete pumps.
ZF's engineers have developed a standard software platform for all TraXon variants, which makes possible a number of innovations including anticipatory shifting, a rolling function which uncouples the engine and driveline allowing the vehicle to freewheel under suitable conditions and smoother starting and manoeuvering. The PreVision GPS function links to digital map material, and ensures that the vehicle is prepared for upcoming changes in topography, gradient or road conditions, and is not caught in an inappropriate mode or gear.
---
Global FOCUS is a monthly update of international news relating to the commercial vehicle industry. It is compiled exclusively for FOCUS by Frank Beeton of Econometrix.
Focus on Transport
October 2, 2012
Published by