Covert ops to tackle rhino poaching
We're all aware of the despicable rhino poaching epidemic that has hit South Africa, but a new communication system might just foil poachers' plans at the Pilanesberg National Park. JACO DE KLERK was at the handover ceremony

The Pilanesberg National Park is situated close to Sun City in the North West province – and according to park manager Johnson Maoka, has lost seven black and 40 white rhinos since March 2010, with other reserves of the North West Parks and Tourism Board suffering even greater losses.
The massacre is, however, set to be a thing of the past thanks to the donation of revolutionary communications technology valued at R300 000 from Altech Alcom Radio Distributors (AARD), together with its channel partner Lazer Communications (a radio communications solutions provider). The donation was handed over on March 26, 2012, and consists of 18 Motorola MotoTrbo digital two-way radios, two dispatcher units, a repeater and installation and support. The donation adds vital resources to the anti-poaching systems and initiatives already in place at the park.
Maoka emphasises that game reserves and national parks across South Africa need to have a number of tools in place to effectively fight the scourge of poaching – including reliable all-terrain vehicles, specialised staff trained in anti-poaching tactics, anti-poaching equipment and an efficient communications system.
"In the fight against poaching, it is imperative that information be relayed as swiftly as possible so that operations can be co-ordinated affectively," he says. "This will give us the best possible chance of preventing rhino poaching. That is why this donation is so important for the future of our rhinos and other endangered species."
Leon Coetzee, managing director of Lazer Communications, says that as a supplier to the Pilanesberg National Park, his team is very aware of the communications challenges facing rangers on the ground. "We wanted to make a contribution that would give them an advantage and improve their communications network, especially given the topography of the park," he says.
The park is set in the crater of a long extinct volcano and is one of the largest of the parks in South Africa, covering an area of some 55 000 hectares.
Lazer Communications approached AARD to find a solution that would best fit the park's requirements, with both partners identifying the Motorola MotoTrbo systems as the perfect choice.
Hostile situations
"Our primary objective," says Zubair Munshi, managing director of Altech Radio Holdings, "was to equip Pilanesberg's anti-poaching teams with the right equipment for their extreme working conditions, especially when facing hostile situations. When we came through to meet the park rangers last year, we were completely shocked at the state of the communications equipment they were using – very old, outdated and, in fact, not supported; some of the products they used were discontinued in the late 1990s."
Munshi says the advantages offered by the MotoTrbo system were a key factor in the companies' decision. "The system we have provided has significant technology advances compared to the previous analogue infrastructure that was in place, most notably its location information, encryption, ambient noise cancellation, clearer voice communication and text messaging capabilities."
In the case of location information for example, the GPS antenna in each radio allows the park's central control room to not only communicate with rangers in the field, but to determine their location too. Each unit also has its own IP address, which enables the central control room (and other radios that are allowed) to see exactly where each radio is. The system also allows for something called geo-fencing. This is where an electronic GPS boundary can be set up to monitor all the radios and imbedded GPS tracking devices on animals, which could sound an alarm if any of these units moves outside the boundaries.
"This data will enable the tactical co-ordination of teams and improve response time in emergency situation," says Coetzee. "The MotoTrbo system's encryption will also prevent any unauthorised person from accessing Pilanesberg's communication network."
The encrypted voice communications, as Coetzee points out, allows for the prevention of eavesdropping. This was made possible through the simple task of programming a radio with the old analogue systems. It is true that every encryption in the world can be hacked, but this system has an algorithm that will take enormous amounts of effort to break.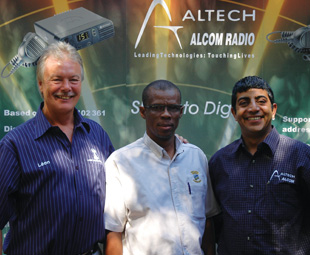 As mentioned, the MotoTrbo system has ambient noise cancellation, which means the system will automatically cancel out background sounds if any of the parties are in a noisy environment. The clear voice communication further assists with getting a clear message across and is so effective that a message can even be heard over the rumbling of a game-viewing vehicle's engine.
Element of surprise
Text messaging is another highlighted feature, enabling rangers to communicate silently during high-pressure or covert situations when speaking isn't a favourable option, ensuring the element of surprise. The radios are also very robust, waterproof and have an extended battery life.
With the implementation and upgrade from analogue to digital currently underway, AARD and Lazer Communications are confident that the initiative will act as a pilot project that can be rolled out at other game reserves across South Africa.
"While the long-term plan at Pilanesberg is to migrate all of the park's communications to a digital platform," Munshi explains, "the real strength of this system is that it can potentially improve general communication between the surrounding reserves in the area. In this way, it could enable regionally co-ordinated anti-poaching efforts, improving the visibility and mobility of teams within the various reserves. This, in turn, would ensure a more effective utilisation of resources."
He further states that: "We are not game rangers at Altech. We don't know anything about the conservation of our natural resources, but what we do know is how to provide state-of-the-art communication infrastructure, which is a fundamental requirement for the guys on the ground that are doing this on a daily basis."
Maoka emphasised that partnerships such as this are vital if South Africa is to actively and effectively prevent poaching. "Our ultimate success hinges on anti-poaching teams across South Africa being well-equipped, tactically trained and fully mobile. This is something most of our national parks cannot achieve on their own. We are confident that today's handover will make a significant impact on our conservation efforts – and thank both Altech Alcom Radio Distributors and Lazer Communications for their commitment to preserving our wildlife heritage for our children."
As Munshi points out, Altech's payoff line says "leading technologies: touching lives", which is very apt in this case. "We have provided the very latest in leading technology and we hope – in fact, we are confident – that this technology will touch the lives of not only the game rangers, but certainly the rhinos that are being massacred in our country at an increasingly alarming rate."
If the onslaught of poaching continues, rhinos may completely disappear from the wild, leaving children to see these majestic creatures in the same light as unicorns – a mystical fantasy rather than a living, breathing treasure.
Focus on Transport
May 1, 2012
Published by