In his monthly review of global news for local truckers, FRANK BEETON ponders on the Chinese obsession with Isuzu's cab design, reports on new distribution arrangements for International in Australia, as well as a new MAN heavy model for the same market, and takes a look at Scania's new International Truck of the Year award-winning R and S-Series vehicles
It is true that the names of some individual products become intrinsically linked to their function. There was a time in South Africa that every forklift truck was a "Hyster", and every Japanese bakkie was a "Hilux".
We don't think that any truck model has ever achieved that level of recognition, but, judging by the number of clones and lookalikes that have emerged lately, it seems that some Chinese truck manufacturers would dearly like to have their brands associated with Isuzu products.
For example, the FAW 8.140, which has found ready acceptance in the South African market, looks a great deal like an Isuzu N Series product, and even experienced observers need to read the badging to make a positive identification. This does not suggest that the products are mechanically identical, as there are substantial differences in the specification detail, but the visual similarity is striking.
A similar lookalike situation prevailed when Powerstar heavy trucks entered the local market, and displayed a marked similarity to an earlier generation Mercedes-Benz Powerliner range that was very popular among South African truckers.
It is now a matter of record that Powerstar was successful in subsequently establishing a healthy local market presence, and it could be argued that the familiar appearance of its products did not do any harm.
Once again, there was considerable technical differentiation between the Powerstar products and the Mercedes models that went before, and a subsequent facelift has reinforced Powerstar's identity as an independent Chinese manufacturer, although the basic and familiar cab structure remains.
New JMC Conquer – yet another Isuzu?
Getting back to the headline topic, we recently read about the launch of the Jiangling Motors Corporation (JMC) Conquer truck range on to the Australian market. Once again, the visual similarity of the cab to that currently employed on Isuzu's N Series is striking, with only subtle differences in the grille design, side window opening shape and badging being immediately apparent.
It is well known that Isuzu is the dominant force in the Australian truck market, so the logic in introducing a visually similar product is apparent, and the manufacturer clearly hopes that this will be an enabling factor in penetrating a market that has not been particularly receptive to Chinese products up to now.
The Conquer range consists of 4×2 models rated at 5,5, 6,5, 6,7 and 7,5 tonnes gross vehicle mass (GVM), with the two lighter models powered by JMC's own 90 kW (122 hp) 2,4-litre JX4D engine. The heavier derivatives have a three-litre Topanther engine rated at 110 kW (150 hp), driving through a Getrag six-speed automatic transmission with tri-cone synchronisers.
Technical detail was a little light in the launch announcement, but included hydraulic power-assisted steering, Visteon air-conditioning, and a host of driver convenience features such as FM radio, CD player, and USB/AUX interfaces. JMC also requested approaches from potential retailers in the Australian market.
Imitation is the greatest form of flattery
We have come to the conclusion that the vast proliferation of vehicle manufacturers and models active in China, together with the inability of most foreigners to readily read or understand the meaning of names applied to them, will act as a potential obstacle to their broader acceptance in the global market.
This could be offset, to some extent, by the cloning of successful international designs, which would make foreigners more comfortable with the appearance of the Chinese products. This has emerged a number of times in the passenger car industry, although most of those products have been technically vastly different from the originals, and restricted to the Chinese domestic market.
There have also been some instances of legal action being initiated by the original manufacturers of cloned designs, seeking to protect their intellectual property, but it is generally accepted that such actions do not always succeed in China. It will be interesting to see if anything similar happens in the truck industry.
MORE INTERNATIONAL DEVELOPMENTS
In last month's evaluation of Volkswagen's (VW's) buy-in to American truck manufacturer Navistar International, we offered the logic that the American company's export footprint in the global truck business was unlikely to be expanded beyond some limited sales of United States-type conventional (bonneted) cab models in Australia.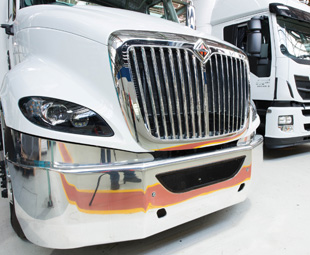 This was based on the presumption that prospects for a revival, or replacement, of the forward-control International 9800 Eagle series, which was formerly very successful in South Africa, were very slim indeed.
We also said that the 16,6-percent shareholding acquired by VW was unlikely to provide the leverage that the German giant would ideally like over such a potentially important asset, and that we would not be surprised if the ownership ratio were to be expanded.
Australian distribution changes yet again!
Hardly was the ink dry on our article, when we were reading about yet another new distribution arrangement for International trucks in Australia. In an amazing volte-face from the events of the past few years, sole distribution of the brand in that market has reverted to erstwhile partner Iveco!
Regular readers may well recall our detailed recounting of a process that included the acquisition of the former International Harvester Australian assets by Iveco in 1992, following which Iveco Trucks Australia (in addition to its own range of products) took responsibility for the marketing and support of certain Navistar International trucks in the "land down under". In the process, it absorbed and rebranded the iconic indigenous ACCO series as its own.
Then, in 2010, Navistar International announced that it would formally dissolve its supply, technical, assistance and licence agreement with Iveco and resume responsibility for the launch and assembly of new products from the NC² cooperation with Caterpillar into the Australian market.
As is now well known, the NC² joint venture was short lived. The Australian operation was subsequently renamed Navistar Auspac, and the products moved back under International branding in 2015.
Now, we have the situation where the CNH Industrial-owned Iveco Australian operation has, once again, been appointed sole distributor of International Trucks in that market, and that several North American market models, including the ProStar, are under consideration for sale in Australia.
So, it looks like our reading of the situation with regard to International product offerings was accurate, but we must admit to a degree of surprise over the decision to re-establish the relationship with Iveco, and the degree of vacillation that has been evident in International's dealings with the Australian market in recent years, which must have caused some considerable unrest among its past and potential customers in that country.
More questions than answers?
The fact that Navistar International will be supplying its North American-style products to Iveco Australia will raise questions, once again, about the future of the latter's own unique, locally engineered indigenous PowerStar normal-control model.
Recent power options for that truck tractor include Iveco's own Cursor 13 engine series, or bought-in Cummins ISX units, so in future it will need to compete with the International trucks for a slice of that portion of the Australian market currently held by the likes of Kenworth, Western Star and Freightliner with their normal-control models.
The earlier relationship with Iveco was reportedly terminated because International sales volumes under the dual-brand regime were not considered satisfactory, and it will be interesting to see if things improve this time around.
The other question revolves around VW's buy-in to this arrangement, given that its Scania and MAN truck brands are also striving for increased Australian market share. The fact that the International models are of conventional cab configuration will preclude direct competition with the forward-control MAN and Scania offerings, but it could be that VW would prefer to offer normal-control Internationals, rebadged or not, through one or both of its own distribution channels.
If our supposition that VW will seek a larger share of Navistar shareholding in future proves correct, we would not argue against yet another change in International's Australian distribution arrangements in years to come!
MAN'S NEW AUSSIE HEAVYWEIGHT
In support of our comments made in the previous article, we have noted that, in 2015, MAN took only a 0,8-percent share of the Australian medium-duty truck market segment (defined as two-axled vehicles with a GVM of more than 8 000 kg, or a gross combination mass (GCM) of 39 0000 kg or less), while Scania accounted for 7,1 percent of the heavy-duty segment that lies above those parameters.
It follows, therefore, that these brands, like most other European sourced truck suppliers, would dearly like to substantially increase their levels of penetration in the Australian market (the sole possible exception is Volvo that took 14,9 percent of the heavy-duty category in 2015).
In the case of MAN and Scania, there is sure to be additional pressure from parent VW Truck & Bus, which has a stated objective to become "the most profitable company in the sector, with a significant presence in all key regions of the globe".
Roger that!
The MAN brand is represented in Australia by Penske Commercial Vehicles, and that company's iconic patron, American motor racing legend Roger Penske, recently visited the country to watch his V8 Supercar racing team in action, and launch the new 15-litre MAN TGX truck tractor into the local market for B-Double prime movers.
The specification of this model includes a six-cylinder 411 kW (560 hp) D3876 single overhead camshaft diesel engine with high-pressure (2 500-bar) common-rail fuel injection, twin turbochargers, "top down" engine-coolant system, and 600 kW Turbo Exhaust Valve Brake.
The Australian heavy-duty transport sector includes operators and applications that favour a mixture of bonneted and forward-control cab configurations, with the former being found mainly in the regional and construction sectors, while the latter types tend to predominate in those applications where overall length and axle mass considerations are paramount.
Long-time Australian heavy-duty market leader, Kenworth, owes much of its success to the continuing local development of its forward-control units with American driveline aggregates, while at the same time offering a range of bonneted units to operators favouring that configuration.
Should VW identify Australia as an important target market for its growing family of specialist commercial vehicle brands, it may well see the appeal of a consolidated presence; which includes cabover MAN and Scania units from Europe, and conventional Navistar Internationals from North America. However, we are not sure if they will accept a distribution arrangement with a competitor such as Iveco as an ideal situation.
SCANIA REIGNS SUPREME
Scania's new R and S-Series family scooped the prestigious 2017 International Truck of the Year award, as announced at this year's IAA Commercial Vehicle Show in Hannover, Germany.
The award recognised the truck, launched during the previous 12 months, which was judged to have made the greatest contribution to road transport efficiency.
Other contenders for the title were Iveco's newly launched Stralis XP-NP gas-fueled, long-distance hauler, and Mercedes-Benz's latest Actros with the new-generation OM 471 engine.
Both of these products have been extensively covered in past Global Focus articles. We also reported on the new vehicles and the award in the October 2016 issue of FOCUS. (FOCUS is an associate member of the International Truck of the Year and was present when the jury evaluated the new-generation Scania.)
It must be said that, at first glance, these new Scanias do not look radically different from the generation currently seen abundantly on South African roads. However, looking at the list of virtues that impressed the 25-person group of commercial vehicle editors and journalists who voted them in, it becomes apparent that designers and engineers are required to dig deep into the detail to achieve award-winning status in the second decade of the 21st century.
The factors recognised by the judging panel included substantial improvements in cab aerodynamics, comfort and ergonomics, vehicle driveability, driveline performance, safety and customer-optimised services.
The new Scanias in detail
Detailed product enhancements in the new range include a new layshaft brake in the automated Opticruise gearboxes, which reduces gear-change times to 0,4 seconds on upshifts, and the ability of the 13-litre engine to run on hydro-treated vegetable oil, as well as diesel fuel.
The full engine range includes 13-litre and 15,6-litre V8 units covering the power spectrum from 305 kW to 545 kW (410 hp to 730 hp), and incorporates new fuel injectors operating at 2 100-bar pressure, revised combustion chambers and a reconfigured cooling system incorporating directly driven fans and thermostatic oil cooling.
Interestingly, the design reference for the new range was the 2013 Scania Streamline, which, in turn, was inspired by the 1991 Streamline design. Aerodynamic development was conducted in Europe's biggest wind tunnel, located north of Amsterdam, which is unique in being able to accommodate full-sized trucks and trailers.
Detail refinements include reducing the gap between cab and chassis, optimised shaping of the cab corners, reshaping the roof, integrated auxiliary lights and marker lamps, optimised rearview mirrors, and measures to clean up the vehicle's underside.
Considerable effort has also been put into reducing noise inside the cab. Three customer-adjustable air deflectors have been provided to enhance the in-service aerodynamic alignment between the cab and trailer roofs.
A change in new product direction
We have become accustomed, over the years, to an award-winning new truck series being radically different from those that came before, with quantum leaps in performance and efficiency.
The most recent major change to the Mercedes-Benz Actros, for example, made the shift from vee-form to in-line engines, which necessitated a complete redesign of the cab and the technical layout directly underneath.
The increasing demands of emissions and fuel-consumption imperatives have narrowed down the options available to designers of "traditional" diesel-powered trucks with mechanical transmissions, and made each progressive new model series a great deal more technically complicated – and potentially expensive to the manufacturer.
It seems likely that this situation will focus attention on alternative power solutions, and recent articles that we have read and written on all-electric vehicles suggest that some form of this avenue may well offer an attractive alternative, with a great deal less complication, than continuing to add more layers of emission countermeasures and electrical management to fossil-fueled vehicles.
---
Global FOCUS is a monthly update of international news relating to the commercial vehicle industry. It is compiled exclusively for FOCUS by Frank Beeton of Econometrix.
Focus on Transport
December 2, 2016
Published by