DAF expands Euro-6 line-up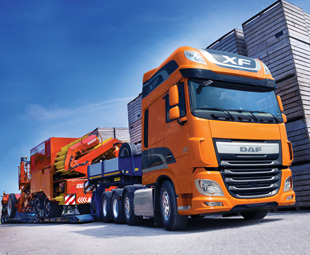 In his monthly review of global news for local truckers, FRANK BEETON brings readers up to date on DAF's Euro-6 product portfolio, looks more closely at the first "in-house" powered Australian Kenworth, and expands the story of Ford's "different" American cruiserweights.
The Paccar group's European arm, DAF, has been adding to its Euro-6 product portfolio. The new additions fall into the CF and XF model families, and include four-axle rigids with varying axle configurations, and a four-axle truck tractor for extreme outsize loads.
This latter unit, designated XF ATM, has a double-drive tandem rear bogie with a steered leading axle positioned ahead of the bogie. It is available with an eight- or nine-tonne capacity single front axle, steel leaf or air rear suspensions, single- or hub-reduction drive axles, and can handle a gross combination mass (GCM) of up to 120 t.
The supplemented XF line-up also includes a four-axle rigid chassis, designated FAK, with a tridem rear bogie made up of a 7,5-t steered leading axle, 13-t drive axle, and ten-tonne, dual-tyred, undriven trailing axle, which is rated at 35,5 t gross vehicle mass (GVM).
The multi-axled CF range includes an 8×2 rigid chassis with twin-steering front axles, a single rear-drive axle, and the choice of an undriven, dual-tyred trailing axle, or a steered rear trailing axle.
This unit can work at GVM ratings of up to 37 t, and is suited to the haulage of heavy industrial machines, shipping and waste containers, or bulk and liquid payloads. The range also includes 8×2 rigid models with tridem rear bogies, in FAQ (single drive axle with steered undriven leading and trailing axles), or FAK (single drive axle with steered leading axle and dual-tyred rear trailing axle) formats.
GVM ratings are set at 36 and 35,5 t respectively. Targeted applications for the four-axled CF models include heavy refuse collection, vacuum tanker and shipping container transport.
The driveline specifications for these new models include a choice of 10,8-litre Paccar MX-11 or 12,9-litre Paccar MX-13 engines, with a power output range from 291 to 375 kW (396 to 510 hp), available AS Tronic automated transmission with customised shifting patterns for the varying applications, and a broad range of PTOs. These models also share features with other Euro-6 models introduced in 2013, including exterior and interior cab upgrades, new front wheel suspension and more efficient axles.
MX-powered Kenworth launched Down Under
Still with Paccar, in FOCUS May, Global Focus updated the long-running story of the company's progressive move to "in-house" engines for its North American product line-up. We were able to report that it had already installed more than 51 000 of the group's DAF-designed MX-13 engines in Peterbilt and Kenworth trucks for the North American market, since Stateside production of these power units commenced in 2010, and that around one-third of current deliveries of Paccar Group Class-8 trucks into its home market were being equipped with these engines.
Given the traditional preference in the United States (US) for "kit trucks", equipped with bought-in driveline components from a selection of preferred independent suppliers, this progress must be regarded as highly creditable. It's a sure sign that some change to the historic pattern is being achieved by truck manufacturers' promotion of their own "in-house" aggregates.
The magnitude of this development at Paccar is particularly significant, as it remains the major US-owned and controlled truck manufacturing conglomerate, and is not subject to any undue influence from a foreign "parent".
Paccar's Kenworth brand has been the dominant force in the heavy commercial (over 16-t GVM) segment of the Australian truck market for more than a decade. This leadership position was initially achieved by offering the same kind of "kit truck" product to Aussie truckers, as was the case in North America.
There was, however, an important difference, in that Kenworth developed and maintained a special forward control K Series model to suit the multi-trailer configurations that reign supreme in many parts of Australia, while the demand for similar cab-over premium truck-tractor units in its American home market had, to all intents and purposes, evaporated.
As time progressed, however, the range of available bought-in engines to suit Kenworth's Australian customers diminished. Detroit Diesel was then limited to providing its products only to its parent Daimler Group, and Caterpillar exited the "loose" on-highway truck engine market altogether. This left Cummins as the sole independent supplier, and opened up an opportunity for Paccar to bring its own engine to Australia.
This opportunity came about as a result of a definite market position for a 13-litre class engine in Kenworth's T4 series of conventional (bonneted) models, when used in "regional" single or double trailer applications, or the characteristic Aussie "tipper and dog" (rigid and drawbar trailer) format. In those applications, not requiring the up-to-450 kW (600 hp) output provided by the 15-litre Cummins ISXe5, Paccar's 12,9-litre MX-13, with outputs of 340 kW (460 hp) or 375 kW (510 hp), has come into the picture.
This engine, with available torque ratings of up to 2 500 Nm, also offers the benefits of lightweight construction, through utilising a compacted graphite-iron cylinder block, an integrated lubrication module, encapsulated wiring harness and an integrated inlet manifold. A 24-volt electrical system has been added to suit Australian requirements. Local ADR 80/03 emissions compliance is achieved through the use of a Selective Catalytic Reduction system.
The Kenworth T409 with MX-13 engine was launched at the recent Melbourne Truck Show. It was fitted initially with an Eaton multispeed manual transmission, although the Eaton Ultrashift Plus automated unit will also be offered once that installation has been fully developed.
The complete T409 and T409SAR range covers 6×4 and 8×4 truck-tractor and rigid chassis/cab models with GCM ratings of up to 97 t. Paccar has carried out extensive tests and over 1,6 million kilometres of operator evaluations in Australia with the MX-powered variants, before releasing the option on to the market, and is now proceeding with full-on promotion to ensure its sales success.
It remains to be seen if this engine will find its way into the Kenworth K-Series catalogue, or if Paccar Australia will rather direct more effort towards its DAF forward-control products, which already have the MX engine in place.
Recent management utterings suggest that efforts to increase DAF's share of the Australian heavy-duty market, to some point above its present three-percent penetration, are in the strategic plan. More marketing emphasis on the CF and XF models, currently rated at up to 70 t GCM, is, therefore, likely to materialise, although care will obviously be taken not to disturb the Kenworth dominance.
Moving too quickly could be to the advantage of Freightliner, whose Argosy is the other forward control American premium presence "down under". We, however, still cling to our vision of some combination of a Kenworth chassis, and modern DAF forward control cab, as Paccar's future Australian flagship. Watch this space to see if we get it right!
More on Ford's American cruiserweights
Back in April, Global Focus delved into unfamiliar territory with a report on Ford's new "2016 model" domestic medium-duty truck range for the North American market. As we pointed out at the time, American cruiserweights (GVM ratings from
6 350 to 11 790 kg) are a somewhat unique species, with their normal control cabs and large displacement engines, and are quite different from equivalent payload models found elsewhere.
In some ways, they're also quite reminiscent of some trucks that were familiar to us here in South Africa up until the mid-1970s. At that time, the last Ford F-Series, Chevrolet C-Series and Dodge D-Series vehicles were drifting out of our market, and their places were being taken by a plethora of very capable Japanese light trucks, which then established the forward control cab and diesel power design philosophy that still prevails in the local two- to five-tonne payload category to this day.
Ford has now released some additional detail relating to its new F-650 and F-750 models, which adds more substance to our April article. Available power outputs for Ford's own 6,7-litre Power Stroke V8 diesel have now been announced. These are 200, 225 or 250 kW (270, 300 or 330 hp), while the optional 6,8-litre petrol V10 develops 250 kW (330 hp).
Ford claims that it is the only manufacturer to still offer a petrol engine option in this segment, which may seem to be a somewhat perverse benefit to those of us who now consider diesel power to be the only sensible choice. However, it is notable that this petrol engine can also be factory-prepared to run on compressed natural gas or liquid petroleam gas.
The design of the Power Stroke diesel engine contains some interesting elements, including a compacted graphite iron cylinder block and a reverse-flow layout with the exhaust manifolds and turbocharger situated within the V, both of which are claimed to reduce noise, vibration and harshness.
We also noted, in our previous article, that Ford would be replacing the Allison-sourced automatic transmission with its own wide-ratio, six-speed TorqShift HD unit. The manufacturer claims that the combination of in-house engine and transmission offers benefits of optimised performance and seamless operation, which are reflected in its five-year/400 000 km limited powertrain warranty. The F-650/750 range will be available in three cab configurations and two chassis-frame layouts. It will also include a dedicated truck tractor model.
Early last year, we wrote about the welcome announcement that Ford's engine plant in Struandale, Port Elizabeth, was to supply 3,2-litre, five-cylinder Power Stroke diesels for fitment in Transit vans for the North American market. This was in line with the decision to replace the long-serving and highly successful E-Series (formerly Econoline) integral van from 2014 with the new-generation European Transit in North America.
These "2015 model" Transits for the American market are now entering production at Ford's Kansas City plant, and are equipped with naturally aspirated 3,7-litre, or turbocharged 3,5-litre EcoBoost petrol V6 engines, as well as the South African-sourced diesel unit. These engines are coupled to a six-speed automatic transmission, with selectable tow/haul mode for heavy payload and towing applications.
Ford is claiming a substantial improvement in fuel economy for Transit over its E-Series predecessor, and class-leading payload capacity. The American Transit line-up includes van, wagon, chassis/cab and cutaway versions, with three roof heights for the van models and two trim levels.
We have opined in the past that there is much evidence to suggest that Ford, now firmly wedded to its "One Ford" global strategy, has recently been having an altogether more serious look at its commercial vehicle business. There is much in these latest announcements to support that view.
Add in the fact that production of the new medium duty series is moving from the Blue Diamond joint venture, shared with Navistar International, to Ford's own Avon Lake, Ohio, facility, and the recent announcement of expansion at the Ford Otosan joint venture in Turkey to build Tourneo Courier and Transit Courier van-derived people movers, and this perception becomes even stronger. The new Turkish plant is said to be capable of building 110 000 units per annum, and will supply vehicles to 46 countries.
It is also notable that Ford is establishing a practice of sharing products across different continents, and this may eventually be extended to the new Brazilian and Turkish Cargo medium/heavy truck models that we wrote about nearly three years ago. Ford's initial approach to expanded commercial vehicle involvement seems to be incremental, market-by-market, but who knows where it may eventually end?
---
Global FOCUS is a monthly update of international news relating to the commercial vehicle industry. It is compiled exclusively for FOCUS by Frank Beeton of Econometrix.
Focus on Transport
July 2, 2014
Published by