Daihatsu doubles delivery
Recently launched in South Africa, the Daihatsu Gran Max is entering a tough market. GG VAN ROOYEN finds out if it has what it takes to participate in this competitive market segment.
Although the new vehicle sales statistics reported for September by the National Association of Automobile Manufacturers of South Africa (NAAMSA) indicated some improvement over previous months, there is still no doubt that this is a very tough market in which to launch a new vehicle.
Even though the total year-on-year sales decline only amounted to 15.8%, this isn't exactly reason to celebrate. The fact of the matter is: vehicle sales in September of last year were already in steep decline, so the fact that sales declined a further 15.8% in September 2009, compared to the same month last year, is very worrying.
What is clear is that the market is still very depressed and, because of this, releasing a new vehicle at this time can seem like a risky endeavour. This is especially true of the light commercial vehicle (LCV) segment. Not only is the LCV segment struggling (year-on-year sales for September were 21.9% down), it is also a very competitive market with a large number of players vying for position.
So, if a company decides to launch a vehicle under current conditions, it has to be pretty sure that it can offer the market something that it really needs. For a vehicle to do well it has to be extremely well positioned. It has to offer excellent performance and reliability at an unbeatable price.
AN LCV THAT DOUBLE DELIVERS
Daihatsu appears confident that its first LCV launched locally – the Gran Max – will be able to offer exactly this.
"We believe that the Gran Max has a very unique position within the LCV market segment," states Nicholas de Canha, marketing manager for Daihatsu South Africa. "With this vehicle, we are able to offer customers a vehicle capable of carrying a 1-t payload at a price well below that of the competition."
Indeed, the Gran Max is now officially the cheapest 1-t pickup on the market. With a list price of R119 995, Daihatsu's LCV is around R30 000 cheaper than other one tonners.
For this reason, Daihatsu is emphasising the fact that the Gran Max "double delivers". For the price of a half-ton, entry-level bakkie, operators can now buy a full 1-t delivery vehicle.
"Owners of these types of vehicles want a big loadbed and a full 1-t capacity, because the increased payload allows them to cut down on the number of trips that need to be made," asserts De Canha. "With the Gran Max we can offer these operators a LCV with a 1-t payload capacity at the price of a normal bakkie."
The Gran Max's price undoubtedly gives it an edge in the saturated local LCV market. Even though there are quite a number of 1-t pickups already available within the segment, none can match the price of Daihatsu's LCV.
But, of course, price isn't the only thing that customers take into consideration when selecting a new LCV; performance and reliability are equally important. If a vehicle doesn't perform well in day-to-day operation, price is irrelevant.
PERFORMANCE AND RELIABILITY
In addition to the Gran Max's load capacity, Daihatsu is also emphasising the vehicle's reliability and economy. According to De Canha, the Gran Max is not only affordable, but also very dependable and inexpensive to maintain.
"With the Gran Max, we are able to offer customers a vehicle that provides Japanese quality and reliability at a fraction of the price one would expect to pay," states De Canha. "The engine used in this LCV is practically identical to our Terios engine. Both designed and engineered in Japan, the vehicle has exceptionally low failure rates."
The vehicle's engine is a 1.5-l petrol unit that sports dynamic variable valve timing. According to Daihatsu, this results in improved torque at low revs, which leads to better pull off and peppy performance figures of
77 kW of power and 140 Nm of torque. The 1.5-l engine also offers excellent fuel economy. Daihatsu's figures claim that the Gran Max provides fuel consumption of as little as 7.5 l  per
100 km.
"Daihatsu has won five of the last six South African economy runs, and the technology that has allowed us to achieve this is evident in the Grand Max. The vehicle sports excellent fuel consumption without compromising on performance," states De Canha.
Another benefit of the commonality between the Terios and Gran Max engine is the fact that parts will be readily available. Also, owing to the LCV's similarity to Daihatsu's passenger vehicles, the Gran Max will be sold and serviced at all Daihatsu's dealerships.
"The Gran Max is similar enough to our passenger vehicles in function and design that our existing dealers will be able to adequately offer support and backup for these vehicles. Our dealers have all the parts and expertise necessary to keep these vehicles on the road," says De Canha.
PAYLOAD SPECIALIST
While Daihatsu considers the economy and reliability of the Gran Max to be key selling points, the feature that truly sets this vehicle apart is its load capacity. The Gran Max is by far the most affordable vehicle in its class to boast a full 1-t payload capability.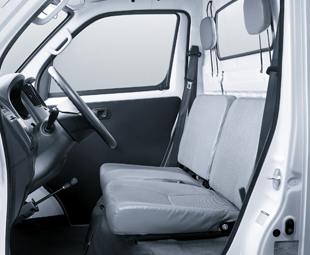 Furthermore, it also has a "cab forward" design, specifically intended to increase the loading area and provide convenient working space. Its loadbed is 2.4 m long and 1.6 m wide to create a total loading area of over 3.7 m2 that greatly complements the Gran Max's carrying capacity of a full ton. To further improve its capability as a load carrier the vehicle also has drop sides that open on all sides to improve its cargo handling efficiency, as well as a convenient loading height of 72 cm.
Overall, the Gran Max is an excellent business and delivery vehicle. It sports a large payload capacity and easily accessible loadbed at a price well below that of the competition. In addition, it also offers excellent reliability and economy – factors that are incredibly important within this segment. Daihatsu might just have a winner on its hands.
ON THE ROAD WITH THE GRAN MAX
FOCUS recently had the opportunity to test the Gran Max at the official vehicle launch held at Toadbury Hall in Muldersdrift, north of Johannesburg. We had a chance to test the vehicle both with and without a load on the back, and, overall, the vehicle impressed us with its performance and design.
The test route allowed us to examine the vehicle's performance in a number of different environments – such as congested city traffic, construction areas, winding back roads and open highways – and the Gran Max handled these varying conditions admirably. Even fully loaded, the vehicle always felt confident and surefooted.
While the Gran Max is obviously a little more sluggish with a full ton of cargo on the back, it never felt underpowered. Despite what one might expect, the vehicle's nippy 1.5-l engine was more than capable of powering it, even with a full load bed. Similarly, the Gran Max's anti-lock braking system (ABS) brings the vehicle to a stop very efficiently, though one obviously has to take the load into account when judging stopping distance.
Inside, the Gran Max is reminiscent of a passenger vehicle and very comfortable to drive. Visibility is excellent and handling is very responsive, while all controls and instruments are within easy reach.
A particularly convenient styling feature is the placement of the gear lever on the dashboard. By removing the lever – as well as the handbrake – from its traditional position, additional legroom is created in the front, which allows three people to sit fairly comfortably across the front seat.
Daihatsu's new LCV is ideal for business and delivery applications, especially in those instances where the vehicle will not necessarily always be fully loaded. As a vehicle used to meet everyday transport needs, the Gran Max will not disappoint. A good product at a very good price.
Focus on Transport
November 1, 2009
Published by