FOCUS was lucky enough to acquire the use of a Mitsubishi Triton 4×4 double cab as a support vehicle for Truck Test 2017 earlier this year. The attention that it garnered was undeniable, and understandable, writes GAVIN MYERS
As we fuelled the trucks at Engen Blockhouse the day before Truck Test, a group of burly construction-type blokes walked out of the 1-Stop, lunch in hand, towards their Hilux. Parked a few cars down, the Triton caught their attention and they immediately made a beeline for it; checking it out from every angle and peering through the windows.
This was to be the first of many similar instances, with drivers of Hiluxes, Rangers, old Tritons, and most other bakkies, who were interested in the newcomer. It's easy to understand why … the old Triton, and the Colts before it, had a cult-like following: never the market leader, but always the dark horse.
And what a dark horse … while the Triton looks like a simple evolution of its predecessor, from exterior aesthetics to interior environment, it is better in just about every way – not only over its forebear, but over some heavy-hitting direct rivals as well!
Having moved the Triton double cab more into the leisure market, Mitsubishi has endowed it with what it claims is the longest cab in its class. There certainly is much space all round, although taller people might find their heads rubbing the headliner in the rear.
Most cab materials will feel as rugged as owners of the old Triton remember, but more upmarket at the same time. The leather-covered seats (the driver's seat is electrically adjustable) are cossetting, while high-quality fit and finish refines the ambience of the cabin.
Possibly the most unrefined aspect of the Triton is its touchscreen infotainment system, which is a generation old and in need of a redesign. And what's happened to the auxiliary instruments of old?
Nonetheless, the Triton gives its buyers a full suite of gadgets, including bi-Xenon headlamps with LED daytime running lights, dual-zone air-conditioning, cruise control, voice control, keyless
entry and start, and a reversing camera.
The Triton's RISE body construction still retains the distinctive J-line, while other safety equipment includes the active stability and traction control (ASTC) system, anti-lock braking system (ABS), electronic brakeforce distribution (EBD), brake assist, hill-start assist and dual front airbags.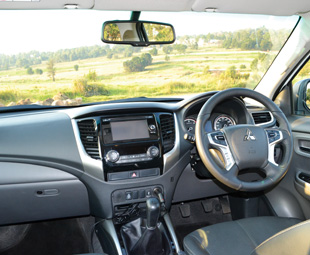 Driving the Triton is a delight. The 2.4 MIVEC aluminium-block turbodiesel is smooth, quiet and refined; building its 133 kW and 430 Nm quickly and exhibiting an eagerness to respond to throttle input.
The six-speed manual gearbox has a short throw, but the clutch travel is too long. We had the five-speed auto in our garage a while later, though, and this gearbox is responsive, shifts quickly and smoothly, and completely changes the Triton's character.
Mitsubishi has refined the suspension to provide a supple ride, but the Triton remains stable and surefooted both on and off road. A bit of jiggliness remains at the rear, but the ride is, nevertheless, among the best. So is the low interior noise level.
That's not to say that it's lost its muscle; it'll still tow up to 1 500 kg. Furthermore, the Super Select II four-wheel drive system provides exceptional off-road capability, with its centre and rear diff locks.
Black marks? A few: most rivals feature six or more airbags, there is no interior door lock/unlock button, the cubby lids on both test vehicles had a tendency to stick closed and the optional "rock sliders" are too slippery to stand on and have sharp edges right at shin height.
However, that's relative nit-picking… The new Triton is a leap ahead of its predecessor, and up there with the segment leaders. At R559 900 the auto is the one to go for (R539 900 for the manual and including a five-year/90 000 km service plan and three-year/100 000 km manufacturer's warranty) but, either way, the Triton is exceptionally keenly priced and offers great value for money.
This dark horse deserves now to attract more attention than it ever has before.
Focus on Transport
August 20, 2017
Published by