Dinosaurs yes, but not extinct …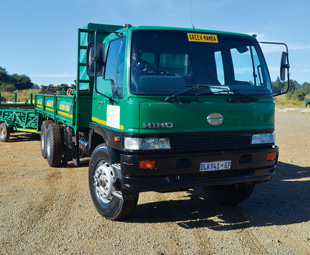 At Clotan Steel, old, very old, Mercedes-Benz bullnose trucks and Hinos from the Super F series, patiently await their next load. KIM KEMP ponders (with awe) on the driving conditions the truckers of old had to endure, compared to the standard comforts of today's luxuriously outfitted trucks.
Walking around the vehicles, I couldn't help feeling a sense of nostalgia emanating from the empty cabs, specifically those of the old Mercedes-Benz trucks. Old they definitely are, and I thought about how it must have been to drive in one of these amazing vehicles, bumping along the single-lane roads of days gone by …
Thirty years ago, Clotan Steel's founder, Chris Badenhorst, who had previously been in the steel industry, established his own business. It required procuring vehicles for delivery purposes, and the old Mercedes-Benz bullnoses now standing in the yard comprised this first batch of vehicles.
According to Bertie Denyssohen, transport manager for Clotan Steel: "The company never (or very rarely) buys new vehicles. The reason is that the used trucks are really well 'run-in' already and they have already proved themselves," he explains. "Obviously, the cost factor of a new vehicle, compared to a used vehicle, plays a part," he adds. However, with a strong service team and fully equipped workshops to service the vehicles, the company believed that the policy made good economical sense at the time, and so it continues into the present day.
Once procured, the trucks are spray painted in the company's colours and they are then overhauled. "Thereafter, we ensure that they are maintained to that standard," Denyssohen says.
The old trucks form part of a 40-vehicle mixed fleet, comprising bakkies, to 23-t trucks. The three Hino 6×4 rigids (from the Super F series) have served, and continue to serve, the company transporting steel and sheeting to customers. The Mercedes-Benz vehicles, on the other hand, have not travelled on the highway for the last couple of months, but still go to and from factories located in the business area, "to keep them running," says Denyssohen.
During their lifespans, (dating from manufacture in 1990 to 1997) the three Hino trucks have clocked up an impressive combined figure of almost three million kilometres, with the most travelled one clocking up a hefty 1 076 000 km, and the other two 595 000 km and 936 000 km apiece.
The Mercedes-Benz trucks are a mixed sort, comprising 1113s and 1517s, dating back to the 1960s. "You must remember, Clotan Steel was established 30 years ago, and the trucks were second-hand then," Denyssohen reminds me, as my eyebrows shoot up in surprise.
You just have to compare today's modern trucks with these old workhorses and my surprise is well founded. Modern trucks resemble big passenger cars, with every type of mod-con from air-conditioning and CD players, to Bluetooth and cup holders. Not to mention the air-sprung seating, on-board monitoring, power-steering, air brakes, electric windows and specialised, easy-to-use transmissions.
None of these hold true for any of the vehicles in this old fleet …
Rounded tyre wells testify to the lines reminiscent of the 1960s and the bare metal, uncladded dashboards and general lack of padding only adds to the spartan effect of what the truckers of old endured. They must have rattled around in their cabs like pebbles in an empty tin, and the road hum from the tyres must have almost deafened them!
While no engine modifications of any sort have been made on any of the trucks, wear and tear is, sadly, much in evidence in the cabs. The original seats perished long ago and have been replaced by newer, more modern – but far from high-tech – seats and the carpets in the foot-wells are a sad remnant of previous glory days.
An interesting feature in the Hino trucks is a collapsible centre "buggy" seat that, when folded down, has the dual role of serving as a table between the two seats, complete with recessed cup holders. (Hmm, I mentioned cup holders earlier as being a modern "perk", I must re-think that observation.)
Travelling at extremely low speeds, with hard suspension, lumpy seats and no climate control, would take its toll on any modern trucker. The absolute absence of safety belts, anti-lock brakes and any modern safety standard would make that same modern trucker shudder in horror, but Denyssohen chuckles dismissively about "these spoilt truckers of today", adding: "The truck drivers in those times really had to be tough!"
Interestingly, Denyssohen points out that, while there are no safety belts, because of the age of the truck and the manufacturing specifications of the day, it is not deemed illegal to drive without this most basic of safety features – barring working on the mines, where stringent safety is enforced and, thus, these trucks would not service that industry.
He continues: "A number of times the drivers have approached me about having to drive long distances in these old 'donkeys' as they are (not too) affectionately called, but I tell them that they should be privileged to be a part of history," says Denyssohen.
He appears to echo Badenhorst's sentimental philosophy about keeping the trucks: "As a very keen transport operator and lover of vehicles, I believe the owner has an incredibly strong attachment to the old trucks, as they are a reminder of all those years ago when he started the company," Denyssohen muses.
Although a radio or two has been retro-fitted, Denyssohen emphasises that the bodies and engines of the trucks are untouched and are "as the day they were manufactured" with spare parts still available from both original equipment manufacturers, despite the passage of time.
Which just goes to show how well built these old trucks are and how durable they were made to be – just like their drivers.
Focus on Transport
July 1, 2014
Published by