I have just experienced THE most exceptional vehicle ever. It weighs 52 t, does zero to 80 km/h in less than 25 seconds … and it's yours for a mere €1million or so (about R15 million depending on the woes of our much-embattled currency). Meet the Superdragon X8!
I was recently invited to experience the world of CNH Industrial, which is how I got to park my butt in the Dragon. You will be able to read more about my trip in the October issue of FOCUS, but I simply couldn't wait until then to tell you about my day with Magirus – because it was Simply The Best (thanks Tina)!
Just in case you're unfamiliar with Magirus, the company is based in Ulm, Germany, and it is one of the top three companies in the world that specialises in producing fire engines.
We kicked off the day with a presentation from Antonio Benedetti, the company's CEO, who gave us some insight into this truly fascinating company, which was founded in 1864 by a chap called Conrad Dietrich Magirus.
"He invented the turntable ladder, which was an incredible wooden ladder that became essential to firefighting," he told us. "Magirus was a special person. He had in mind what a firefighter was supposed to be. He had a dream. He wanted to save people. He also invented the concept of training firefighters to be professionals."
Fast forward 151 years and Magirus is a huge business today. "We employ 1 300 people and our annual turnover exceeds €300 million (R4,5 billion). Although most of our fire trucks are based on Iveco chassis, we do work with all the chassis manufacturers; the customer stipulates the chassis that he requires."
While firefighting has been around for a long time, Benedetti revealed that the last decade has seen a huge acceleration in technology. For instance, Magirus has launched the ML68L, which just happens to be the highest ladder in the world (68 m), and it has also unleashed the Super Dragon X8 – and I got to play with both later.
Let's get the scary bit out of the way first. I need to reveal that I am utterly terrified of heights, so when I was offered the chance to ascend the 68 m ladder, I declined – politely and firmly. It is, after all, about 28 storeys high. And me? I'm a terra firma gal.
But then … ag you know the deal … peer pressure kicked in, and suddenly I found myself strapped in an ascending cage, en route to my 68-m vantage point. It was utterly terrifying – to put it mildly. "Don't look down," was my mantra as I soared to places where only eagles should be residing. It did help to stare at the horizon … but apparently I was clinging to that cage so tightly that I bent the metal (just kidding).
On a serious note, this experience really made me think about firefighters and how incredibly brave they are – because I truly don't think I could ever summon the courage to repeat that exercise.
My dragon slaying exercise, on the other hand, was something I would love to repeat – each and every day for the rest of my life; the Superdragon X8 makes any super car look just plain silly.
Essentially the Superdragon is aimed at airports. As we all know, when an aircraft is on fire, the fire trucks need to get there in a bit of a hurry – and that's exactly what the Superdragon does.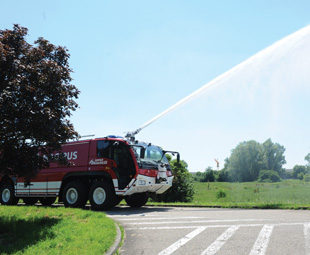 It is powered by two 412 kW Iveco engines that deliver a combined output of 824 kW of power, and it blasts off like a rocket! Floor the accelerator and you're literally thrown back in your seat … and soon the fire truck reaches its maximum speed of 135 km/h.
It is nothing short of staggering to hurtle around a test track in a 52-t behemoth travelling at the speed of a sports car. Of course, the Superdragon isn't about having fun; it's about saving lives – and that's exactly what it achieves, because it allows firefighters to access emergencies as fast as possible.
If being a firefighter means driving the Dragon every day … well, you can sign me up for the job immediately.
Focus on Transport
September 1, 2015
Published by