Greyhound has gone green with a new business-class Dreamliner from Volvo and Marcopolo
Greyhound, a brand synonymous with long-distance road travel, was the first South African coach operator to introduce intercity coach services way back in 1984. Since then, the company has established itself as the country's most-awarded intercity coach liner, offering passengers affordable, safe, reliable and convenient travel to 150 destinations on the sub-continent.
Today, Greyhound boasts a range of services that make long-distance travel accessible to almost everyone, from convenient booking and payment options, to a choice of economy or luxury-class seats.
This year, Greyhound will launch its first "business class" service with the introduction of the Greyhound Dreamliner, an ultra-luxury coach that brings new levels of comfort and technological excellence to the southern African intercity coach market. Greyhound is the first coach operator in Africa to deploy the Dreamliner (also known as the Volvo B450R Paradiso G7 1 800 DD) in its commercial fleet.
Leon Engelbrecht, divisional director of Greyhound's holding company, Unitrans Passenger, says, "The local intercity coach market is growing year-on-year and, while affordability remains a driving factor, I believe there is a need for a premium service offering more luxury. The Greyhound Dreamliner coach is the first of its kind in Africa, and offers unprecedented levels of comfort and space that are akin to business-class airline compartments."
The new 60-seater double-decker Dreamliner is built by bus body-builder Marcopolo South Africa and apart from its distinctive streamlined exterior and polished alloy rims, the new G7 1 800 DD Paradiso coach-body boasts a host of features that significantly enhance passenger comfort and facilitate a really good sleep.
"The Dreamliner's 'memory foamed' executive sleeper seats recline through 150° and have more legroom than any other luxury coach on the market," adds Marco Guedes from Marcopolo South Africa. "Each seat is equipped with a four-channel audio/visual selector panel for music and movies. Volume-adjustable headphones are available for purchase on the coach to enhance the viewing experience of our movies, which are screened on 23-inch monitors. LED night-reading light sets and individual air-conditioning outlets are also available and each seat on the lower deck is equipped with a plug to recharge laptops and cellphones."
The 1:2 seating configuration on the lower deck and 2:2 seat configuration on the upper deck allows for wide aisles, providing for easy movement of passengers and stewardesses. Complimentary refreshments are offered to all passengers on all Dreamliner trips.
Greyhound's technical director, Leon Nelson, explains that, "Apart from continuously improving vehicle safety as well as passenger and driver comfort, Greyhound and Marcopolo have always strived to preserve the environment through the use of innovative designs and new technologies. The G7 Dreamliner has several new features compared to the G6 derivative, including a wide and curved windscreen providing a better view of the road for the driver and a panoramic view of the landscape for passengers seated at the front of the coach. The reduced aerodynamic drag of the coach body helps limit CO2 emissions while reducing fuel consumption."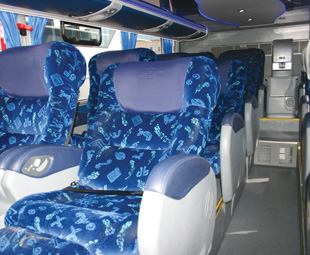 Additional upgrades to the Paradiso include high-visibility headlights and LED indicators, a multiplex control/instrument panel to improve driver ergonomics and coach driveability, as well as reverse cameras for enhanced safety.
The Dreamliner powertrain and chassis are supplied by Volvo, bringing additional safety, fuel economy and eco-friendliness to the equation.
Marius Botha, general manager of Volvo Southern Africa's bus division says, "The Greyhound Dreamliner is based on the Volvo B450R bus chassis and is equipped with Volvo's D11C Euro-5 diesel engine. The powerplant creates 450 hp (335 kW) and 2 150 Nm of torque between 950 and 1 400 r/min, making it extremely fuel efficient, delivering fuel-savings of up to five percent compared to older-generation models."
Being Euro 5-compliant means the Dreamliner is also green; it is the first intercity coach in Africa to run using selective catalytic reduction (SCR) technology to limit harmful exhaust emissions.
"The Dreamliner has a stainless steel exhaust system with an SCR catalytic converter, an AdBlue pump and a 40-litre urea tank. On-board diagnostics alert the driver if the level of air pollutants in the exhaust outlet is excessive and when AdBlue refilling is required. The radiator cooling pack features the latest aluminium heat-exchanger technology," says Botha.
From a road safety perspective, the Dreamliner is equipped with the most advanced technologies from Volvo to keep the vehicle headed in the right direction, including ECS air suspension with suspension settings, the I-Shift 12-speed gearbox with an integrated retarder, an EBS 5 electronic braking system and electronic stability program (ESP) for optimum rollover protection.
Botha says, "At Volvo Southern Africa we are proud to be part of an era where the leading South African coach operators are focusing on performance, uptime, reliability, life-cycle costs and environmental preservation for future generations."
Greyhound will deploy nine Dreamliner coaches during the course of this year. The service will initially run between Johannesburg and Cape Town but will expand its footprint in due course.
"The Dreamliner takes intercity coach transport to the next level, where passenger comfort and safety are enhanced, while fuel costs and carbon emissions are reduced. We at Greyhound are really excited to be able to offer passengers an experience that will change the way they travel," concludes Engelbrecht.
Focus on Transport
February 1, 2013
Published by