Peugeot South Africa and Meals on Wheels Community Services have been cooking up a storm – and then delivering no less than 1 200 hearty meals to the hungry.
A cook-a-thon was held at the charity's City Deep warehouse on September 22. At the event, a brand-new Peugeot Partner Crew Cab, donated by the PSA Foundation, was handed to Meals on Wheels.
The PSA Foundation was established by the Peugeot Citroën Group as the umbrella body to help people in need – with mobility being the common thread. This is the first time it has become involved with a cause locally.
Says Francis Harnie, managing director of Peugeot Citroën South Africa (PCSA): "Meals on Wheels is one of many projects with which we are involved and the partnership goes back to the turn of the century.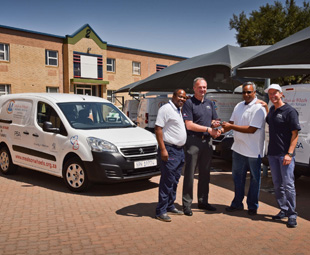 "It is still hard to comprehend that in this day and age there are people – and children especially – who still go without a proper meal every day. When we submitted a motivation to the Foundation for further support and got such a positive response, we were ecstatic."
Gershon Naidoo, programmes director at Meals on Wheels, adds: "As our name implies, without wheels we would be unable to deliver meals to more than 15-million hungry South Africans, and thanks to Peugeot we have a fleet of safe, reliable vehicles that are helping us get this job done."
On the day, the actual preparation of the food took the form of a fun cook-off between staff from PCSA and those from Discovery Health.
The new Peugeot Partner and a fleet of other Peugeot and Citroën commercial vehicles were then loaded up with the freshly cooked food. They then headed south for a rendezvous with the hungry of Orange Farm and South Hills.
"The charitable feeding scheme is such a natural fit for us, and this initiative, which falls under the Driving Away Hunger programme, gives us the opportunity to use our vehicles in both a humanitarian and practical way," concludes Harnie.
Focus on Transport
September 29, 2016
Published by