Dubigeon and Iveco in cross-border venture
Brits coach and bus body builder Dubigeon and Iveco appear to be in a joint venture to increase their cross-border sales, writes UDO RYPSTRA.
It's a little bit out of the way, but the Dubigeon Body and Coach factory in Brits is worth a visit – especially if you are after a brand new 65-seater commuter bus for under R1 million apiece.
That's quite a challenge, considering the fact that most buses being produced nowadays go for around R1.25 million. But then it must be added that it involves buses built on front-engined truck chassis – in this case the 18-ton Iveco Eurocargo, which in Africa is widely appreciated for its excellent torque and high flexibility at low revolutions, providing best in class performance and reliability.
"We're going to try it and, so far, it looks as though we will make it. We'll know by May," said  Allan Cox, head of Divisional Executive Manufacturing, as he and GM Alvan Chetty showed us the premises and the activity going on there.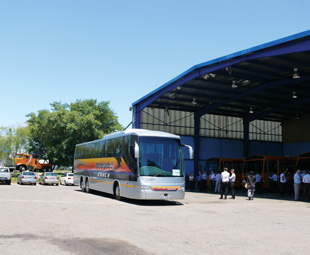 Dubigeon, the company, has been around for almost 60 years and the orange coloured buses are well-known around Gauteng driving Putco passengers in every direction. The company is now 100% owned by the Larimar group, building commuter and coach bodies not only onto dedicated Iveco Eurorider and Daily bus chassis, but those from MAN, Mercedes, DAF, Volvo and Fiat as well. In fact, the drive to the factory from the CSIR buildings (a day before the SABOA convention) in a 6×2 Eurorider luxury coach, was a pleasant and comfortable one.
Dubigeon currently employs nearly 200 employees with a skills mix which includes bus and coach (yes!) builders, spray painters, diesel mechanics, artisans, electricians, welders, spray painters, machinists, quality controllers and admin staff.
It specialises in manufacturing bus bodies, building coaches & semi-luxury coach bodies, repairing bus bodies, assembling chassis, and producing auxiliary vehicle units such as mobile ticket offices, tow trucks and luggage trailers. Of course, Cox is particularly proud of the bodies they build, using over 90% raw materials and components produced locally which guarantees almost 100% parts availability.
He made a special point of the fact that they use unique construction methods such as the bonding of composite materials into the steel structures before mounting the whole body onto the chassis. "It reduces stress levels and causes less windscreen breakages," he said. A proven track record building buses designed for operating in arduous conditions in excesses of one million kilometers. This comes with a two-year or 100 000 kilometre warranty covering corrosion and fatigue damage. Paintwork and GRP components carry a six-month warranty.
Dubigeon has also established an accident facility catering for an express repair service which is capable of restoring the vehicle to original homologation conditions. The main target now is cross-border, African markets, and in this they will have Iveco support. Also present during the factory tour were top officials from Irisbus Iveco, Italy, including Enrico Vassallo, director general, and David Leveque, GM, sales and marketing for Africa and the Middle East.
Vassallo reconfirmed Iveco's commitment to Africa and said a major announcement would be made in due course. He hinted that it has something to do with expanding the Iveco dealer network and that, apart from the 65-seater on the Eurocargo chassis, it will involve an 85-seater as well.
On a Stralis chassis, perhaps?
Focus on Transport
March 1, 2011
Published by