Dumping drivers and diesel!
Imagine a future where transport operators don't need drivers, or diesel! Does this sound like a pipe dream? It's not. And it's just around the corner, as CHARLEEN CLARKE discovers
It's not every day that the head honchos of every European truck manufacturer gather in one room and chat to the media, but that's exactly what the German Association of the Automotive Industry (VDA) manages to achieve every two years.
The occasion is the so-called International Press Workshop, which sees the editors of the world's leading transport and trucking magazines converge on Frankfurt. They are joined by the CEOs of all the truck companies, who each give a presentation.
As has been the case for many years, FOCUS was the only publication from the African continent at the event.
The purpose of the workshop is to create some hype prior to the IAA, which is organised by the VDA. It certainly achieved that goal, with many companies alluding to their IAA exhibits (Volkswagen, for instance, announced that it would launch the new Crafter at the fair). However, the captains of industry also gave an insightful peek into the future of transport.
Matthias Wissmann, president of the VDA, kicked off proceedings by posing the question to which we all want the answer: what does the truck of the future look like? "The answer is obvious: connected, automated and digital. This is where we will see the next innovative leap forward in road-freight traffic. Only a few weeks ago, in the European Truck Platooning Challenge, the European truck manufacturers showed just what is already technically possible. Driving in platoons can save up to ten percent of fuel and CO₂ emissions," he pointed out.
Wissmann went on to say that this example shows the potential that lies in connectivity. "It offers the chance to handle the quantities transported even more efficiently and to cope with economic growth in an efficient manner," he noted.
The future is automated
As Wissmann pointed out, the future is most certainly automated. "Commercial vehicles are predestined for automated driving. The technology makes traffic safer, improves the workplace for drivers and reduces CO₂ emissions and operating costs.
"For this we need a discussion focused on the opportunities, without losing sight of the challenges. The efforts pay off. Data is the gold of the digital age. Trucks supply valuable information about the vehicle, the load, the road, traffic situation, weather and a lot more besides. Now we need to find the right applications that will further optimise day-to-day transport. We have a huge opportunity," he urged.
Andreas Renschler, member of the executive board of Volkswagen AG responsible for commercial vehicles and CEO of Volkswagen Truck and Bus, agreed that autonomous vehicles would equate to improved safety.
"At the University of California in San Francisco, a fully automated pharmacy measured 20-million drugs without one single error — people had made mistakes around 20 000 times. In the future, freight will be moved using decentralised transportation systems that operate autonomously using artificial intelligence. We expect that this will be the case for most goods transport in the Western markets by 2040," he revealed.
Håkan Karlsson, executive vice president Volvo Group, pointed out that cost benefits will result from autonomous vehicles, too. "We have achieved 25 to 30 percent cost savings with autonomous trucks on a mine," he revealed.
Wolfgang Bernhard, member of the board of management of Daimler AG, Daimler Trucks and Buses, is another great fan of autonomous driving. He couldn't resist pointing out that Daimler introduced the first-ever autonomous truck – the Mercedes-Benz Future Truck – back in 2014.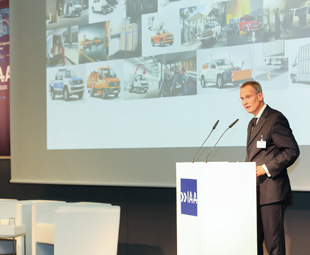 "I'll admit, at Daimler Trucks, we're more than a little proud that we've blazed the trail for this technology in trucks. And this past March, less than two years later, we put a platoon of autonomous trucks on the A52 Autobahn. We are absolutely convinced this technology has tremendous potential," he noted.
Daimler is not alone in its enthusiasm; a leading consulting firm recently stated in a study that autonomous driving could reduce the number of truck accidents by about 90 percent.
However, autonomous driving isn't without its challenges, as Bernhard pointed out. "Last year at this time I called for politics to incorporate the revised Vienna Convention into German law. That has since happened – and it's a good start.
"Yet, at a speed above ten kilometres per hour, the European Union-directive ECE R79 still prohibits the driver to take his or her hands off the steering wheel. And there is still no certification or regulation for the autopilot function in a truck. Our industry has made valid arguments to change that. Otherwise partially autonomous trucks will be ready for the market, but not allowed on European roads."
Connectivity to the fore
Henrik Henriksson, president and CEO of Scania, was in full agreement with his colleagues. "The future is about being connected, electrified and autonomous," he noted. However, he pointed out that connectivity is nothing new. "We have 200 000 connected vehicles on the roads. Out of all the trucks that we have delivered in the past five years, 80 percent are connected," he revealed. (Karlsson said that there are already 500 000 connected vehicles in the Volvo group.)
Clearly this will only grow in the future. This is a logical progression, as Bernhard pointed out. "Connectivity, industry 4.0 and the 'internet of things' have become buzzwords; everybody talks about them. Experts expect another 1,5 billion things will go online this year alone. This means 3 000 things are being added every minute.
"It's open to discussion whether or not it makes sense to have a running shoe or toothbrush on the internet, but what is clear is this: a connected truck will bring real added value; first and foremost, for our customers and drivers, but also for the logistics system as a whole, for the environment and for society. Yet, we still have to fully assess the extent of that value," he commented.
There are many benefits associated with connecting trucks to the cloud. "All participants involved in transport can exchange real-time information: with freight companies and freight terminals, with the infrastructure and other vehicles, with truck manufacturers, repair facilities and many others. The connected truck can also solve numerous problems faced by freight companies and drivers today, such as long waiting times at loading and unloading stations, empty 'deadhead' runs and traffic jams," Bernhard pointed out.
Digital no daydream
Of course, connectivity goes hand in hand with digitisation and Renschler pointed out that a digital future was no daydream. "We already have it today in other branches of industry where it is already leading to profound changes and even better opportunities. What we are witnessing now is the dawn and the reinvention of business models with a massive increase in efficiency as a result.
"Digitisation will open up the future for the transportation industry and all people involved in this ecosystem: no more inefficiencies, no more increasing obstacles of acceptance, no more negative impacts on the environment and the transportation infrastructure," he predicted.
One of the benefits of digitisation, according to Renschler, is the minimising of systemic inefficiencies. "We can exploit loading capacities, for instance, with an estimated market size of an annual €300 billion in Europe, we are transporting 'air' in the double-digit million euro range – that is expensive air, both for our customers and the environment.
"It means significantly lower impact on traffic and the environment – specifically: traffic jams, noise, particulate emissions. It means eliminating obstacles of acceptance, for instance passage restrictions for driverless vehicles that move around in connected, intermodal transportation systems, in which the flow of traffic is optimised through artificial intelligence," he noted.
Renschler cited a number of examples in this regard. "There is Gett, in which Volkswagen has made an investment of €300 million, for instance. It is operating a very successful driving service without having any vehicles of its own.
"Fintech companies, such as TransferWise, are currently turning the financial industry upside down. The company offers simple money transfer between individuals at a lower rate than banks. Last year, the company was rated at around US$ 1 billion. With more than 1,5 billion users, Facebook is the largest media platform on the globe and does not create any content itself.
"And, just to give you one example from a completely different branch of industry, IBM Watson is an artificial-intelligence technology that learns and analyses entire subject areas on its own. It generates answers to concrete questions that Watson then renders in a natural tone of voice.
"Within a few weeks, IBM Watson can analyse scientific fields of study and contribute with significant results. For instance, it can identify unknown proteins to inhibit the growth of tumours. The business area of IBM Watson is planned to generate sales revenue of US$ 10 billion until 2025," he revealed.
Profound innovations can also be found in the transportation industry. "Last-mile logistics is becoming increasingly customised and autonomous: Amazon is experimenting with 'Prime Air' test centres in the United States (US), the United Kingdom, Austria, and Israel. According to Amazon, it will be able to make deliveries using drones within 30 minutes as of 2019 — provided that the project is technically and legally feasible.
"In several states in the US, Amazon's Prime Now service is already available today, making deliveries possible within one hour, by identifying customer needs even before customers realise them!" Renschler revealed.
Electric moments
While drones will undoubtedly enter the transport fray in the future, diesel sales should plummet as trucks are powered by greener alternatives, such as electricity.
Bernhard announced some good news in this regard: "Electric drive in trucks has long not been a consideration, but things are starting to change, because battery technology is making great strides. From 1997 to 2025 battery costs are forecasted to drop by 60 percent. During the same period battery performance is expected to improve by 250 percent. Granted, that's never enough for long-haul transport, but the use of emission-free trucks for local distribution is conceivable in just a few years time. That means we can noticeably improve the quality of life – and we aim to do so," he commented.
Daimler Buses is also enthusiastic about the possibilities afforded by electricity. "We will bring an electric bus to market by 2018," Hartmut Schick, head of the Daimler Buses division, revealed.
Like Bernhard, he said that battery technology was making great progress. "Costs are decreasing dramatically, and performance is improving significantly. This is decisive in convincing our customers to use alternative-drive technologies. On the one hand, electric buses must be technically feasible. On the other hand, they must also be economical for our customers. In addition, electric buses must perform just as well as conventional diesel buses," he pointed out.
Karlsson announced at the workshop that Volvo will have a full-electric bus in serial production by spring 2017.
The future looks good
So there we have it: a future vehicle that is autonomous, connected and quite possibly electric. Bernhard pointed out that this was tantamount to a revolution. "In terms of this revolution, truck transport will become safer, more efficient and cleaner. As you can see, we can look forward to the truck of tomorrow," he said with a smile.
Renschler agreed. "I am convinced that we have the most exciting years in the history of our sector ahead of us yet. We are committed to our goal of playing a significant and meaningful role in the transformation of the transport industry. We will do this with a great openness to new partners and business models, because we know that better logistics create a better world. This is why I am looking forward to the years ahead," he concluded.
It sounds as though we certainly have a lot to look forward to!
They said it
"In 2015, 835 truck drivers died in accidents in the United States alone — more than in any other occupation. We can change this."
Andreas Renschler, member of the executive board of Volkswagen AG responsible for commercial vehicles and CEO of Volkswagen Truck & Bus
"The Chinese truck market will rise by five percent to 800 000 this year."
Matthias Wissmann, president of the German Association of the Automotive Industry (VDA)
"Another 1,5 billion things will go online this year alone – 3 000 things are being added every minute."
Wolfgang Bernhard, member of the board of management of Daimler AG, Daimler Trucks & Buses
"Customers have a clear idea of what they're looking for when they purchase a new vehicle. Horsepower and torque are not as important here as having a system that links smartphones to the on-board network, in just fractions of a second, to ensure the driver can gain unlimited access to the internet. Revenue generated with vehicle connectivity features will increase to €110 billion between now and 2020 alone."
Eckhard Scholz, speaker for the brand board of management, Volkswagen Commercial Vehicles
"In 2015, 51 percent of the low-floor city buses produced in our European sites were either CNG or hybrid. In 2016, standard hybrid buses represent 60 percent of our manufacturing capacity."
Pierre Lahutte, Iveco brand president
"A new product called Mercedes-Benz Uptime, which minimises truck downtime, will launch at IAA."
Stefan Buchner, head of Mercedes-Benz Trucks
"Since 2005, the annual traffic-jam length in Germany has tripled to 1,1 million kilometres."
Joachim Drees, CEO of MAN Bus & Truck
"Yesterday we opened the first electrified highway in the world, 22 km long, in Sweden."
Henrik Henriksson, president and CEO of Scania
"We can reinvent the bus. And that is precisely what we're going to do."
Hartmut Schick, head of the Daimler Buses division
"Global data volumes are doubling every two years. Already in 2020, the volume will increase to 40 zettabytes — this equals 50 times the amount of all grains of sand worldwide; in 2005, there were still five times more grains of sand than bytes."
Renschler
"The Transporter was the workhorse of Germany's economic miracle."
Scholz
"FleetBoard Store for apps – iTunes for truck transport – will go online at the beginning of 2017."
Buchner
"Germany's Ministry of Transport expects road transport to increase by almost 40 percent by 2030."
Drees
"The average truck in Europe is only loaded to 60 percent. The rest is waste."
Henriksson
"The future bus must be a living space in which people can work, shop, gather information, relax. We must offer city buses in which passengers feel just as comfortable as in their own living rooms."
Schick
"The new natural gas Cursor 9 is the first engine of its kind to deliver power and torque output in line with diesels."
Lahutte
"4G broadband supply along all major transport routes will be indispensable in future."
Drees
"Every MAN and Scania truck delivered to customers from 2017 onwards will be online."
Renschler
"The amount of data generated in logistics will increase a thousand fold over the next ten years."
Drees
Focus on Transport
August 15, 2016
Published by