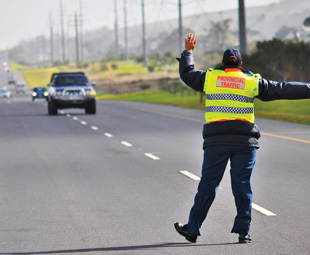 There's been a visible increase in police activity on Gauteng's roads. Let's hope it continues and achieves some meaningful results.
I can't be the only one to have noticed an increase in the number of police on our roads lately. In fact, I know I'm not, as a number of people I've spoken to recently have commented on the increased number of South African Police Service (SAPS) and Metro Police patrolling and setting up roadblocks around the Johannesburg/Pretoria metropolis, stopping all manner of vehicles.
I first really began to notice it about three months ago. Then, one Saturday night in June, I was pulled over in a roadblock on Sandton's Rivonia Road. The Joburg Metro Police were testing for alcohol – I blew a zero. The officer seemed disappointed by this … perhaps he thought the new Volkswagen Kombi, which I was test driving for FOCUS at the time, was our party bus for the night.
I was pulled over again by the Tshwane Metro Police on Eufees Road a few days later. Two very pleasant chaps who, after checking all the necessary licences, it seemed just needed some good conversation. On that point, I've never actually encountered an unpleasant or unprofessional Tshwane Metro Police officer …
Most recently, en route to conduct an interview in Rosslyn, Pretoria, I passed through six individual road blocks between my destination and our office in Johannesburg within the space of around 75 minutes. Luckily I wasn't actually stopped in any of them – because that would've made me late …
This, it seems, is the problem: most people see this increased visibility by our boys in blue as an inconvenience. They complain when the police are never around – or, when the Metro Police simply sit at the side of the road behind a camera – but do the same when they are actually out doing some legitimate, active work.
So let's not be cynical and rather give the police the benefit of the doubt … calls for more effective traffic policing have been a regular feature of the South African automotive landscape for decades. During June, in fact, the Automobile Association of South Africa repeated the call for law enforcement to be "on the road".
"There needs to be a strong message across South Africa to all road users: the police will act if you drive in a manner that endangers other road users, and there will be severe consequences for your actions. While this approach may not immediately solve the long-term problems inherent on our rods, we believe it is a necessary first step to saving lives," the Association said.
A necessary first step is right. At least the Road Traffic Management Corporation (RTMC) seems to have taken some notice, launching a clampdown across Gauteng during May. It was codenamed "Operation Ke Molao" (it's the law) and it aimed to target hazardous routes and behaviour that result in preventable road collisions. At the time, road users were warned to exercise patience and expect delays.
Now, whether the increased police activity I've noticed is a direct result of the RTMC's efforts, or pure coincidence, I don't know. However, the latest available statistics show that there were 236 572 unroadworthy vehicles in the province alone (June 2015), and 1 013 278 vehicles countrywide that were unroadworthy, unlicensed, or both (December 2015). It is clear why this sort of initiative should be supported.
The officials shouldn't need to apologise for it by asking for patience, or justify it by reminding us of horrific statistics.
That said, I hope the authorities continue to annoy motorists indefinitely and, more importantly, achieve meaningful results.
Focus on Transport
August 15, 2016
Published by