DANIELLE DU TOIT investigates the transport systems available for scholar transport – or, rather, the lack thereof

It's a sunny Thursday morning when you get a call. There's been an accident. Your heart races. You cannot seem to catch your breath. Frantically, you drive to the hospital. The doctors and nurses all have the same look. The look of despair. Sorry, we did everything possible but we could not save your child.
The above describes the hours after the Blackheath taxi and train accident in the Western Cape on August 25, 2010. Taxi driver Jacob Humphreys made a fatal error of judgement when he thought he could beat a train to the crossing. The train collided with the taxi, killing 10 children and injuring another four. This accident was caused by deliberate recklessness.  Prosecutors in the case said Humphreys played Russian roulette with the lives of the children he was transporting.
March 8, 2010. It's a beautiful afternoon outside. The phone rings. Apparently someone lost control of their vehicle. It veered off the road. Children were hit. It transpires that two friends were allegedly drag racing while under the influence of alcohol and drugs. They crashed into a group of six pupils. Four are dead. Two are critically injured.
This accident happened on Mdlalose Street – the main artery though Protea Glen in Soweto. It has no pedestrian walkways. The grass on either side hasn't been cut in months. Promises to improve the walkways made by the former MEC of Infrastructure and Development two years ago have only now been implemented. Pavements have been built. But this is not what was promised. The MEC said pavements would be built, along with steel barricades and regular maintenance to keep the long grass at bay. "It's too bad that people had to die in order for something to be done," say local residents.
Both accidents place emphasis on unsafe road conditions. Whether caused by neglect, stupidity, laziness or selfishness, there is a serious problem on South Africa's roads right now. We've all heard that children are the world's most valuable resource and its best hope for the future. At the rate South Africa is going, our future looks grim.
We've heard Minister of Transport Sibusiso Ndebele say enough is enough – and we know he means it when he says South Africa cannot go on this way: his son was killed in a car accident in 1994. He's felt the grief. He knows the anger. He's as anxious for a solution as everyone else.
Statistics and figures
The Road Traffic Management Corporation (RTMC) releases a road statistical and analysis report once a year. The most current covers the period to the end of March 2011 – and what it says is pretty shocking: 2 417 children died on our roads in those 12 months. Their ages ranged from birth to 19.
On average, six children die on our roads each day.
We must be ashamed of this figure. Seventeen percent of all road deaths are children, just kids, under the age of 19.
The main reasons for these accidents, according to the RTMC, are having a speed too high to control, jay walking, overtaking in unsafe circumstances, tyre blowouts, brake failures and overloading. With the correct measures and responsible driving, most, if not all, of these accidents can and should have been avoided.
Regulation, legislation and lawlessness
The rules of the road are in place for a reason. If Humphreys had not gone around a lowered boom and ignored the warning lights, the outcome of that situation would have been very different. Those children might still be alive. He might not be in jail.
Preventable accidents are just that – preventable. In the February 2012 edition of FOCUS, we highlighted the fact that, with regular maintenance, brake failure is almost impossible. Tyre blowouts occur 98 percent of the time because of negligence. Tyre pressure maintenance is crucial to tyre health. Tyre inspections will reveal visible faults such as weakening wall or punctures. Obvious damage will occur with curbing. Speeding, overtaking and overloading are all human-error related.
South African law stipulates that all children under the age of 12 or weighing less than 40 kilograms should be strapped in an appropriate car seat or booster chair. A child who is not strapped in has no way of staying in the vehicle in the event of an accident.
As ER24 spokesperson Vanessa Jackson says: "A common occurrence we see is children being ejected from vehicles. When they aren't strapped in, they are flung from their seat – and if a vehicle rolls, they're likely to be flung out of broken windows or doors. Injuries that are sustained in this manner are likely to be critical or fatal."
Overloading
Overloading is one of the biggest issues the South African public transport system faces. Minibus taxis are the most guilty, but are closely followed by "lift schemes" run by transport operators using various people carriers.
At the beginning of this year, Beaglewatch, a security company that operates in the northern suburbs of Johannesburg, was approached by the South African Police Service (Fairland Police Station) and the Johannesburg Metropolitan Police Department (JMPD) in regards to a raid they were going to conduct on primary school in the area. The JMPD had received numerous complaints – from parents, teachers and the principal of the school – that multiple traffic violations were taking place.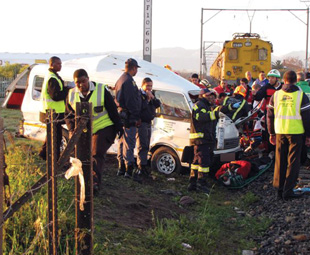 What they found was appalling. A total of 20 vehicles were given fines for various reasons. Five minibus taxis were driving without the correct licences or public transport permits. Two were fined for overloading. The rest were fined for unroadworthiness. A Toyota Venture, specified to carry seven passengers, was transporting 17 children. Another minibus taxi was so overloaded that there were children in the boot.
Sources at the school say this has been going on for some time and that the "mommies" running lift clubs are just as guilty. One mother is often seen with 12 children in her VW Polo Playa. Another convenient mom (transport operator?) has been counted with 32 children in her Toyota Quantum.
Beaglewatch customer relations manager Anne Wood says parents are sometimes the worst culprits. "You often see parents letting their kids out of vehicles on the wrong side of the road – and more often than not, parents are wearing their safety belts while their children aren't."
With so many occupants in a vehicle, the consequences of even a slight bumper bashing can be deadly. ER24's Jackson elaborates: "The most minor bumper bashing involves force, and anything not strapped down in the vehicle will move. It's quite likely the children will knock their heads on the seats in front of them or on the side doors – and when they're sitting so tightly together, they're also likely to bump into one another and sustain injuries."
Head injuries, says Jackson, are the most prominent injuries among children who are involved in car accidents – unlike adults, their heads usually weigh more in comparison to their body weight, and the change in motion sees their heads being forced in whichever direction.
Government opinion
What does government have to say about all this? Ndebele has proposed many a solution, from reducing maximum speed limits to higher penalties for those caught breaking the rules of the road.
But it's a complex beast we're dealing with. Not only is speeding and overloading a problem; the recent spate of "blue light" accidents have introduced a new political aspect to the mix. Thomas Ferreira, a pupil from the West Rand, was knocked off his motorbike on November 5, 2011, when MEC Humphrey Mmemezi's official vehicle allegedly ran a red robot. Ferreira spent weeks in a coma and many weeks in a rehabilitation hospital.
The National Household Travel Survey conducted by the Department of Transport in 2009 showed that 76 per cent of South Africa scholars walk to school, college or university. Almost three million spend more than an hour a day walking to and from school. The rest travel by car, minibus taxi or bus. Trains – the cheapest mode of transport available – are used by only one percent of students who use public transport. It is estimated that the average family spends R300 a month for public transport per child.
Charles Phahlane, departmental spokesperson for the Gauteng Education Department, says government does provide scholar transport – but only for those who don't have a school within a 15 km radius of their homes.
The problem, says Phahlane, is that parents want to send their children to schools out of their feeder area. The private-school-versus-public-school debate isn't likely to be resolved anytime soon.
Phahlane claims his department has never had a vehicle impounded or deemed unroadworthy as school holidays provide perfect opportunity for inspections and repairs. The selection process for service providers, while quite rigid, places emphasis on local bidders to promote community development.
The design of scholar transport services is a complex and detailed process. It must ensure adequate coverage of the area, and extensive consultation with relevant stakeholders is necessary to ensure fair distribution of services – as required by the National Scholar Transport Policy.
Since the inception of this programme, there has only been one incident – albeit a tragic one. August 24, 2011, started off just like any other morning in the town of Knysna in the Western Cape. The one exception was that the usual bus responsible for transporting learners to the Rheenendal Primary School was being repaired and a smaller bus had taken its place.
The usual bus seated 67 learners – the replacement bus only 32. When this bus, loaded with 58 school children, rounded a bend, the driver lost control. The bus went through a bridge barricade and into the flooded Kasatdrift River.
Neil Sharrocks was one of the first people on the scene. "There was no exit window, so I pulled one of the small side windows open. The children were all trying to get out through the window at the same time. It was terrible. They were screaming 'Help me, help me'. They had mud all over their faces."
The driver and 15 children lost their lives, while the other 42 children suffered minor injuries and hypothermia. Questions were raised about where the correct bus was and whether emergency exits on vehicles were reliable. The incident sounds all too familiar.
In 1985, South Africa experienced one of its worst tragedies ever when a double decker bus plunged into the Westdene Dam in Johannesburg, killing 41 pupils. Pupils had apparently tried to kick out the emergency exit but were unable to. At the recent annual South African Bus Operators Association (SABOA) conference, emphasis was placed on improving safety standards – with emergency exits placed near the top of the list.
Parental responsibility
The Department of Transport's Mathabthe Mokonyama had the following to say when asked about unsafe taxis in a discussion panel at the conference: "It's all about choice – parents must make informed decisions." And he's not alone in this opinion. The Gauteng Education Department spokesperson says the same thing: "Parents need to come to the party and say 'I am paying for this transport, whether it is a taxi or a bus, therefore I must demand that it is safe'."
Jackson agrees. "Parents should inquire about the state of vehicle their child will be travelling in," she says – but adds that there's no substitute for guidance and education from parents, guardians and teachers. "A child should learn at an early age that they should insist on being strapped into a seat when in a moving vehicle."
So what now? Phahlane says that in order to prevent more of these incidents happening in the future, the education department plans to build more schools and thus reduce the need to use public transport. The National Scholar Transport Policy has also distributed about 27 000 bicycles throughout the country, providing a low-cost, sustainable and environmentally-friendly method for children to get to school.
However, no helmets were distributed – and the dangers of riding a bicycle without a helmet are plentiful. The Shova Kalula Bicycle Programme lauched in 2007 plans to distribute over one million bicycles by 2015. It has so far given away about
200 000 – and hopefully bicycle safety will be next on the agenda.
Ultimately, the choice to use a specific type of transport is parent- or guardian-dependant. They must decide who will be responsible for their children's safety during transportation – and this makes them as responsible as the driver of the vehicle.
Every single day, there are more reports of accidents – 24 learners injured when a taxi overturned; 18 scholars seriously injured when a bakkie crashed into their taxi; three children dead when the taxi they were travelling in rolled.
The list really does go on and on and on – and unless something is done, it won't stop. The South African Bill of Rights states that everyone has a right to a basic education and a right to life. Unfortunately these rights are stripped from 2 417 children each year.
Valerie Phillips, who lost her son Jody in the Blackheath taxi train accident, still keeps his lunch box, which was retrieved at the scene of the accident, in her freezer – a juice box, sandwich and chocolate bar frozen in time. "Others don't understand why I do it," she says, "but I need to keep his memory alive."
Focus on Transport
April 1, 2012
Published by