Eicher Pro series arrives in SA!
Volvo Eicher Commercial Vehicles (VECV), the joint venture of Volvo Group and Eicher Motors, launched Eicher trucks in South Africa yesterday – with the first model being the Eicher Pro 3008 for the medium commercial-vehicle category.
South Africa joins more than 30 countries in which Eicher is present, with an on-road population of 500 000 trucks and buses. Locally, Eicher trucks are already available across the country at 14 strategic locations.
"It is indeed a proud moment for us to launch the Eicher Pro series range of trucks in South Africa. This is a strategic market and it will play a critical role in the international business of Eicher Trucks and Buses. The company plans to continuously invest in the introduction of country-specific products and aftermarket infrastructure," says Surender Singh Rajpurohit, vice president and Country Head at VECV South Africa.
The first model to be launched – the Eicher Pro 3008 – has an 8,5-t gross vehicle mass and is powered by a 109 kW (147 hp), 400 Nm four-cylinder Volvo group engine. It drives through a six-speed manual gearbox; features anti-lock, dual-circuit, full S-cam air brakes; an exhaust brake; a modular Domex chassis; and a 190-litre fuel tank.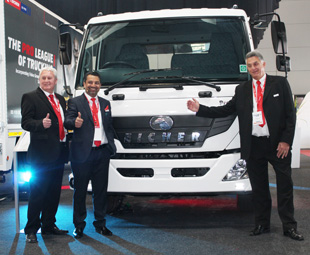 Since 2013, the product development initiative for the entire Pro series range has involved an investment of three-million hours of engineering effort, 7,7-million kilometres of testing and 50 000 hours of engine development.
Before being launched in South Africa, the Eicher Pro 3008 underwent an 18-month development phase, including 200 000 km of testing, before it was adapted to the needs of the local market.
"The local team has been proactively busy ensuring parts availability and training technicians before starting sales. A huge investment and a partnership with 3PL partner Bidvest Panalpina Logistics (BPL) will ensure parts availability. Currently the parts warehouse has over 2 600 line items available," Rajpurohit explains.
The heavy-commercial category Eicher Pro 6000 series will follow by year end. The Pro 6000 series will include construction tippers.
A pre-launch report on the Eicher Pro 3008 was published in the July issue of FOCUS, and a full report will follow in an upcoming issue.
Focus on Transport
July 12, 2017
Published by