E-mobility was the overriding theme at this year's IAA in Hannover, in Germany; virtually all the major manufacturers wowed the crowds with vehicles boasting electric powertrains. CHARLEEN CLARKE shares some of these – and other – highlights from the world's largest commercial vehicle show
Electric vehicles are hardly new; they've been around since the second half of the 19th century, but vehicle producers are jumping back onto this bandwagon now – and a plethora of new electric commercial vehicles was on display at this year's IAA.
Volkswagen launches e-Crafter
The IAA was the setting for the global debut of the new Crafter, which includes an electric version known as the e-Crafter.
"The e-Crafter has been especially designed for emissions-free service in city centres. In future, we will be making the last mile easier for courier services and transport companies," explained Eckhard Scholz, chairman of the board of management.
He pointed out that Volkswagen Commercial Vehicles was giving its customers a convincing alternative to the combustion-engine Crafter, which would enable them to continue practising their transport business and trade even when only e-vehicles were allowed into city centres. "We will see the first e-Crafters reaching customers before the end of 2017," Scholz revealed.
Also at the fair, the new Crafter was named International Van of the Year 2017.
Iveco displays zero-emission minibus
Iveco displayed the Daily Electric, a "zero emission" minibus, ideal for city centres and shuttle services. It offers 100 or 160 km battery life with two or three high-density, sodium-nickel-chloride batteries respectively, combined with high-power supercapacitors that improve vehicle performance and battery life.
The regenerative braking system recovers kinetic energy and converts it into electricity to charge the traction batteries. The flexible charging mode, patented by Iveco, consists of an electric plug and a single connector that can charge from a domestic socket in 24 hours; it can charge from a public or private socket in ten hours; or at a public fast-charge station in two hours.
Iveco also displayed its drop-dead gorgeous Z Truck, which features a LNG engine running on bio-methane (which is derived from refined biogas) and is designed for autonomous driving. It develops 343 kW (460 hp) and 2 000 Nm torque, and features a 16-gear automated transmission with Powershift in the upper gears.
The Z Truck has a concept tank developed with SAG. It is made of aluminium insulated with a new system called Multi-Layer Insulation; a reflective foil that protects it from heat radiation. It features a technology that allows for a squared shape, which makes it possible to optimise the use of space and accommodate two tanks with a single recharge. The two tanks have a total capacity of 1 200 litres, resulting in a range of 2 200 km – 60 percent more than the current Stralis NP, and even more than a diesel vehicle.
The cab is just fascinating; the driver can reconfigure the cab layout – depending on what he/she is doing at the time. For instance, when the vehicle is parked, the driver can slide back the wall at the rear, adding 500 mm interior length and increasing the living space. This makes it possible to use all the features and amenities the driver may need, such as a foldable bed, shower, kitchen, fridge, sink and entertainment wall.
Electric semitrailer tractor from MAN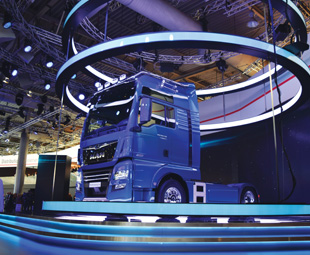 MAN Truck & Bus presented an electrically powered semitrailer tractor for applications in night-shift deliveries to city centre locations, such as those normally utilised today by food supermarkets. Technically, it is based on a TGS 4×2 BLS-TS semitrailer tractor with a permissible total weight of 18 t.
The concept vehicle – which is optimised for operation with a city semitrailer with steerable single axle – fulfils the main demands being placed on future delivery vehicles for city-centre applications, namely that they must have a high load volume and a low unladen weight, be emission-free (in terms of CO₂, NOx and noise) when on the move, and, at the same time, have good manoeuvrability.
The concept vehicle is powered by a 250 kW electric motor, which delivers its 2 700 Nm of torque to the rear axle via a propshaft.
The energy for the truck is provided by three 35,3 kWh high-performance, lithium-ion batteries, which are arranged under the driver's cab above the front axle, where most standard vehicles have the diesel engine.
Depending on use, the battery capacity of the new concept vehicle permits a daily range of between 50 and 150 km.
MAN is also planning to unveil a pre-production bus version of a battery-electric vehicle (BEV) to the public by 2018. Series production of a 100-percent electrically powered city bus will commence before 2020. At the fair, MAN Truck & Bus also introduced the fully electric MAN Lion's City articulated bus.
On a non-electric front (for now), MAN also launched its new TGE van, which can handle permissible gross weights from three to 5,5 t. It offers a payload of up to 1,5 t.
Markus Geyer, MD of MAN South Africa, told FOCUS that we could expect to see an electric TGE in the not-to-distant future. "Distribution vehicles powered by electricity could come to South Africa in about five years' time," he predicted.
Mercedes-Benz shows Urban eTruck
Mercedes-Benz showed its Urban eTruck, which we have already written about extensively in FOCUS. However, we previously saw it in a highly disguised concept mode; the IAA was the platform to show the actual styling of this revolutionary vehicle. And it's a really good looker; it's really sleek, with no visible joints.
Across the roof, a three-dimensional spoiler connects the cab with the body of the truck. It has a wide vent at the front, which acts as the air inlet for the cooling unit concealed behind the spoiler, as used in the food industry, for example.
Just like the roof spoiler, the aerodynamic skirting panels on the side of the cab fit almost flush with the body. The windscreen has been extended downwards. The mirror cams, that replace the conventional outside mirrors, are a distinctive feature on the truck.
The conventional air inlet has been omitted from the Urban eTruck because of the electric drive. Instead, a Black Panel grille is the branding element that connects the truck with its environment. It is transparent and back-lit by high-resolution LEDs. It's seriously funky.
Something else that's seriously funky is Mercedes-Benz Vans' electric Vision Van. The Vision Van features a fully automated cargo space, integrated drones for autonomous air deliveries and a state-of-the-art joystick control.
Powered by a 75 kW electric drive system with a range of up to 270 km, deliveries with the Vision Van are locally emission-free. In addition, the electric drive system guarantees that it will remain possible to operate the Vision Van in inner-city zones where the introduction of a ban on vehicles with internal combustion engines is planned.
The Vision Van comes with two drones, each with a payload capacity of two kilograms, for autonomous delivery within a radius of ten kilometres.
World premiere of all-electric Fuso eCanter
The Fuso Canter E-Cell, which has now been renamed the Fuso eCanter, made its world debut at the fair. Technically, the eCanter is radically different from its predecessor and benefits from the extensive findings of customer trials with the second generation, as well as the reduced costs of battery and component technology.
The new eCanter uses a permanent synchronous electric motor with an impressive output of 185 kW and torque of 380 Nm. Power is transferred to the rear axle by a standard single-speed transmission.
The vehicle that premiered at the IAA has a battery capacity of 70 kWh. Depending on the body, load and usage, a range of more than 100 km without stationary recharging is possible.
The results of a year-long fleet test with the second-generation electric Canter have shown that around €1 000 (approximately R15 000) per 10 000 km can be saved with this vehicle, compared to a diesel version. Coupled with a reduction in maintenance costs of around 30 percent, this makes the Fuso an economical solution for customers.
The Fuso eCanter will be delivered to customers in Europe, the United States and Japan as of 2017.
All-electric coach from China
Chinese manufacturer BYD marked its first appearance at the IAA Show with the debut of an all-electric coach. The coach can carry up to 51 seated passengers and their luggage (four cubic metres of space). It has a range of between 140 and 200 km in typical city conditions, based on real-world operating experience in China, and can be fully charged in three hours.
According to Isbrand Ho, managing director of BYD Europe, the company has 200 000 employees worldwide, a 2015 turnover of over €11 billion (R 166 billion) and Warren Buffett as a major shareholder. "We plan to enter the light and heavy truck markets and will bring hybrid and electric cars to Europe, too," he said.
Volvo shows electric buses
Volvo displayed a number of green buses, including the 7900 Electric, which runs quietly and exhaust-free and is about 80 percent more energy-efficient than a corresponding diesel bus. It has already been delivered to numerous European cities.
Its lithium-ion batteries are charged by the energy generated whenever the vehicle brakes, and also via the mains electricity network at the stops at the end of the route. Each charge via the mains takes three to six minutes, and each minute of charging allows for five to ten minutes of driving. The bus is designed for bus routes of ten to 20 km.
The two-axle, 12-m-long bus has an aluminium body, three doors, a low floor and a bright and airy interior.
BPW goes electric route
While many of the truck manufacturers displayed their electric wares, so, too, did component suppliers. BPW, for instance, exhibited two new electrical concepts – branded eSolutions – for economical and low-emission transport.
"Electrification is a megatrend that is now capturing the entire vehicle and logistics industry. Beyond the hype, we are focusing on developing practical innovations that offer vehicle operators and vehicle manufacturers tangible economic benefits," Michael Pfeiffer, managing partner of BPW, told FOCUS.
"Our solutions for the electric drive and electric power generation also perfectly complement our expertise in the fields of running gear technology, brakes, lightweight design, sensors and telematics. In this way, our eSolutions substantiate our claim of being the leading international mobility partner of vehicle operators, as well as the leading system partner of vehicle manufacturers," he continued.
The company has also developed a new electric axle. Andre Cilliers, MD of BPW South Africa, told FOCUS that the electric drive axle could be fitted to small delivery vehicles – typically seven to 16-t vehicles.
"The drive axle has got two electric motors; each one develops 75 kW. The battery needs about three hours to charge and it has a range of about 120 km. The system regenerates during braking. It features torque vectoring, so you can one drive one wheel faster than the other. The weight is a huge thing; they tell us that they can save 700 kg in the vehicle," he revealed.
Also at the IAA, BPW presented AirSave, a cost-effective solution for keeping tyre pressure within the optimum range automatically with an accompanying indication of imminent tyre failures.
The system consists of a compressor, an electric control unit, a tyre valve, a number of pressure and temperature sensors, as well as a power source. Each individual tyre is automatically adjusted to the correct pressure while travelling. System faults, such as a steady loss of pressure, are indicated by means of an LED light directly on the tyre.
"It's not a complicated system and it's half the price of conventional systems; you don't need to drill holes. It can be retrofitted to existing trailers. At the moment it is designed for super single wheels, but future models will accommodate other wheel types. So, one day, we could get it in South Africa, too," Cilliers told FOCUS.
Scania displays a range of solutions
Scania displayed its new truck range, which we featured extensively in the October issue of FOCUS. The company also exhibited a gas vehicle that uses liquefied natural gas (LNG) and has capacity for long stretches of driving, as well as Scania's unique hybrid truck that combines Euro 6 and operation on hydrotreated vegetable oil (HVO) with noise- and emission-free driving on pure electricity.
On the bus side of things, Scania featured a Scania Citywide LE, a hybrid bus with the capacity for city and suburban operations, as well as intercity driving. A gas-engined Scania Interlink LD was also on display (it's the first-ever completely gas-driven bus with a regular floor).
Scania maintenance plans were a major feature, too – they're highly innovative because every truck gets exactly the right maintenance (based on how it is actually used and not on prescribed service intervals).
Innovative parking brake from Wabco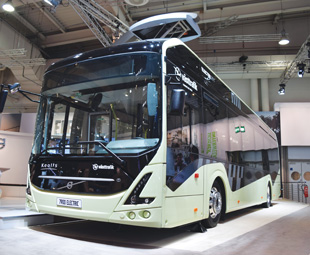 Wabco launched OnHand, an innovative electro-pneumatic parking brake control for trucks and buses. OnHand features unique valve engineering and advanced mechatronics, and it marks the commercial vehicle industry's first stand-alone parking brake control. Furthermore, it's yet another technological building block in the race towards autonomous driving.
Creatively engineered to be the industry's leanest and only solution of its kind that can operate independently of the vehicle's air processing unit, OnHand braking technology provides automatic engage and release functionality.
Actuated via a dashboard switch, the control system also checks and validates the safe parking of the truck and trailer combination, including on sloping roads. In addition, OnHand can provide back-up braking in case of electrical service-brake failure in redundant systems for autonomous driving applications.
Look ma, no mirrors
Orlaco, a company from the Netherlands, introduced an intelligent camera system, which aims to replace side mirrors on trucks and improve overall performance. The MirrorEye's features include night vision, overtaking detection and an automated panning function.
MirrorEye consists of two high-definition (HD) cameras placed on either side of the cabin. The driver can view the camera images in real time on a split screen HD monitor in the window stile. This provides him with an optimum view of road users alongside the truck, or at an acute angle behind the truck – at all times, everywhere and under all circumstances.
The Night Vision function provides the driver with a better view of surrounding night traffic. In addition, MirrorEye has a panning function: the cameras automatically adjust when turning or reversing, providing drivers with a better view while performing these manoeuvres. Finally, the camera system will alert the driver as to whether the adjacent lane is occupied by another road user when he needs to change lanes.
MirrorEye does more than just improve road safety. Tests also show that the aerodynamic design of the system results in a one to two-percent reduction in fuel consumption, when compared to a truck with traditional side mirrors. It will be available for sale from 2017.
GAZ Group makes its IAA debut
It was interesting to see GAZ Group, Russia's largest manufacturer of commercial vehicles, at the IAA for the first time – and representatives of the company indicated a desire to sell vehicles in South Africa!
The company has a huge range of vehicles – from light commercial vehicles (LCV) all the way up to buses – and it dominates the Russian market with a 50-percent share of the LCV market, 70-percent share of the medium-truck segment and an 80-percent share of the bus market.
We particularly liked the look of the GAZelle NEXT dropside, which is the most popular delivery truck in Russia. The GAZelle NEXT has a frame design, which makes the vehicle reliable and easy to operate even in challenging road and workload environments. It has a loading capacity of 1,5 t and a GVM of 3,5 t.
It was interesting to see that the company uses systems and components from the world's leading suppliers: Cummins diesel engines, ZF steering gears, Mando shock absorbers, Anvis rubber bushings, brake system elements from Bosch and Mando, CSA Castellon adjustable steering columns, Sachs clutches, Takata safety belts and Delphi climatic systems.
We also liked the look of the Ural NEXT tipper truck, a 6×6 with a 10,5 m³ load volume and a payload capacity of ten tonnes.
DAF launches fleet management system
DAF launched its new fleet management system, which is called DAF Connect. Like most other systems on the market, it offers the operator real-time information on the performance of his vehicles and drivers. Information on vehicle location, fuel consumption, mileage, fleet utilisation and idle time are clearly presented in an on-line dashboard, which can be tailored to customer requirements. DAF Connect will be available (in Europe) in the fourth quarter of 2016.
Thermo King shows the future of transport
"Our blinkers have come off! It's not just about cooling anymore!" So said Karin De Bondt, vice president and general manager for truck, trailer and bus at Thermo King in Europe, Middle East and Africa, at this year's IAA.
Speaking to FOCUS in an exclusive interview, De Bondt revealed that the business of transport temperature control solutions was changing rapidly all the time. "As we're working on a new product, we're already working on the next two behind it. The pace of change is increasing constantly; we have to remain extremely close to our customers," she revealed.
There is little doubt that the company is doing exactly that. And, in response to customer needs, the company showcased the future of transport refrigeration with two major innovations at the IAA.
The first was the SLXi platform of single- and multi-temperature trailer refrigeration units, which were developed with an expanded focus on the unit's intelligence, communication capabilities, fuel consumption and temperature management.
"We collaborated with hundreds of customers and dealers to understand the actual ambient conditions, temperatures and operating models for different types of cargo in daily use," David O'Gorman, product manager at Thermo King, told FOCUS. "We listened and then spent thousands of hours on research and development to design new features and enhancements for the next level of refrigerant trailer unit platform, the SLXi."
The SLXi offers massive fuel savings (ten to 20 percent, compared with its predecessor), 24-hour connectivity with telematics as standard, remote unit management and data access, as well as enhanced temperature control.
Furthermore, the new SLXi range is loaded with features that allow transport companies to substantially reduce the environmental footprint. "This new product is a quantum leap. We have made so many improvements compared to where we were previously," De Bondt told FOCUS.
The second new product was the Drive Trailer concept, which combines the proven expertise and technologies from both Thermo King and Frigoblock and will become part of the SLXi refrigerated trailer platform. The Hybrid Drive Trailer concept offers additional fuel and operational savings, as well as low emission and noise levels enabling transport companies access to inner-city areas and restricted zones.
The Thermo King Hybrid Drive allows a refrigerated semi-trailer attached to a tractor with a Frigoblock Enviro Drive inverter filter to run electrically. This enables the trailer refrigeration unit to be powered as a hybrid drive, by either the electric alternator or through its own independent diesel engine.
This innovative solution combines the alternator and the diesel engine to offer a potential reduction of 5 000 litres of fuel per year in companies with demanding distribution operations.
O'Gorman said that there was a lot of interest from South African customers in the hybrid. "Just today I have had to do three demonstrations for South African customers! They see this as being the next step! It may not be tomorrow, but it's the next step. It's not a prototype or concept; it's here now! It's not just wishful thinking!" he enthused.
Both De Bondt and O'Gorman told FOCUS that South Africa remained an extremely important market for the company. "South Africa remains our most important market in Africa. We have a very strong dealership in your country. For us it's a focus market and this will remain the case going forward," stressed De Bondt.
Local companies that visited the stand included Spar, Woolworths, Imperial and Namib Dairies. "We're definitely seeing an increased level of interest from South African companies," O'Gorman revealed.
MAN: the lion roars!
With more than 5 500 trucks sold at the IAA, the exhibition was extremely successful for MAN Truck & Bus. As such, its executive board member for sales and marketing, Heinz-Jürgen Löw, was in an extremely upbeat mood at the fair! CHARLEEN CLARKE caught up with him at the fair …
Löw said that MAN had never been in a better place. "The quality of our vehicles today is the best we've ever seen. We have been focusing on the driveline of our vehicles. Our customers need to make money from our trucks, and they're very happy with our product range. Our customers focus on cost per kilometre (CPK) rather than the glitz and glamour of a new truck," he told FOCUS at the exhibition.
Of course, the same is true here in South Africa and Löw said that he wanted to convince operators that the company could offer the lowest CPK on the African continent, too. "The market in South Africa is not the best. There's little that we can do about that, but, however big the cake is, we want to get more from the cake.
"We need to convince more South African customers to join us and choose MAN as their business partner. Looking into the bus business, we are very happy and proud. Our performance is just amazing. Our relationship with our customers is amazing, but we have to improve our performance on the truck side; I'm sure that we will achieve this in time," he added.
MAN launched its new van at the show, and this is obviously something that will come to South Africa – eventually. "We will start with Europe and the surrounding area. The van won't come to South Africa before 2019," he told FOCUS.
What of a bakkie, á la Mercedes-Benz? "A pick up is not on our agenda; there are no plans in this regard," he responded.
We also asked Löw about the furore surrounding e-mobility and he said that we could expect more vehicles powered by electric motors from MAN in the future. "Our first fully electric buses will come in 2018. The biggest demand for e-mobility will be within the field of public transport. We will also see electric motors within our van business.
"Then, of course, there are special truck applications – garbage collection, for instance. We want to run trials with our electric tractor next year. Our goal is not to be first to market, but we will be first to test in the market," he revealed.
Getting back to South Africa, Löw said that he was exceptionally proud of the massive Golden Arrow Bus Services deal signed in South Africa (read more about this in the next issue of FOCUS). "We are extremely proud to have such a strong partnership with the company; this is perfect proof of our skills and capability. Even from a global point of view, it's a significant deal," he commented.
"South Africa is a very important market to us. We are proud of our achievements in your country," he concluded.
Focus on Transport
November 3, 2016
Published by