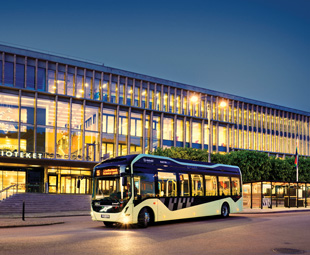 Buses have been around since the 17th century, although they were originally known by another name … JACO DE KLERK reports on the evolution of these people carriers from horse-drawn carriages to WiFi-enabled electric vehicles that can charge your cellphone.
Following their initial inception, according to the website Bus Stuff, buses took some time to catch on as a serious mode of transport. "The first known horse-drawn public bus was introduced in Paris in 1662 by Blaise Pascal. Though initially popular, the service lasted for only 15 years before it ceased to operate. This was due to an increase in ticket prices, which restricted usage to members of high society."
The bus industry stood still for more than a century after that … "There are no records of any other bus services like Pascal's until the early 19th century, when horse-drawn buses began to appear once more," the website points out. "The 'Omnibus' arrived in Bordeaux, France, in 1812 and soon after in Paris, New York and London."
Bus Stuff explains that the name "bus" is derived from the Latin word "Omnibus" (meaning "for all"). "A hatter's shop bearing the name 'Omnes Omnibus' was in close vicinity to the first bus station in Nante, France. Users of the bus quickly adopted the name of Omnibus, which has been shortened over time to bus."
Buses have come a long way since then, however, as their horses became mechanical. These were first powered by steam, then fossil fuel and now a variety of energy solutions (a bus that is powered by biomethane energy, derived from human waste at a sewage plant, recently went into service in the United Kingdom).
A less controversial energy source, electricity, is growing in popularity (due to its environmental benefits) as electric buses are entering real-world operations. The Swedish city Gothenburg opened its first route for electric buses on June 15.
Bus route 55 is a result of ElectriCity; a collaboration that develops, tests and demonstrates new, attractive and sustainable transport for the future. In addition to the actual buses, ElectriCity develops and tests new safety concepts as well as bus stop, traffic management, and energy supply systems.
The new electric bus route puts Gothenburg on the map for innovative public transport systems, and opens new possibilities for urban planning. "ElectriCity and route 55 are concrete proof of how Gothenburg is being developed into a denser, more sustainable and open city with attractive public spaces and a rich urban life," says Anneli Hulthén, chair of the city executive in Gothenburg.
"The project also demonstrates our ambition and strategy to attract expertise and investment to help reduce environmental impact and develop collaboration between authorities, industry and academia," she adds.
Bus route 55's three electrically driven and seven electric-hybrid buses, all from Volvo Buses, are quickly recharged with renewable electricity (from wind and hydropower) at the terminal stops.
"The Volvo Group aims to be the world leader in sustainable transport solutions," says Niklas Gustafsson, chief sustainability officer, Volvo Group. "A unique collaboration in Gothenburg enables us to launch the electric bus route here and remain a leader in the development of future public transport."
The buses are also equipped with onboard WiFi and cellphone charging facilities. They can even be driven indoors. Wide centrally positioned doors and a low entry height also make it easy to get on board.
"It should be enjoyable to travel by bus," says Dan Frykholm, design director at Volvo Buses. "Passengers should have a positive experience and be able to use their time on board constructively. In addition, getting on and off must be easy."
You could even visit a library in one of these electric people carriers. In collaboration with Gothenburg City Library, Volvo has built a temporary bus stop at Gothenburg's Frihamnen area in the form of a library.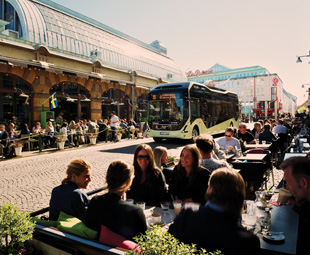 The aim was to showcase the possibilities provided by quiet, emission-free buses. The library enabled visitors to borrow books and tablets from Gothenburg City Library and sit down for a moment to read or listen to audio books – just like in a real library.
"Combining a bus stop with a library during the Volvo Ocean Race is an exciting idea. It gives us the chance to meet many people from all over the city and allow new visitors to discover what our libraries have to offer," said Gothenburg City Library manager Christina Persson.
Håkan Agnevall, president of Volvo Buses, adds: "Quiet, emission-free electric buses create new possibilities for public transport. With noise and air pollution out of the equation, the vehicles can get closer to where people are – even indoors."
Bus innovations are also making their way to South Africa, as WiFi has been introduced to the City of Tshwane's bus rapid transit (BRT) system.
Michael Fletcher, sales director for Ruckus Wireless sub-Saharan Africa, explains: "Each day, thousands of people pass through transportation hubs such as airports, train and bus stations.
"As business and leisure travellers carry smartphones, tablets and other mobile devices, the demand for high-capacity, high-performance WiFi connectivity has become an expected service, like electricity and running water. The City of Tshwane's BRT system, A Re Yeng, is a perfect example of this."
Tshwane's BRT system began operations in December 2014. It brought with it uninterrupted free WiFi access along the trunk route for commuters on board, as an expansion of the City of Tshwane's free WiFi network.
Since inception, a total of 163 126 unique users have used the Tshwane Free WiFi service, with a total of 6 461 327 sessions being accumulated and 21 242,3 GB being uploaded and downloaded.
Says Zahir Khan, COO of Project Isizwe, which has been integral to Tshwane's free public WiFi efforts: "The A Re Yeng buses come equipped with a connection to Tshwane's WiFi service, offering 250 MB of free WiFi access per device, per day.
"This enables commuters to do things like look for jobs, access learning materials online, and keep in touch with their friends while on the move around the city. Looking at the statistics and growth of the system, it is evident that the demand is growing."
Fletcher adds: "As infrastructure and transportation hubs develop across the regions, and cities move towards becoming 'smarter' – not only in terms of operational processes and service delivery, but also connecting citizens – we are likely to see high-density WiFi take its rightful place more and more as a critical enabler."
These surely are electrifying times for the bus industry, in more ways than one …
Focus on Transport
July 1, 2015
Published by