Empowering women at all levels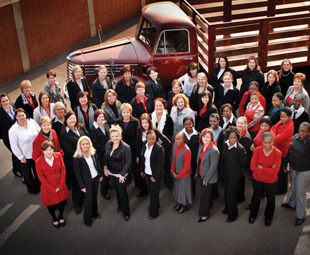 To meet customer needs, UD Trucks – one of the world's leading truck manufacturers – is investing a great deal of resources in developing its staff and dealer network to meet customer needs. ANZET DU PLESSIS meets some of the women making it happen…
The company is continuously aiming to deliver services and products that go beyond the expected, according to Johan Richards, CEO of UD Trucks Southern Africa. "We are especially proud of the role women have come to play in the success of our company, fulfilling key roles in various departments."
Richards added that it's important to get the fundamentals of the company right by matching customer business insight with the global expertise inherent in the company. "This means empowering our staff to keep abreast of the latest developments within the industry, and to serve customers in a passionate, professional and dependable manner," he said.
As a result, the company has changed the focus of its training. The aim is to assist all staff in developing the skills and knowledge required to reach their full potential within their specific job description.
Trucking forms an integral part of the regional economy, and consequently it is of great importance to ensure that the wheels of industry and business continue to turn effectively and productively. Richards believes that women contribute to this greatly: "Women have come to play an increasingly important role in the way we approach and manage our business, adding considerable value and insight over the years."
UD Trucks SA has many highly-qualified and professional women at all levels in the organisation, ranging from process engineers in the manufacturing plant to top-notch training and dealer development managers, most of whom are, according to Richards, "seen as among the best in the industry". We spoke to some of UD Trucks' female employees to find out what got them that reputation.
Tirsa Koen: General manager: human resources
Koen has been part of the commercial vehicle industry for more than ten years, having worked at Mercedes Benz and MAN Truck & Bus prior to joining UD Trucks SA two years ago. After completing her honours degree in competence development, she moved on to a management development programme at UNISA Business School.
She has had 20 years of rich experience in human resources (HR), having been through some of the most turbulent industrial action in the late 1980s, as well as the evolution of HR from an administrative business aspect to becoming a serious business partner. She's also seen the industry embrace ground-breaking labour legislation and subsequently implement revolutionary HR practices in the war for talent retention, competence and leadership development.
The transport industry has traditionally been a male-dominated world, but as with many other industries in South Africa, it has evolved to a more representative community.
Koen believes that women are intuitive and empathetic by nature, and that these qualities have in a sense "softened" the profile of the industry. Still, she maintains that the industry is tough and competitive and that women should not have to lose their femininity to rub shoulders with their male counterparts.
"As women we possess many attributes that complement the perceived harshness of the commercial vehicle industry and we should use these abilities to our advantage." She says that she's been lucky enough not to have personally experienced any gender-based prejudice or disregard during her tenure in the transport industry.
Why has she been so fortunate? She explains that UD Trucks SA never stops re-inventing itself, and is consistently at the forefront in terms of staff practices, with a management team that always looks for ways to challenge the status quo.
"Our performance in the industry speaks for itself, but this has not come automatically. A lot of hard work happens behind the scenes."
Despite this proactive company attitude, she says that the UD Trucks SA team does celebrate their achievements, and that she would encourage young people to pursue a career in the transport industry.
"The opportunities are endless," she says. She uses the example of three women in the organisation who were fortunate enough to spend time at the UD Trucks head office in Japan, where they gained invaluable experience. Koen says that UD Trucks SA is continually scouting for young talent. This includes potential employees in all sectors, from the engineering design department, retail development and sales and marketing to the manufacturing sector.
Working at UD Trucks SA has afforded Koen daily challenges, and she is continually pressed to present new opportunities on how to manage and care for the staff. What she loves most about her job is being part of such a diverse group of people who have a common vision, as well as seeing young people mature within the organisation. She also says that the company plays a role in the development of the community through learning programmes, which makes her job even more satisfying.
Marlé Visagie: Senior manager: dealer development
Following a BA degree in social work from the University of Pretoria, Marlé Visagie went on to work at Audi and Volkswagen as a dealer-training manager. Since starting at UD Trucks SA, she has established the company's training academy before moving into dealer development where she works now.
With six years of experience i
n the industry, Visagie does not believe that gender has an effect on an employee's role at a company. "I believe a person's contribution depends on their knowledge and skills, as well as the passion you have for what you do."
She believes women are adding to the value of colleagues, dealers and customers' experience at the company because they are extremely passionate about what they do. "They are totally committed to success," she says, "and will do what it takes – and more – to achieve their own as well as corporate goals."
Because the transport industry plays such a key role in the South African economy, Visagie believes it is important for young people to get involved.
"This is such a varied field, and it holds many opportunities," she says. She explains that UD Trucks as a company within the industry does a lot to create a family feeling amongst its employees. The company also works hard to build good relationships with its dealer network, and develops all products, policies and processes around its customers' expectations and requirements – a great challenge for its employees.
And this is exactly what Visagie enjoys about her job.
Annerie van Wyk: Training manager
"I started my career as a recruitment consultant for a leading recruitment/training provider in the automotive industry," says Annerie van Wyk. Since then, she's accumulated 11 years of valuable industry experience, having worked at Toyota SA as a training co-ordinator, as well as at the Toyota Academy as parts trainer and instructional designer. Her exciting career then saw her move to DaimlerChrysler as a competence development specialist, where she says she gained wonderful exposure in the areas of management and sales training, as well as product training for various brands within the group. This afforded her knowledge of both passenger and commercial vehicle brands, and in course development.
She has been working as a training manager at UD Trucks SA since 2007 and has worked on both local and international assignments.
With a qualification in human resource management and practices (as well as having completed various unit standards in education, training and development), Van Wyk recognises that the transport industry is a very hard industry to enter. Because it is such a highly specialised environment, it is extremely difficult for anyone without relevant experience to gain entry, and Van Wyk believes that only those individuals who are continually at the top of their game will be successful.
Here, Van Wyk says, women play an important role, because they have to be competent to meet the demands of the industry and build a successful and rewarding career for themselves. "Women who are high performers will gain the respect of their male counterparts," she says, "and can look forward to excellent support and teamwork from them."
UD Trucks specifically has a balance of highly experienced specialists and dynamic young professionals, and Van Wyk believes they all still share the same vision.
"Our company culture is based on a solid foundation of passion, professionalism and dependability, and through teamwork we manage to achieve the business results together." Despite a good foundation of products and services, Van Wyk says the differentiating factors are really the people at the company and the brand DNA that can be seen in everything they do.
That said, she maintains that the industry still doesn't have enough motivated, skilled young people who are willing to learn and grow. Van Wyk's position is about developing these individuals to reach their full potential, and says that the company values its people, recognising that employees are the reason for the company's success.
Marlize Vorster: Industrial engineer: dealer development
Marlize Vorster has been working in the transport industry since November 2006. Before that she studied industrial engineering at the University of Pretoria. She was one of
the lucky individuals who were sent to Japan in 2007 for six months of on-the-job training. Her work back here in SA has not been boring either, as she has spent time in several departments of UD Trucks SA, including manufacturing and corporate planning, and now as part of the sales department.
Vorster says that although she would encourage youngsters to pursue a career in the transport industry, women are still the minority in the industry, and it takes determination to gain confidence and trust from male colleagues. She says that while UD Trucks' main focus is the relationships it has with its customers, the challenge for her as a woman is "cars, trucks and buses – men love them and women use them." Still, the company always goes the extra mile to satisfy customers' needs in a professional, passionate and dependable way, and her job is all about continuous improvement and learning, gaining confidence and building new relationships along the way. This process is challenging and rewarding, and she believes the industry offers a lot of business and development opportunities to young professionals, as it is a learning curve with endless opportunities.
Kegomoditswe Lekgothle: Industrial engineer: process quality control
Kegomoditswe Lekgothle is relatively new to the transport industry, having obtained her national diploma in industrial engineering and subsequently working for UD Trucks SA for the past four years. She was also one of the UD Trucks SA employees who worked for the corporation in Japan for six months, and believes that the industry needs the fresh ideas and input from young people for the benefit of the industry as a whole. Women can
work in all the different departments, and UD Trucks SA has female staff in marketing, finance and even someone like her in engineering. She believes the heavy duty work on the production line is still the biggest challenge facing women in the industry.
At UD Trucks SA, her responsibilities include the capacity plan and plant layout – two jobs she says she really enjoys doing.
"I love doing the calculations of the company's manpower plan, line speed and working hours to achieve the required demand, and optimising and planning our company's plant layout to reach the highest levels of productivity and quality."
The company as a whole, she says, has much the same goal, aiming to provide reliable and good quality products to its customers in a prompt and professional manner.
Alida Liebenberg: General manager: legal and risk advisor
Alida Liebenberg has b
een with UD Trucks SA since July 2002. She studied at the University of Johannesburg and the University of the Northwest, and has a masters degree.
While women have traditionally only been involved in transport in a supportive role, Liebenberg says these days more and more women are moving into the typically male roles in the technical, engineering and mechanical fields. Women have a great deal to offer, according to Liebenberg, because UD Trucks does "not only sell trucks, but also provides a range of services to customers … and in that way women add other dimensions to the manner in which we approach and manage our customers".
For this, the biggest challenge she faces is building long-term relationships with customers – something that she says poses unique challenges and opportunities. She enjoys being able to add value to the company and contribute to its success through the common values and objectives they pursue.
"In essence, I like to contribute to the success of the company and help others grow on all levels."
Focus on Transport
August 1, 2011
Published by