Ethanol bus drives to its own beet
With the world increasingly aware of the danger of carbon emissions, the global eye has turned to large corporations to take action.
Every day, most of us have to drive to and from work at peak traffic hours. This means, inevitably, we are stuck behind the same car for lengthy periods; edging along the road at a snail's pace, becoming increasingly frustrated.
This is bad enough if it is a modern sedan you're stuck behind, but often, it is an ancient commuter bus, billowing thick, black, smelly smoke behind it. After missing the mad dash to change lanes and get out of its way, you scramble for your windows, winding them up as fast as possible. You reach helplessly towards your internal air circulation button, knowing it is all too late – that black poison has already crept its way into your car.
Along with the headache and general feeling of "ickiness" one would endure after such an experience, most of us are becoming increasingly aware of the massive carbon footprint the vehicles on our road leave behind.
But it is not just crazed tree-huggers telling us our cars are dirty, the government has climbed on board with its CO2 emissions tax coming into effect this year. While this may only relate to passenger cars and light commercial vehicles at this stage, there is a strong possibility that it will also affect other commercial vehicles in the near future.
On top of this is the Carbon Disclosure Project (CDP), which obtains information on businesses' actions towards combating climate change. Although this is still done on a voluntary basis, it has been predicted that it will someday be a legal obligation for companies to monitor and publicly report their greenhouse gas emissions.
Many global businesses are paying attention to their carbon impact now, while it is still voluntary. "Companies who adopt eco-friendly policies now will gain the competitive advantage in the future and will have built up goodwill in the market once government and industry regulations are officially put in place," points out John Anderson, OEM key accounts manager at MiX Telematics.
So what can commercial vehicles do to get in line with lowering their carbon emissions? Scania is already well on its way to achieving this, as it is currently working with the Johannesburg Metropolitan Council to trial run a fleet of ethanol-powered commuter metro buses in the city of Johannesburg.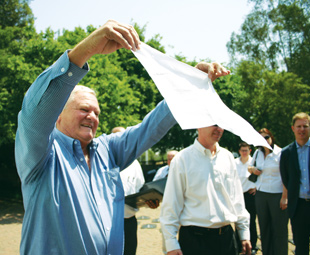 Silversands Ethanol produces the ethanol from its sugar beet farm situated in the North West Province. The sugar beet that this company uses is very high in sugar and is mixed into a gel, which has an ethanol content of up to 80%. This results in a longer and hotter burning gel than others currently available on the market.
"The use of ethanol has many benefits, the greatest of these being the reduction in carbon emissions," explains Anderson. As well as this, Silversands Ethanol has already provided work for 31 previously unemployed local Tswana people, thus creating job opportunities for people in the poor rural communities surrounding the sugar beet farm. "According to research done in South Africa, for every bus that runs on ethanol fuel, two to three jobs are created in rural areas where it is most needed," says Anderson. "So not only will fewer carbon emissions enter the atmosphere, but many unemployed South Africans might find themselves with a job."
It makes you wonder why everyone isn't using this magical ethanol fuel in their vehicles. Well, it does work out to be slightly more expensive than using diesel. The ethanol consumption is higher than that of diesel, and the fuel itself is not cheap. However, these costs can still lead to savings in the long run with companies paying less environmental taxes and having cleaner, and therefore most likely longer running engines.
With smart business practices, like those of Scania and Metrobus, further savings can be made by monitoring the way the buses are run. MiX Telematics has designed fleet management technology specifically for the purpose of lowering fuel consumption and carbon emissions.
Anderson explains, "Companies who adopt this technology are able to accurately measure and report on their carbon emissions. By reducing fuel consumption, carbon emissions are reduced and our technology is doing this for companies such as Metrobus."
MiX Telematics has worked with Scania for seven years, aiding in contract management and per-kilometre billing. It was therefore the obvious choice for Scania to approach MiX Telematics to develop a system that would monitor and regulate driver behaviour and map routes that would achieve significant fuel reductions.
These Scania metro buses have been fitted with the MiX Telematics FM Communicator unit, which has already been proven globally to monitor fuel consumption and reduce carbon emissions.
"Our system measures fuel consumption and CO2 emissions and clearly indicates if the vehicle is over the limits," explains Anderson. The system is also capable of regulating driver behaviour, such as speeding, excessive idling or harsh breaking. The driver is warned that he needs to take corrective measures, and the warning is also sent back to the operator, allowing him to record trends with certain drivers and take any necessary action.
Along with this, the system records drivers' hours, advises when maintenance is needed and can assess routes for fuel efficiency. "Unlike other systems, the MiX Telematics system links directly to the onboard computer via the CANbus, which allows us to monitor and report on all aspects of the vehicle," says Anderson.  "We also work closely with the fleet owners on training their drivers to ensure vehicles are used efficiently, which impacts directly on the fuel efficiency and carbon output of vehicles."
The buses themselves are highly visible, and one is instantly struck by how clean they look. As well as their fresh appearance, the lack of black smoke ballooning out behind them is definitely noticeable. In fact, when a handkerchief was held directly over the exhaust when the ignition was started up, it came away as spotlessly white as it started off. It's a nice feeling that you could drive behind one of these buses with your windows rolled down, safe in the knowledge that your car is still noxious-gas free.
Focus on Transport
November 1, 2010
Published by