SHAUN CONNORS, our intrepid Brit, makes a trip to London for a drive in a transport icon, but one that is now threatened with near-extinction just like the famous red Routemaster bus…
Having driven that other icon of London's transport scene, the Routemaster bus, I guess it was inevitable I'd find myself driving something that's equally as sought after by tourists of the camera laden Japanese and overweight American varieties – the London taxi.
Equally as iconic as the Routemaster, the FX4 – the London taxi – is, depending on how you look at it, either two years the Routemaster's junior or one year its senior. The FX4 hit London's streets in 1958 and when production ended in 1997 almost 75 000 had been built. The prototype Routemaster was running from 1956; however production examples didn't appear until 1959.
Just 2 756 Routemasters were built over 10 years and in an act of cultural vandalism Citizen Ken (London's former  mayor) had all but a handful of 'heritage route' Routemasters off the streets of London by late-2005.
Not content with Routemasters, Citizen Ken also took a pop at the FX4. He failed, but then our Euro-friends in Brussels began interfering, and for a while it seemed that legislation anticipated from the European Union (EU) halls of idiocy during 2012 might outlaw the rear-hinged doors of the FX4.
That particular threat appears to be no more, those Brussels-based antagonists that cause chaos and confusion Europe-wide with their nonsense laws doubtless more interested in ensuring that French bread only comes from France, Yorkshire puddings are only baked in Yorkshire, and Melton Mowbray pork pies come from Melton Mowbray…
However, back to the subject of taxis, and before we worry too much about the demise of the FX4, let us take a quick look at its predecessors, attempted successors, and eventual successor.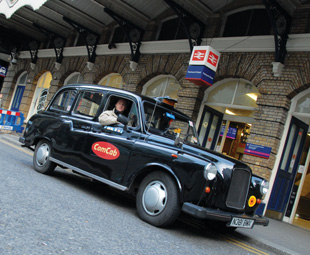 There is record of horse-drawn coaches for hire in London as far back as 1588, but London's first motor-cabs didn't appear until 1897. These were electrically powered, but just like today's electric cars they were rubbish and by 1900 they were no more… The first internal combustion engined cabs, French-built Prunels, appeared in 1903.
The introduction of rules for London motor-cab design (Conditions of Fitness) took place via the Public Carriage Office (PCO) in 1906. One specific PCO regulation, the very tight 25 ft turning circle, would essentially control the future of what had yet to be christened 'taxis'.
Taking a quick skip forward, in 1948 the Austin FX3 arrived. The FX3 was built by Carbodies of Coventry and financed jointly by Mann & Overton, Carbodies and Austin (see Jigsaw box), and it would soon dominate what, because of those Conditions of Fitness, was a very specialist market indeed. Taxi manufacture was relatively low volume and a market that mainstream motor manufacturers could not enter with off-the-shelf products. The investment required for anybody else to enter the taxi market was prohibitive, and so the Mann & Overton, Carbodies and Austin setup found itself on the dead-end road to a monopoly situation.
Following the FX3, Austin's next taxi was (logically) the FX4. "New" would probably be a misnomer for the FX4, as while it did have a full-width body, four doors and independent front suspension, its base chassis had changed little from that of its FX3 predecessor.
The FX4 would remain in continuous production for 39 years, although this would have little if anything to do with it being a good design, in fact (as I would find out) it had numerous failings… In reality, neither Austin nor Mann & Overton had the money to replace it and as a result the FX4 would struggle on through five different engines (including a really rubbish Land Rover unit) and a variety of modifications.
The FX4 had not a single competitor vehicle available to buy between 1972 and 1987, although some did try. There was an early Metrocab, and Carbodies made two attempts of its own, the FX5 and CR6. The CR6 was going to use the Range Rover bodyshell and most of its panels, but the change of Range Rover from utility to fashion accessory had Rover's marketing people recoil in horror at the thought of a Range Rover-based taxi and the CR6 project ultimately went nowhere.
The FX4 finally got its competition in 1987 with the reinvention of the Metrocab. Although in terms of competition it was like Arsenal vs Midsomer Rovers… The hideous GRP Metrocab was finally bumped off in 2006, but not before passing through four owners including Reliant, the people that made Del Boy's three-wheeled Robin.
Time was, inevitably, running out for the FX4 and this four-decade-old design was finally replaced in 1997 by the TX1. The TX1, while more modern, was purposely retro, and partly to appeal to overseas buyers, it looked like a London taxi was supposed to look. However, while part of the London taxi's design is controlled by the Conditions of Fitness, the Disability Discrimination Act that from 1989 insisted all new-build London taxis were accessible to wheelchairs, also had an affect on design.
This compulsory wheelchair access proved to be a bit of a double-edged sword, as when combined with manoeuvrability and the ability to seat five (plus luggage) the world (OK, other UK cities) suddenly became the oyster of the London taxi. And with London taxis no longer confined to London, it wasn't long before converted vans became competition, leading to the inevitable – the London-specific Conditions of Fitness (that 25 ft turning circle that nothing else could meet) were being challenged.
An initial challenge was thrown out in 2003, and in late-2005 and following a 'round two' it was decided that the status quo should remain.
And let's not forget Citizen Ken. In his first attack he tried to eliminate all London taxis older than 12 years (essentially all FX4s) by 2007. When that failed, for his second attack he played the tree-hugging ecomentalist card. The unstated idea of his master plan was that rather than spend around £2 000 upgrading to the to-be-enforced Euro 3 exhaust emissions limit, owners of older taxis would simply buy a new one. However, unlike his attack on the Routemaster, Ken's second attempt at cultural vandalism failed, and primarily because the new option, the TXII with its Ford Transit van engine was a load of old rubbish. As a result of this, FX4 owners shelled out to have their taxis upgraded. And so with FX4s still plying London's streets for trade, it was an FX4 I set out to drive.
As I seldom visit London, by default I seldom use London taxis. However, from previous visits I did have two conflicting memories of travelling in them. The oldest of these has me relaxing in sumptuous dark brown leather upholstery, which complete with authentic aromatic option, is reminiscent of a cosy corner in a Victorian London gentleman's club. The more recent memory had me sitting in something resembling a mobile Health & Safety convention. Surrounded by more out-sized bright yellow grab handles than an octopus could use, from my urine-proof seat I spent an entire ride reading signs warning me of this, that, the other, and everything else as well.
The decor of Bill Munro's 1995-built FX4 found some middle ground between those two, but it wasn't the passenger compartment I was really interested in, it was the driver's… oh dear, instrumentation from the Maestro/Montego era of British Leyland was just the start of it. Forget the passengers, where were my Health & Safety signs for WBV (Whole Body Vibration), HAV (Hand-Arm Vibration), and I'm sure the Confined Spaces Regulations 1997 applied. And let's not forget the never-to-be-cured water leaks from the windscreen, and draughts under the doors.
Drivers didn't get internal mirrors until 1967 to protect passenger privacy, and so young women in mini-skirts didn't think the driver was taking a peep. Until 1982 these had to be dashboard mounted. And then, in 1982 radios were allowed for the first time, but cassette tape players were not permitted for some time after as the music being played might offend the passenger. Oh, and that partition between driver and passenger? Originally for privacy, in this modern world it is now as much for driver safety, and on the latest models is actually shotgun proof.
Bill's FX4 is powered by the final (and best) engine option, the 60 kW (81 hp) Nissan TD27. Coupled to a four-speed Nissan automatic and with the 1992-introduced disc brakes, this combination has propelled Bill's FX4 for 720 000 city km (445 000 miles). And he reckons it will still be going strong in 2012 when Boris Johnson (Citizen Ken's replacement) manages to do what Citizen Ken never could, and remove the FX4 from London's streets.
The demise of the FX4 will be signalled by a new rule declaring that Transport for London's TPH (Taxis & Private Hire, which is what the PCO now is) will not pass any cab older than 15 years from 1 January 2012. The very last FX4s, registered in 1997, can bravely solider on until 2013.
And the really bad news? The latest 'London taxi' is the Mercedes-Benz Vito… This premium-priced vehicle seats six and features rear-wheel steer, so meets that all-important 25 ft turning circle requirement. But the really badder news, if badder is even a word, is that the Vito is selling well and appears to be dispelling the myth about the traditional appearance of the London taxi being vital to its recognisability.
The London taxi jigsaw…
The most successful, influential and definitely important single organisation in the world of London taxis was the Mann & Overton dealership. Mann & Overton began in 1905 and in 1929 persuaded Herbert Austin to make taxis. In 1984 Mann & Overton was acquired by Manganese Bronze Holdings, a company that had bought Carbodies Ltd in 1973. Carbodies began making taxis for Austin after the Second World War. In 1987 Carbodies and Mann & Overton were combined to make London Taxis International (LTI).
The other important 'name' in the London taxi jigsaw is the industrial empire of William Beardmore. Established in the mid-19th century, Beardmore's involvement in London taxis started in 1915 and came to an end in 1969, but Beardmore's association with Metro-Cammell-Weymann would eventually lead to the Metrocab.
Focus on Transport
November 1, 2011
Published by