Frank Beeton, who has been writing for FOCUS since January 2006, is hanging up his hat! We published his last Global Focus last month, but, before we allowed him to go and relax on the beach, I chatted to him about his long and illustrious career – and some other bits and pieces, too
Frank Beeton was born with diesel in his veins – although this was something that didn't come to the fore until his pre-teen years. That's when he became "seriously interested" in road transport.
Not surprisingly, he went on to join the Port Natal Administration Board, General Motors, Poole Industries and Nissan. In 2000, he became a consultant, working for Econometrix and penning over 100 fascinating articles for FOCUS (mostly market reviews and his astute commentary on international events and trends).
During Frank's time in the wheels game (which spans 48 years!), the annual truck and bus market has fluctuated from a high of 30 700 units in 1981, to a low of 7 900 units in 1993, and then back up to an all-time record of 37 000 units in 2007.
Last year, it barely scraped over a level of 27 000 units. "That scenario of wild fluctuations in volume and numbers of participants, has made it an extremely challenging industry to work in, and with," he notes. I asked him about these challenges and his other memories of our industry over the past 48 years…
Your CV refers to previous experience with truck/bus retail sales in the KwaZulu-Natal area from 1969 to 1975. Can you please elaborate on this? What did you do during this period?
I was a truck and bus salesman. During that period, I sold Leyland, International, Nissan Diesel and Volvo products. On the face of it, I made too many job changes, but I was a young salesman making his way, and it was challenging to find positions where sales management and the senior salesmen left you enough room (in terms of decent sales prospects) to make an impression.
There was also very little mentoring and guidance, with management often hogging the key accounts for themselves. I had periods of success, and some of great frustration, but it was a great learning experience, and it helped me a great deal when I later moved into management positions.
I'm guessing our industry was quite different back then?
Indeed! It's changed a great deal! At the end of the 1960s, the local industry was emerging from a period of domination by British makes (Leyland, Ford and Bedford, for instance). That was when the German, Italian, American and Japanese brands started making inroads into our market.
In the 1970s, we saw these companies grow their market share. In the 1980s, South Africa moved into an era of mandatory high local-content fitment, in the form of Atlantis Diesel Engines (ADE) and ASTAS transmissions. This resulted in the number of makes active in the market declining from around 30 to only seven or eight! Then, from 1994, the import restrictions were lifted and many of the global brands returned.
After six years of sales you moved to the Port Natal Administration Board (from January 1976 to September 1978). I know you were transport officer and assistant transport manager there, but tell us about the Board and what it did. Also, tell us about your experiences there, the highlights of those jobs and lessons learnt during your time there.
To understand the Administration Boards, you need to have a handle on Apartheid politics. Under that regime, Administration Boards were set up to manage the so-called "black areas" outside of the Bantustans. In practice, it meant that they took over the functions previously performed by municipalities in the townships adjacent to major cities.
The Port Natal Administration Board managed infrastructure construction and maintenance, administration, welfare, cleansing services and security, and also operated a sorghum beer brewery.
The vehicle fleet – which consisted of cars, pickups, trucks, tractors and tankers – exceeded 300 units, and my main responsibilities included vehicle procurement through a tender system and setting up a costing system for the fleet. This was also great training for my later career.
You worked for General Motors South Africa (GMSA)/Delta Motor Corporation, from October 1978 to December 1988. What was the company's position within the truck industry at that stage (in terms of its market share). What products did it have? What challenges did it endure? What were its major successes?
At that time, GMSA was intent on improving its truck market position, particularly with Isuzu products. Its earlier main truck brand, Bedford, was becoming increasingly difficult to sell. In 1978, GMSA recruited a group of specialist truck people from outside the company, of which I was one, to act as truck area managers.
Our arrival coincided with the introduction of new Isuzu products, led by the five-tonne SBR422, which found immediate acceptance in the market. GMSA also took a very positive attitude to local content incorporation, using Mercedes-Benz-derived ADE power units, and, as the 1980s rolled out, a comprehensive range of Isuzu products was jockeying for second position in the market alongside Toyota/Hino, and not far behind leader Mercedes-Benz.
In 1980, I was promoted to government sales manager, and transferred to head office in Port Elizabeth. Over the following eight years, I held virtually every position in truck sales management, ending up as commercial vehicle strategy manager with Delta Motor Corporation in Johannesburg.
This period considerably expanded my range of management experience, and gave me my first taste of involvement with marketing (as opposed to sales), strategy development and product planning.
Unfortunately, following the sad demise of chairman Bob Price, the Delta management was determined to grow its car business, and was less enthusiastic about the commercial vehicle volumes that had kept GMSA alive through the difficult business and political climate of the 1980s. It was time to move on.
Any unusual/fun/crazy/interesting stories you could like to share with us from this time?
Amusing stories were plentiful during the decade at GMSA/Delta. Most of them relate to vehicle launches. In those days, we did everything ourselves such as driving vehicles to launch venues, setting up the displays, building sets and hanging posters. Then we did the presentations and entertained the visiting dealers, press and fleet owners. This was really great for building team spirit. I feel sorry for modern industry executives who seem to waft in when all the work has been done for them by service providers. How boring!
In May 1985, you hosted a press group visit to Isuzu Motors Japan. Which journalists did you host? What was the purpose of the visit? Where did you go? What did you do?
The group, which was hosted by public relations head Mick Killeen and myself, included Mick Collins, Colin Haines, Ralph Jarvis, Francois Ebersohn, Neil Bolton, and Alan Trim. The purpose of the trip was to expose these journalists to Isuzu's Japanese production and test facilities, and to generate publicity for the GM/Isuzu operation in South Africa.
The group visited the Isuzu plants in Kawasaki, Fujisawa, and Tomokomai, and had the opportunity to drive trucks on Isuzu's impressive test track on Hokkaido Island. We also visited the traditional Japanese capital city of Kyoto, the Suzuki head office and plant at Hamamatsu, travelled on the Shinkansen (bullet train) and, on the return trip, called at Hong Kong and Macau.
You then worked for Poole Industries from January 1989 to September 1990. That must have been fascinating…
It was, yes, but it was also a sad time. Pretoria-based Poole Industries had been the country's premier truck bodybuilder in the 1980s, but, by the end of the decade, it was suffering, along with the rest of the industry, from the greatly reduced market demand and the resulting severe reduction in throughput.
The founding Poole family had sold the company to Murray and Roberts, and it seemed that, with its long history, well-established plants, diverse product range and skilled people, it was ripe for a return to its earlier position as a highly successful and profitable business.
Unfortunately, the new owners chose, instead, to break up the company, thus eliminating the possibility of a broad-based turnaround. As it turned out, this was completely the wrong decision, and it led to the ultimate demise of what was once a proud company with a long and distinguished history.
Why the move to Nissan in October 1990?
By the end of 1990, it was clear that Poole was going nowhere, so when John Wood suggested that I join Nissan Diesel to fill the vacant role of national fleet sales manager, I was ready to make the move.
Nissan Diesel was, at that time, a heavy hitter in the truck market, and regularly placed third behind Mercedes-Benz and Toyota/Hino. The truck marketing management team in 1990 was minute, with only three of us reporting to Dave Scott, and had a total lack of line responsibility. The team was highly motivated, but the lack of any direct authority to influence our own affairs made the job difficult.
How did things change when Mike Whitfield took over in 1994?
They changed drastically. The management team was expanded exponentially, and was given the authority to take full line responsibility. In the meantime, I had moved from sales management into marketing, and then on to general management of the product-planning function.
Managing the process of returning Nissan Diesel's product range from ADE to OE power was my main responsibility as the 1990s rolled out, and the longevity of the product range that resulted is a testament to the good job that was done by my team. This was probably the most rewarding period of my whole career, highlighted by several months when Nissan Diesel occupied the number one position in the local truck market!
In September 1994 you attended IAA Commercial Vehicle Show in Hannover, Germany. How many times have you visited the fair? What were your impressions in 1994? Did you go with a group? What was the highlight of the trip?
I have been to the IAA only once, and I travelled solo on an intelligence-gathering mission. The show was totally overwhelming, especially the multiple stands of major European manufacturers like Mercedes-Benz and MAN, and I was astonished to see how they targeted specific displays at major fleets, smaller fleets and drivers. The huge bodybuilder and supplier sections were also of great interest.
The event is vast, and places great demands on one's feet, but major lasting impressions include the incredible build quality standards of European luxury coaches, the Mercedes-Benz Unimog stand where a "Mog" regularly won a tug-of-war with a small railway shunting steam locomotive, and the use of "live" airbrush painting to decorate truck cabs.
In May 1995, you were chairman of the Nissan Diesel "FF 95-2" International Product Planning Conference in Japan. Please tell us all about that! What products were you planning? Did they come to South Africa?
We were, at the time, putting the finishing touches to Nissan Diesel's post-ADE product range for South Africa. As this meant that we were returning to OE engines and driveline components, Nissan Diesel was keen to test for greater levels of uniformity between its overseas markets, in an effort to reduce the number of specific models it was building for each of them.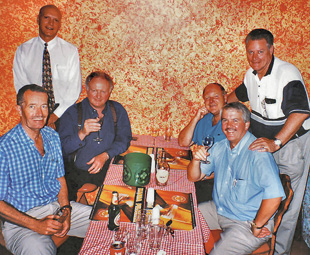 However, the presentations and discussions only served to emphasise the specific needs of each market reflecting legislative requirements and customer preferences. It reinforced the importance of recognising customer priorities, rather than trying to achieve a level of rationalisation within the manufacturers' production and product support systems, which could ultimately lead to reduced overseas market share.
In March 1996 you went on a fact-finding visit to a Nissan Diesel distributor in Malaysia. Why did you go there specifically? What did you learn?
This was primarily a courtesy visit to a fellow distributor who was particularly successful in his own market. However, it was soon apparent that the company's competitive situation was very different to ours, and that the Tang Chong operation was considerably smaller than our own.
The stay was most enjoyable, and the people very friendly. I learned that Malay food is very spicy, that the Malaysian population is made up of Chinese, Indian and indigenous Malay people, and that the Malaysian government had its own "BEE" programme which favoured the latter group.
In November 1997 you travelled to Australia, and met with UD Oceania in Sydney. What was the most interesting thing that you learnt while there? How did its operation compare to South Africa?
This was actually a private visit to Australia, but I used the opportunity to reconnect with people from UD Oceania, who I had first met in Japan. It was mainly social, and the most interesting aspect was the very pleasant seafood lunch enjoyed at a yacht club on one of Sydney Harbour's backwaters!
After your tenure at Nissan you went on to join Econometrix. Why? Please tell us about the highlights of your time at this company?
For the reasons explained earlier, working in this small and intensely competitive truck market is not easy. By the time I had spent 30 years wrestling with its challenges, I was looking to do something a little different, but where I could still use my experience and knowledge.
I had met Tony Twine during 1984 and, knowing that he commanded tremendous respect in the industry, I decided to approach him to discuss the possibility of working together. He immediately suggested that I join Econometrix as a consultant, and explore possibilities for increasing the company's industry footprint, particularly with respect to heavier commercial vehicles.
This led to an extremely happy and productive sixteen-year period, during which I was able to work with, rather than in the industry, doing things differently, but still enjoying the association with a broad selection of trucking people.
You must have loved working with Tony. He was such an incredible man!
I did. The period working closely with Tony, up to his untimely passing in 2012, was extremely enjoyable. We worked well as a team, and I particularly enjoyed his somewhat offbeat sense of humour.
I was absolutely in awe of his ability to work without any obvious handicap from his almost non-existent eyesight. Tony also had enormous credibility in the motor industry, and this resulted in the regular inflow of consultancy work for Econometrix, to the benefit of our department.
One of the most important opportunities to materialise was the cooperative venture with Neal Bruton of Response Group Trendline to develop and market the heavy-vehicle version of its excellent Market Segment Analyser programme. I also started contributing articles to trade magazines, which became an important and enjoyable aspect of my time at Econometrix.
Speaking of incredible people, which people have impressed/inspired you the most during your career? Why?
In an article that I previously wrote for FOCUS, I nominated Bob Price (GMSA/Delta), Makoto Hisano (Nissan Diesel) and Tony Twine (Econometrix) as the most inspiring people that I had met, and dealt with, during my career. They are still top of my list, for the reasons that I fully explained in that article.
There were also people like Dave Butlion, who was truck sales manager at GMSA in 1978, and made my move to that company possible, and Mike Whitfield, who was my boss at Nissan, both of whom had an incredible ability to change the strategic direction of large companies with the force of their personalities.
Dave Butlion's immediate successor was Andre van Rooyen. It was the first time that I had worked for someone who was younger than me. He also became my "champion", and made sure that my career at GMSA took an upward trajectory. I am very grateful to him.
If you had to pick one low point or perhaps the greatest frustration/disappointment of your career, what would it be?
Half-a-century of work experience, including 30-plus years in a corporate environment, has thrown up its fair share of frustrations/disappointments, and I have already spoken about some of them. However, the ability to deal with adversity is very material to the success or failure of an individual in business. It is very important to reflect on these events and understand why they happened.
On reflection, I think that Bob Price's sudden passing before he could steer Delta Motor Corporation towards a more substantial involvement in the truck market, which was his stated objective, was pivotal, and that my subsequent career may have been very different if he had survived for any length of time. However, I can say that none of these events ended up having a long-lasting negative influence on me, and I soon moved on to new adventures and achievements.
If you had to pick one highlight of your career, what would it be?
It would definitely be the product-planning process that I headed up at Nissan Diesel in the mid-1990s. That was undoubtedly the kind of challenging scenario that perfectly fitted my personality and experience.
It was, of course, a team effort working closely with people like Rory Schulz, Vic Capitani and Makoto Hisano, and the OE driveline product range that resulted was to keep Nissan Diesel and UD Trucks competitive in a major chunk of the market for nearly 20 years.
Incidentally, it was my idea to use "UD" badging on the trucks as a model designator, and I believe that the early use of that logo greatly facilitated the transition from Nissan Diesel to UD branding that was to follow.
However, even more important are the good friends that I have made during my years in the industry. People like John Wood, Peter Merzbacher, Mark Warner, Ian Byers and Vic Oliver have been firm friends since the Nissan Diesel days, and before that I shared many pleasant social times and memories with Rene van der Merwe, Tony Barlow and the late Bill Rossouw from GM.
There is a saying that we truckers have "diesel in the veins", and it is true that we love nothing better than a good meal with a few beers or glasses of wine and the chance to "talk turkey" with colleagues, or even competitors.
Finally, now that you're retiring, will you miss the transport industry?
I will not miss the transport industry, because trucking people never lose interest in the business and I will maintain contact with the trucking friends I have made over the years. Every time that I venture out onto the roads, I will be keeping an eye open for new vehicles, and what they are doing. I also have my extensive collection of model trucks and buses to remind me of my roots, and I hope that the publications with which I have had an association will continue to send me free copies every month!
And what will you be doing with your time?
During retirement, I will be pursuing my hobbies of birdwatching and playing the guitar with greater frequency, and doing a bit more reading. I have a half-written book on Durban's buses which needs to be finished, although it may not be published, because I have "stolen" so many photographs to illustrate it!
As you know, I am now "back home" in KwaZulu-Natal, and there is a plot to set up a social group of "old truckers" down here. It will be similar to what we used to do in Johannesburg, and we hope to meet two or three times a year for lunch and a natter.
I have travelled extensively during my working life, and must admit that long plane trips are no longer an exciting prospect, but a trip to Okavango and a return visit to Australia are under discussion. We will see what transpires!
Focus on Transport
March 15, 2017
Published by