UD Southern Africa is tops!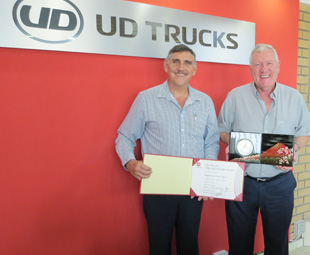 Do you know which is the largest international sales market for UD Trucks? It's right here in southern Africa!
UD Trucks Southern Africa was recently awarded the International Sales Award as the brand's largest overseas market in 2016.
"This award is a true testament to the calibre of staff and dealers we have in the region, and it will certainly drive us to perform even better this year," says Gert Swanepoel, MD of UD Trucks Southern Africa.
"We have great expectations for the future of the brand within the region and are confident that we will continue to be as successful as we have been over the last five decades," says Swanepoel.
"Through continuous training, skills development and the implementation of world-class quality standards, we are able to provide customers with a dependable service wherever they operate their fleets within the region."
"Our dealers are true ambassadors of the brand and are on the forefront of our interactions with our customers. We are very honoured to receive this award on behalf of all our staff and dealers," Swanepoel concludes.
Focus on Transport
March 16, 2017
Published by