FAW expands in the Western Cape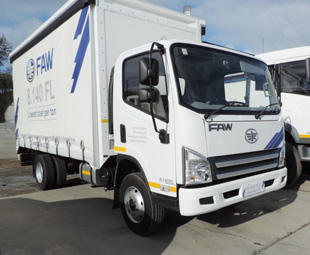 FAW Vehicle Manufacturers South Africa (FAW SA) has partnered with the family business group, JEC Marketing, to establish FAW Commercial Vehicles Worcester; a fully fledged representative for both sales and service of the entire range of FAW vehicles.
This recent addition to FAW SA's geographical footprint forms part of the company's strategy to become more accessible to potential customers, as well as to get closer to the various high-volume zones in the transport sector, so that it can provide high-quality, quick service and maintenance turnaround times.
The Pretorius family's service and parts business was started by dad, Chris Pretorius, in 1993 in the Free State and speedily gained an outstanding reputation in the region.
In 2011, JEC acquired its current premises in Worcester. "From the start we worked extremely hard to gain the confidence and trust of our customers," notes Pretorius.
On these premises, JEC provides all service and maintenance needs. It has its own wheel-alignment and wheel-balancing facility, a full brake-repair and servicing facility and nine full-service bays. JEC is also accredited and certified by the South African Bureau of Standards (SABS) as a bodybuilding and trailer manufacturer.
"I chose FAW as the brand for JEC to venture into new vehicle sales for the simple reason that the vehicles offer good value for money and are easy to service and repair, while being strong and durable," says Pretorius.
To support the sales venture, new staff have been specially appointed for sales and admin, bringing the company's total staff complement to 30 people. The company holds parts worth more than R3 million with over 6 000 line items at hand.
Eugene van der Berg, national sales manager at FAW SA, says: "It is an honour to join this Worcester business, which has so resiliently built a reputation for quality work and customer care. It also conducts all its affairs according to the strong Pretorius family values, which are exactly in line with those of FAW."
–
Focus on Transport
October 20, 2016
Published by