Tale of two cities (and one truck)
Scania's next-generation truck has finally been launched! The company did so in grand style, showing it for the very first time at the Grand Palais in Paris. One week later, members of the International Truck of the Year jury were invited to Södertälje to put the new truck to the test. I was incredibly privileged to join both gatherings.
It took over ten years to develop and it cost SEK 20 billion (about R33 billion). As such, much was expected of Scania's new truck range. And it didn't fail to deliver, wowing about 1 500 customers, dealers and members of the media during an incredible launch in Paris (and many, many more via a simultaneous online launch). It was like the United Nations of trucking; guests arrived from 100 countries!
The venue was the ever-so-posh Grand Palais, an iconic monument celebrating French art, which was built especially for the Universal Exhibition in 1900. Christian Levin, board member and executive vice president, head of sales and marketing at Scania, told us all about the fabulous features of the new truck (more about those later), but it was the impassioned address by Henrik Henriksson, president and CEO of Scania, that really struck home – because it was obvious that he was both extremely proud and quite emotional (the latter was nice to see; it was very touching).
"This is, undoubtedly, the biggest investment in Scania's 125-year history," Henriksson noted. "It is with our hearts bursting with pride that my colleagues and I are now presenting the products and services that will bring Scania to new levels regarding market shares, and carry us far into the next decade.
"Today we are not just launching a new truck range, but also a unique, ingenious toolbox of sustainable solutions in the form of products and services that Scania is first in the industry to be able to deliver – and I feel I can claim this with confidence. We are focusing firmly on our main task: to give our customers the necessary tools for achieving profitability in the one business that really means something to them, namely their own," he said.
One of the ways in which the company will deliver on this promise is via its flexible maintenance plans. The premise behind this concept is that a truck is serviced when it actually needs that service (and not simply because a service interval is being adhered to). This means that oil-change intervals can be as much as 150 000 km.
Practically, of course, this translates into more uptime. Innovations such as this are only possible because there are something like 200 000 connected Scanias on the roads of Europe – and these trucks are providing feedback all the time (it's almost as though Scania is chatting to its trucks while they're working).
While this news was welcomed in Paris, it was the physical presence of the next-generation Scania that drew the most comments – as could be expected. Some guests felt that the cab was too similar to that of the previous generation; others gave it the thumbs up.
However, Henriksson stressed that the cabs were only one of many improvements. "The real innovation is that we are now introducing new technologies, services and insights that will help our customers gain an overview of both their costs and their revenues.
"Our goal is for our customers to be able to achieve sustainable profitability, regardless of assignment type or the conditions in which they work. Our new range of products and services redefines the term 'premium' within the truck industry," he noted.
Fast forward one week and I found myself in Sweden, which was where I would put his claims to the test. After all, talk is cheap …
The starting point for my Swedish journey was Scania's headquarters in Södertälje, where the company had erected a special building housing the launch activities (although I was there with the Truck of the Year jury, 40 000 customers and prospective customers were also being exposed to the new truck).
It was like a mini IAA, with various exhibition areas within the building. They covered a variety of issues pertaining to the next-generation Scania – from research and development (R&D) to engines and design. I kicked off with the R&D station, where I met Malaga, a truck that was built in 2014 and was tested in Spain (hence its name).
Malaga is one of many such test trucks that spent over ten-million kilometres out on the road, being put through their paces. Malaga, which drove 175 000 km during testing, is especially famous because it was the subject of lots of spy photographs (despite the
R&D team's efforts to keep the paparazzi at bay). Some 40 field tests were also conducted with customers, the R&D team told me.
Next up was the engine station, which was a very fascinating – given the fact that fuel savings of five percent are up for grabs with this new range. The engines obviously play an important role in delivering these savings, as do better aerodynamics.
The team of engine experts told me all about the Euro-6 powerplants, which have received new engine management systems. There are three 13-litre engines (302 to 373 kW; 410 to 500 hp) and three 16-litre engines (382 to 537 kW; 520 to 730 hp) in the range; a 276 kW (370 hp) 13-litre derivative will come later.
The engine experts also explained the highlights of these powerplants, which include an improved cooling capacity, a new gearshift function (which allows Scania Opticruise to shift faster), a reworked combustion chamber, new injectors and cooling fans (which in some cases have a larger diameter) that are now directly driven without energy-intensive gearing.
I was particularly interested to learn about the new lay shaft brake system (versus synchro rings) in the automated Scania Opticruise gearboxes. Thanks to the lay shaft brake, the company's popular gearbox for long-haul trucks, the GRS905, shifts up a gear in 0,4 seconds, which means that gearshift time has been almost halved.
Using a lay shaft brake, instead of conventional synchromesh, doesn't only shorten the actual gearshift time; it also means that turbo pressure can be better maintained. So, the vehicle upshifts to the next gear with greater power, despite the gearshift feeling smoother than before. As I discovered later during my test drive, this feature is expected to lead to both better handling when driving in tough conditions, and better performance, too. Pretty cool huh?
I was also delighted to meet Kristofer Hansén, Scania's head designer and the person behind the visual design of the new truck range. What a fascinating, talented, amazing man! As is typical of many designers, Hansén's career makes for a story on its own (I bet many of his colleagues don't know about his time as a ballet dancer or rock star!)
We hopped into the cab and discussed the fact that there had been some controversy surrounding the design – some observers claimed that was not radical, or sufficiently different from the previous generation. Hansén laughed.
"I find this discussion interesting. It doesn't look like a flying saucer because it's a truck; it's not a flying saucer. I was chatting to a Russian and he said it should have looked more like a concept truck, but this is not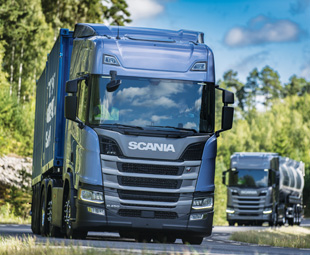 a concept truck! This is a truck you can buy! It's a truck that must do a job! Our goal was to create a very attractive product that conveys a true Scania feel, while also being carefully designed down to the last detail to do its job properly," he pointed out.
The highlight of my time within the exhibition area was, however, time spent with Henriksson. An inspirational and charismatic leader, he is also one of the most down-to-earth and straightforward company presidents around.
I commented on the fact that he appeared emotional and proud at the launch in Paris. "Yes, absolutely. I was! It was the result of ten years of work. This truck has been a long time coming! I'm proud of all the hard work that was done. It wasn't easy.
"We postponed the launch a couple of times, because we were absolutely determined that the next-generation truck would be much better than the current truck, which has improved tremendously in quality. So it was difficult to come up with something that was even better. This forced us to work even harder.
"When we launched the previous truck 20 years ago, we made a lot of mistakes. We had a deadline; we were pushed and we were not ready. As a result, our customers suffered. Our whole organisation suffered. We didn't want to do that again. This time around, we didn't put ourselves under pressure to launch when we were not ready. Instead, we decided to launch when we were ready – and not before," he responded.
Of course, this is not to say that the pressure ever eased off. "Now, with the amount of money we have invested, we had better make sure that it works – and that the customers do become more profitable, as we have promised," Henriksson noted with a wry smile.
The following day, at the Scania demonstration track and on various public roads, I got the chance to see if the truck actually works – and there's no doubt that it does. We were given access to 15 pre-production vehicles, and I drove three of these vehicles: a R 450 6×2 transporting water with a total weight of 40 t and a length of 16,5 m; a S 730 6×2 specified for refrigerated transport with a total weight of 63 t and a length of 24 m; and a S 580 6×2 grain transporter, with a total weight of 58,3 t and a length of 24 m.
I was fortunate to partner with Ahmet Oguz, Truck of the Year jury member for Turkey. I say "fortunate" because has decades of truck driving experience, he's slightly mad and he's also hilarious. (For instance Ahmet proposed that we swap drivers on the highway, at 80 km/h … to the abject horror of Thomas, a Scania driver trainer, who was accompanying us.)
We kicked off our driving experience in the R 450, which is expected to be the most popular model in the European market (in 4×2 guise, not the 6×2 that we were driving).
We were interested to see that the levers were much easier to read and see; the ergonomics on the truck are much better. Also, Thomas explained that the cruise control had been improved; it can be adjusted in five-kilometre increments (as opposed to the one-kilometre increments of the previous truck).
Undoubtedly the most impressive aspect of the truck, for me, was the comfort of the cab. The doors close ever so quietly – just like that of a car. In fact, the whole driving experience is decidedly car-like. "It's really quiet in here; did you notice that?" asked Ahmet. Indeed, yes, I had certainly noticed. It's almost as though you're sealed in a cocoon.
We both gave the new steering wheel the thumbs up, too; it's flat at the bottom (Thomas, who was by now getting into the swing of things, joked that this was great for fat drivers).
When we hopped into our next test truck, we commented on the superb visibility; you really feel as though you can see for ever. This was a good thing … since we were in "The Big Boy" (the S 730 6×2) … and we were commandeering 63 t. Given the fact that it's powered by the mighty 730 hp (537 kW) motor, we were also thrilled to experience the brakes on the truck; they react much faster than those on the previous generation.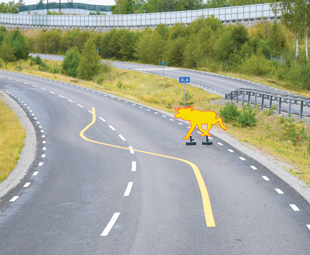 Our final test vehicle was the S 580 and we agreed that the transmission was nothing short of exceptional. "The gear shifting is almost as good as a double-clutch transmission, but at a lower cost," Ahmet pointed out.
"A double clutch also adds weight and there are more moving parts that can break," Thomas pointed out. When I drove, I was hugely impressed with the transmission, too; it feels as though it shifts gears in a millisecond.
We also agreed that the ride was very smooth (the previous generation was good, but this is even better). "This is a totally new truck, but in some way it has remained a classic. It's a very good, drivable truck that feels totally modern," the mad Turk proclaimed.
"So you mean that they have taken a classic and made it even better?" I asked. He nodded and drove on relentlessly, heading towards a circle at break-neck speed.
"It's probably time to start braking now," Thomas said quietly, as a near-death experience seemed inevitable (I was thanking my lucky stars that we were in what is probably the safest truck on the planet). The crazy one didn't even acknowledge Thomas; he just braked, turned and we emerged from the circle. Neither the driver nor the truck appeared in the least bit fussed.
Would we have survived this near-death experience in the previous generation Scania? Um, I'm not sure, but one thing is certain; I felt much safer in the next-generation Scania. It is a whole lot better – in so many ways. I think it's case of "Mission Successful" for Henriksson and his team …
Scania wins Truck of the Year!
Scania's new truck range has been elected International Truck of the Year for 2017! The prestigious award was handed over to Henrik Henriksson, president and CEO of Scania, at the IAA Commercial Vehicle Show in Germany.
With a winning score of 149 votes, the new Swedish truck range fought off the challenges posed by Iveco's recently launched Stralis XP-NP long-haul range and Mercedes-Benz's Actros heavy-duty truck with the latest generation OM 471 engine.
There were a number of features that particularly impressed the jury. These included the shorter gearchanging time of the automated Opticruise gearboxes (the result of a new layshaft brake), the performance and fuel efficiency of the latest in-line six-cylinder 13-litre SCR-only 373 kW (500 hp) engine, and the fact that all Scania Euro-6 engines in the new generation can run on hydro-treated vegetable oil (which means a reduction in CO2 emissions of up to 90 percent).
Scania's new cab also delivers improved driver vision, thanks to a revised driving position – which places the driver closer to the windscreen, a larger glass surface, a lower instrument panel and optimised, non-intrusive A-pillars. Moreover, the top-of-the-range "S" cab offers a truly car-like driving experience, as the Truck of the Year journalists noted during a recent field test in Sweden.
• The International Truck of the Year jury is made up by members and associate members in Europe, China, India, Iran, South Africa, Australia, Brazil and Japan. FOCUS is the South African representative.
Focus on Transport
October 15, 2016
Published by