Fiat plugs its mid-sized gap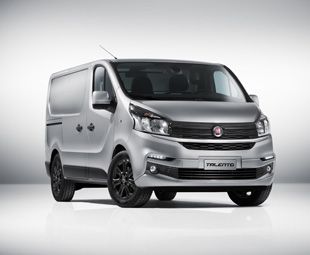 Fiat Professional's new Talento has made its international debut. It is positioned between the Doblo Cargo and Ducato in the brand's international line-up.
Whether used as a van, people-carrier, crew cab or flat bed, the Talento is designed to be a functional vehicle that helps customers maximise the value of their work, time and investment.
The squared-off rear end allows for ample inner space and a high load capacity, while the front grille is designed to wrap around the headlights and form a mask that, together with the bumper, offers a functional element of protection.
Fiat claims the new model has "a generous load capacity making it the ideal workmate for professionals on both city streets and major roads thanks to its great versatility".
The new model is equipped with turbo and twin-turbo diesel engines offering power outputs of up to 108 kW (145 hp), with six-speed manual gearboxes.
The name refers to that of an ancient coin – the Talent (Talento in Italian). The moniker is said to have high symbolic value and hints at the vehicle's abilities.
Focus on Transport
March 31, 2016
Published by