It's often said that any type of successful relationship in the transport industry needs to be based on mutual trust and confidence. The recent handover of the 1 000th MAN bus to Golden Arrow Bus Services (Gabs) proves this beyond any doubt. GAVIN MYERS reports
In March 2011, the 500th MAN bus was handed over to Gabs. Since then, the company has procured an average of 100 MAN buses a year – which accounts for approximately 20 percent of MAN bus sales in the local market.
"It was 15 years ago that we took delivery of our first MAN bus, but the relationship actually started two years earlier," explains Francois Meyer, CEO of Gabs. "Relationships such as this don't happen overnight, and there are four essential components necessary to reach the milestone of 1 000 buses."
With an investment approaching R1,4 billion over the 17-years, the most obvious component is a sound relationship.
"MAN has gone out of its way to build this relationship. No company would spend the money if that relationship isn't strong," says Meyer.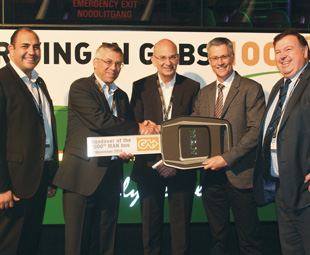 Special guest at the handover event was MAN senior vice president for international markets, Jerone Lagarde, who agreed unequivocally.
"At MAN there is a philosophy of collaborating with our clients to produce efficient and safe transport solutions. Our relationship with Gabs is an excellent example of this. We have a dedicated team that interacts with the engineers at Gabs on a regular basis ensuring the company gets the bus it needs.
"This relationship also involves over a dozen self-service centres operated by Gabs. They are all MAN accredited and supported by our MAN parts centre," explains Lagarde.
According to Meyer, the second important component is the product itself. "The Lions Explorer is the workhorse of the South African commuter bus industry. It is a wonderful product that works well," he says.
Lagarde adds: "With 14 models and 26 derivatives offered to the local market, MAN offers more than just seats on wheels." (See "Constant Collaboration" for more details about the 1 000th HB2.)
The third essential component – the passenger – is, according to Meyer, the most important one for Gabs.
"We wouldn't need 1 000 buses if we didn't have the passengers. I do hope that we continue to improve the product and the service for the passengers. Every Gabs employee does their best, 365 days a year, to make this happen," he beams.
Beyond this, it is necessary to ensure that each passenger has a safe and reliable journey – this is a priority that both MAN and Gabs place above all others.
"We continually provide innovative technology to make our vehicles as safe as possible. However, technology alone cannot compensate for well-trained and competent drivers, and I'd like to congratulate Gabs on its commitment to training its staff. We need to tip our hat to the company's bus drivers for the important job they do," Lagarde adds.
Meyer continues: "The last component is our provincial Department of Transport. We really have to work closely together. If our combined focus is to make the best decisions for the passenger, not much can go wrong."
Keynote speaker at the handover was, in fact, the Western Cape Minister of Transport and Public Works, Donald Grant.
"In over 150 years of operation, Gabs has remained true to its mission of 'operating safe, reliable passenger transport services, designated to meet the needs of customers, by applying sound business principles to create a secure future for the company and its people'. The company's longevity and service record is testament to its record of realising this mission.
"Gabs provides an absolutely vital service for the people of Cape Town, and has solidified its place in the city. Gabs will continue to be a crucial partner in our ongoing efforts to realise safe, efficient and reliable public transport for the hundreds of thousands of daily Cape commuters," Grant concludes.
Constant Collaboration
The MAN Lion's Explorer 18.240 4×2 BB – bus number 1 000 in the Gabs fleet – has some distinctive features that place it above the class for commuter buses in South Africa.
According to Philip Kalil-Zackey, head of bus sales, MAN Truck & Bus SA, these extend to bonded windows, coach-style mirrors, side destination panels, daytime-running lights, USB chargers for each row of seats, on-board Wi-Fi and a full-GRP interior.
"The structure is 3CR12, which is a mild-grade stainless steel. It doesn't rust and the body will outlast the vehicle's life without being refurbished," he explains. "It's also stronger than mild steel. This means less steel is used, which reduces the weight by a tonne. Today this is a standard at MAN, but it was something that Gabs pushed for in the beginning."
Gideon Neethling, divisional engineer, Gabs, explains that the company still has over 230 vehicles older than 15 years on the road. "Some have covered more than a million kilometres. We do 60 000 km a year across the fleet, of which MAN vehicles account for between 93 and 95 percent."
The two teams work closely together. "There is a lot of collaboration – monthly and weekly meetings in some cases," Kalil-Zackey explains. From driver training, to workshop competencies, uptime and fuel consumption, the teams are constantly looking for enhancements.
"We believe that you can only manage what you measure – so we measure the operation of everything on the bus. If we see there's an area to improve, we then collaborate with MAN and the end result benefits both sides. That's the beauty of the relationship," Neethling smiles.
Focus on Transport
December 4, 2016
Published by