Since the fall of the Iron Curtain, Russia's truck market has been transformed into a rather sophisticated melting pot, with commercial vehicle manufacturers from all corners of the globe scrambling for their share of the action. LIAM CAMPBELL takes a trip to Moscow, to see what the country's largest truck show, ComTrans, dishes up.
The Russian truck market is currently experiencing a renaissance. It is steadily picking up after the global financial crises, which saw truck sales fall from 256 000 units in 2008 to 91 000 units in 2009. Since then, the market has been recovering at a rate of about 10 percent a year and is on track to reach pre-recession levels by 2020.
Great news for Russian manufacturers? Maybe not. One of the biggest problems facing Russia's truck industry is foreign competition. The Chinese are carving themselves a larger slice of the budget sector each year, while European manufacturers have dominated the premium end since the dissolution.
This is leaving indigenous manufacturers feeling increasingly squeezed. "In three years imported trucks will most probably make up 40 to 50 percent of the Russian truck market. Premium trucks will primarily come from Europe, while the low-cost segment will be dominated by the Chinese," comments Ashot Aroutunyan, director of marketing and advertising for Kamaz.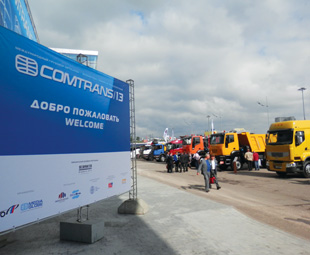 What's more worrying is their reluctance to actively seek new markets and opportunities – less than 10 percent of Russian-manufactured trucks are exported. The Russians seem to have become complacent with their own Eastern-bloc markets, while their Chinese neighbours venture into new territories such as Africa, Australia and South America.
Home-grown companies demonstrate alliances
By far the largest and the most internationally successful of the domestic manufacturers is Kamaz, and the company stamped its authority with a huge 5 000 m² stand. Although sales are rising, market share has fallen 10 percent in the past two years, and the Tatarstan-based company is increasingly turning to its German partner Daimler for expertise and innovation.
The company's latest long-haul tractor, the 5490, is an example of this. It features the old Axor cab and Daimler's six-cylinder OM457 engine, while the 16-speed transmission is provided by ZF. It's a mutually beneficial process, with Daimler circumventing the 25 percent import tariff by building some of its models at Kamaz's factory in Chelny.
On the MAZ stand, it wasn't necessary to look much further than the grille, bumper and headlights of MAZ's 5440E9 truck to notice the company's relationship with MAN. In 1997, the alliance began full-scale production of MAN's retired F90 cabs and the current flagship model hints at the TGA. It's powered, however, by Mercedes-Benz's OM501LA engine and, at 320 kW (435 hp), is one of the most powerful products on the Russian market.
Interestingly, a recent agreement means that MAZ trucks are set to hit South African roads. A 100-vehicle trial agreement comprising dumper trucks, rigids and tractor units, was reached earlier this year as part of an initiative to boost truck exports.
The final domestic heavy truck manufacturer at ComTrans was Ural, which specialises in all-wheel drive (AWD) trucks for the harsh terrains of Russia's Siberian and Ural regions. Exhibiting on its parent company's (GAZ) stand, the manufacturer had a modest presence of just two trucks.
Ural vehicles can be used in different environments: at a height of 4 500 m above sea level and at ambient air temperatures from -50 to +50 °С. Furthermore, they can cross areas covered with snow of up to a metre deep, trenches having a width from 0,6 to 1,2 m, vertical walls up to 0,55 m high, inclines of up to 31°, slopes up to 20° and fords up to 1,75 m deep.
The company's cab-over trucks would be a familiar sight for veteran truckers as they use Iveco's 30-year-old Turbostar cab. Engines, on the other hand, are supplied courtesy of sister company YaMZ.
European companies make their mark
All seven of the household European names were also out in full force at ComTrans. It was the high-end Europeans who suffered the most during Russia's market downturn, with fewer operators being able to afford the premium prices.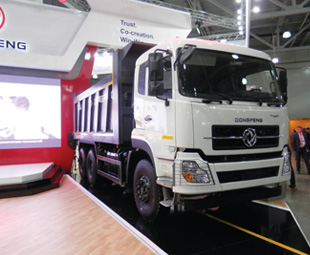 MAN was the hardest hit of the European companies participating in the Russian market. In 2008, MAN sold a respectable 9 000 units throughout the Federation; the following year this had fallen to just 347 units. Sales were back up to just under 8 000 units in 2012, and the German manufacturer is feeling increasingly confident.
"Last year was great for us," explains Svetlana Silinmey, marketing manager for MAN Truck & Bus Russia. "We suffered greatly during the financial crises due to our tough line on pricing; we didn't reduce our prices like many of our competitors. This has worked well for us, because not only are our sales on the rise, but we've managed to keep strong residual values."
MAN is one of the last manufacturers to show its hand when it comes to the next generation of trucks. The company's Euro-6 TGX could only be seen on televisions on the stand whereas DAF, Renault, Volvo and Iveco were all proudly displaying their latest ranges, with Renault's unveiling probably taking the accolades for style.
Asian companies battle on
Chinese trucks were selling well up until the market crash five years ago, offering competitive prices and short lead times. But poor after-sales service and quality issues mean numbers have been slow to recover and the likes of Yuejin, Shaanxi and FAW didn't even bother exhibiting this year.
While Volvo's 45 percent acquisition of Dongfeng Commercial Vehicles is still under review with Chinese authorities, the star product on the company's stand was the new T-Lift. The 25-tonne tipper has a payload of just 10 tonnes and is powered by a 246 kW (335 hp) Cummins ISL engine.
Unveiled just a few months ago in Seoul, one of the biggest exhibits at ComTrans was the new long-hauler from Hyundai, which boasts a seven percent fuel saving over its Triago predecessor. The X-Client hasn't yet been confirmed for Europe, but it is understood that the South Korean manufacturer is giving it serious consideration.
There is a choice of either a 239 kW/1 900 Nm "H-engine" or a 388 kW/2 500 Nm Powertech. Hyundai expects sales of 60 000 units a year.
ComTrans was also the official Russian launch of the modified Prima, developed by Tata Daewoo. The Prima has become one of Korea's best-selling trucks since its introduction in 2009, and has been upgraded according to customer requirements. These upgrades include a four-bag chassis air suspension and a 30 percent improvement in brake power.
Limited American offerings
American products certainly occupy a niche market in Russia, although this may be because of political, rather than product, implications. While a wide variety of second-hand trucks arrive from the United States (US), only International and Kenworth have any dealer backing in Russia.
Perhaps symbolising the deteriorating relations between the US and Russia, Kenworth decided not to exhibit this time and International brought along only one truck.
The Prostar certainly caught the attention of the Russian crowd, where the iconic Class-8 is seen as an unaffordable luxury by the vast majority of operators. Surprisingly, Cummins's 15-litre ISX isn't available in Russia; International's in-house MaxxForce 13 is the only option.
Ford has come to Russia with an interesting combination of ownership and distribution, which could become a model for other Western manufacturers to market their products in developing markets: an American brand, represented by a Russian holding company, with products made mainly in Turkey.
The Ford Cargo may be a long lost name in many markets, but in Russia it's still very much alive. The striking vehicle is manufactured in Turkey by Ford's partner Otosan and is available in a number of developing markets including South America. Don't be fooled by its 21st century looks though – underneath this vehicle hasn't changed much since the 80s, with its steel springs and drum brakes.
Spoilt for choice
So there you have it: the Russian market in a nutshell. Given the generous offerings from Western Europe, the US, China, South Korea, Japan and India, as well as its own indigenous names, it's hard to imagine any prospective Russian buyer being stuck for choice. And, if nothing new tickles their fancy, they can always take their pick from the thousands of second-hand European and American trucks entering the market every month.
Focus on Transport
October 1, 2013
Published by