From taxi to tipper truck
Big dreams can come true. Just ask Solomon Thobejane: an entrepreneur of over 25 years standing with many successful business ventures behind him, each bigger than the last.
Thobejane attributes much of his success to the financial support he has received over the years. "As far back as 1986, Standard Bank financed my first taxi. With this business doing well, I then established a restaurant in my local village in Limpopo. In time I sold that business and purchased a four-ton truck to distribute fruit and vegetables," he explains.
Not one to lose momentum – and keen to go bigger with the next venture – Thobejane then started his own road works and construction business. But to free up capital he had to sell his taxis and the truck.
Today, Thobejane's construction company employs 110 people. His business was recognised as the first black-owned company to win a R5 million road tender in 1998 and – to keep up with his busy contracts schedule – he's now onto his second R5 million tipper; again financed by Standard Bank.
His business banker stood by him during his varied and increasingly thriving business dealings, providing a range of finance solutions and services to meet his evolving business needs. Starting with a basic savings account, Thobejane has since benefited from vehicle finance, a current account, corporate cards, on-line banking and asset finance.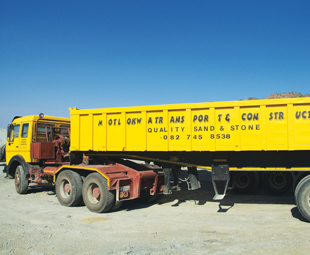 Head of Small and Medium Enterprises at Standard Bank, Louis van Ravesteyn, says, "A combination of essential solutions to streamline financial processes, such as Business On-line, are important to help a small business realise its full potential so that it can thrive and be profitable. Equally important is the professional advice and guidance from a qualified banker who understands the challenges faced by small business; and who has the necessary customer interaction skills to establish a good relationship of trust that lasts."
Thobejane's dream for a bigger company has grown with time: currently, his sights are set firmly on becoming as large as some of the Johannesburg Stock Exchange (JSE)-listed construction company giants. He believes he has the potential: the right people, the right skills and – more importantly – the capacity for pure hard work. "I am on site every day. I get personally involved in all our jobs, and I know what is going on in my company. This has helped us grow," he says proudly.
Recognising the importance of good management, Thobejane is keen to keep the family in his business; provided they have the necessary skills. "I want my two recently graduated children, who have both studied construction-related courses, to work for the family business. But only after they've worked for the construction giants and gained the experience and knowledge to improve our company further," he says.
Thobejane's business wisdom has grown through hard-won experience and his dealings with his bank. He has several tips for entrepreneurs who want to be successful. "Hard work counts: there are no short cuts to a successful business.  You have to put in much effort and not be shy of long hours," he maintains. "Be present in your business, every day. Know what's going on. Be on-site, attend meetings; know about everything and keep your finger on the pulse at all times.
"Have a good relationship with your bank: in good times and in bad," he continues. "And appreciate the advice of the financial experts, especially if this is not your area of expertise. Finally, keep your business income separate from personal income," Thobejane concludes.
Focus on Transport
May 1, 2010
Published by