The PACCAR MX engine, which has already proved its mettle in DAF trucks both here in South Africa and internationally, is being fitted to Kenworth and Peterbilt trucks from mid-2010.
DAF operators in South Africa already know and love the MX engine; it's fitted to the CF85 and XF105 truck tractors, and over 125 000 PACCAR MX engines are successfully operating in DAF trucks globally.
Now DAF Trucks' parent company – PACCAR – has announced that these high performance, reliable and fuel-efficient powerplants will also be fitted to Kenworth and Peterbilt trucks overseas.
According to Jim Cardillo, PACCAR president, the PACCAR MX is designed to meet the Environmental Protection Agency's (EPA's) 2010 emission regulations. It has accumulated over 80 million test kilometres in rigorous and severe conditions in North America. "PACCAR is now pleased to be launching this proven, industry-leading engine in Kenworth and Peterbilt trucks."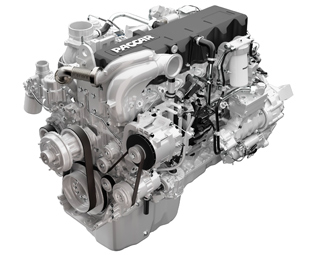 The PACCAR MX engine is available with a power range of 283 to 362 kW (380 to 485 hp) and torque outputs of up to 2 400 Nm. This power range – combined with good fuel efficiency, durability, a lightweight design and low cost of ownership – makes the MX ideal for all long-haul applications.
The PACCAR MX has also been designed for ease of maintenance, which results in improved efficiency in dealers' service facilities.
Craig Brewster, PACCAR assistant vice president, says the company looks forward to delivering an optimised best-in-class drivetrain to Kenworth and Peterbilt customers. "The PACCAR MX engine generates up to 362 kW (485 hp) with excellent performance across a wide range of engine speeds. In addition to performance excellence, PACCAR pioneered the design and manufacture of high-strength compacted graphite iron (CGI) used in the MX engine block and cylinder head.
"This premium material is more durable and lighter than conventional grey iron, resulting in superior power-to-weight performance," adds Brewster. "The electronically controlled high pressure fuel injection system delivers excellent fuel economy and assists in achieving the low emissions required by the EPA. The engine's block design and rear gear train contributes to significantly lower in-cab noise levels resulting in a more comfortable driver environment. The integral engine brake provides powerful performance across a broad range of engine revs."
PACCAR MX engine honoured in Asia
The PACCAR MX engine has been honoured with the "Best Engine of the Year Award" for three consecutive years at the Bus World Asia Exhibition held in Shanghai, China. According to show organisers, the PACCAR MX engine earned this accolade as a result of its "industry-leading reliability, durability and fuel efficiency in the Chinese coach market".
Focus on Transport
May 1, 2010
Published by