You saw it first on the FOCUS cover last month. We are, of course, referring to the brand new Fuso. CHARLEEN CLARKE heads off to Maropeng and the Cradle of Humankind to take the new truck for a drive…
The first question is obvious: why hold the official launch of the truck slap bang in the middle of the Cradle of Humankind? Ian Riley, divisional manager, Freightliner/Fuso division of Mercedes-Benz South Africa (MBSA), reveals all in his opening address. "The decision to use this site to introduce the newest range of Fuso trucks is both deliberate and significant in that the story of evolution and the journey of humanity are not dissimilar to the Fuso brand," he comments.
"Since the first B46 Fuso bus, built at Mitsubishi Heavy Industries' Kobe Shipyards made its appearance in 1932, this most recognised of Japanese truck brands is today nothing more than a story of technical and engineering evolution.
"We are here today to witness the next step of Fuso's continued evolution in South Africa, as we reveal the latest heavy and extra-heavy vehicles released for the South African market. Like the Maropeng displays, which have been meticulously researched, so too are the vehicles that you will have the opportunity of experiencing today…"
With that, a spectacular presentation begins… and we hear all about the new range, which is assembled from CKD (completely-knocked-down) kits at the MBSA plant in East London.
FIRST THE HEAVIES…
The Mitsubishi Fuso FK/FM series has been completely re-engineered and, according to Riley and his team, it now boasts "one of the lowest fuel economy figures, best payload capacity, superb aerodynamics, is extremely versatile and every bit as durable as the previous models".
The FK/FM series is suite
d to anything and everything from general bulk deliveries to the transport of building supplies, hardware and furniture. A wide variety of bodies and equipment can be fitted to the FK/FM series, including a tipper and a freight-carrier.
The new range offers longer wheelbases as standard, making it much easier for operators to ensure correct weight distribution and avoid axle overloading fines when employing industry standard 6,4 and 7,2 m truck bodies on trucks in the 6 to 8 ton payload class.
Mitsubishi Fuso has made numerous technical enhancements for greater performance and efficiency of both the 6M60-1AT1 and the 6M601AT2 diesel engines, available for the FK/FM series.
These Euro 2 engines have an output of 179 (240) and 201 kW (270 hp), and they are quieter and cleaner burning than the previous mechanically fuel injected range. They're also considerably more economical; according to Riley, operators can expect fuel savings of between 3 and 5%.
The transmissions have been upgraded with a new high-rigidity single unit aluminium case, with wider rear teeth for improved durability and smoother shifting operation. On the two high-output versions, the Eaton nine-speed synchromesh transmission is a standard feature, with its deep reduction crawler and reverse ratios. Sadly, no automatic transmission is available yet in the range – but this is something that the company is addressing as a matter of urgency.
A new addition to the FK range is the FK10-240, a 10 400 kg GVM double cab model with seating for a driver plus six passengers. As its nomenclature implies, it's equipped with the 179 kW (240 hp) motor, and the company believes that it will be very popular with rollback operators who will be able to carry a broken-down passenger car on the back of the truck and the vehicle's passengers safely in the cab.
AND THEN THE EXTRA-HEAVIES
The Mitsubishi Fuso FP/FV series is the extra-heavy, over 16 ton gross vehicle mass (GVM), truck range – and it's made up of five models offering a GVM of 17,9 to 26 tons and up to a 56 ton gross combination mass (GCM).
While there are five models, there is only one engine: an upgraded 12,8-litre, turbo-intercooled diesel engine, which provides up to 309 kW (414 hp) of power and 1 770 Nm of torque in the line-haul truck tractor and freight carrier. This power is specially derated for maximum economy to 257 kW (345 hp) in the mixer/tipper model.  The line-haul units are equipped with 16-speed synchromesh transmissions whilst the FV mixer/tipper has the tried and tested 10-speed gearbox. Once again, there is no automatic available – yet.
According to Duncan Prince, product manager, Freightliner/Fuso division, a number of engineering enhancements were made to the extra-heavies. "For instance, they have a lighter and stronger frame construction, making the chassis more durable.  The newly designed frame web rivets the side rail and cross member, ensuring long-term strength and robustness.  The upper surface is rivet-less, making the rear body mounting easier," he explains.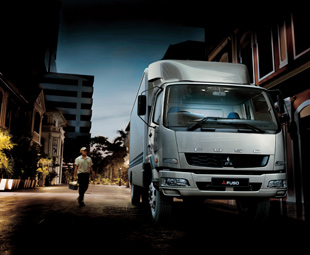 Naturally, there is absolutely no compromise in terms of safety on the new Fuso extra-heavies. These FP/FV series models are equipped with dual circuit full air braking systems including ABS.  Maximum additional retardation is also provided through a standard exhaust brake accompanied by a supplementary engine brake, located in the cylinder head, allowing the driver extended safety margins when stopping.
Oh, and air-conditioning is now standard fitment on these models… now I know that air-conditioning is hardly considered to be a safety feature. But I think that's a mistake. Tired drivers can make deadly decisions… so I think it's great that Fuso has seen fit to make this feature standard; those poor drivers who spend long hours on the road really do deserve this small luxury (in fact, in our climate, it's not a luxury; it's a necessity).
TIME TO DRIVE!
Having heard all about the new trucks, the fun stuff starts: the actual driving. So we head outside into the glorious sunshine and give the new vehicles the once over. Firstly, we look at practical issues – ease of servicing and maintenance, for instance. The new range gets the thumbs up in this regard; items requiring daily and pre-operational inspections are located under the front panel, which lifts up for direct access. On the FP/FV mixer, an hour meter is now provided as standard equipment to enable hourly based servicing, which is more suitable. "Servicing based on a kilometre reading is often inaccurate because of the considerable time these trucks run their engines at stand-still," explains Prince.
Hopping into the cab, we cannot help but be impressed – they are comfortable and also well designed from an ergonomics point of view. All the controls are well positioned and within easy access.
I admire the stylish new instrument cluster in the FK/FM series, and the driver's seat gets a nod of approval too; it's fully adjustable and it's easy to find my perfect driving position.
Then onto the FP/FV, which is mounted on coil springs with shock absorbers that are said to provide for a quieter ride. I'm not sure precisely how much difference those shocks are making, but the cab certainly is quiet – and I particularly enjoy the air-conditioning, glare-free instrument panel and adjustable steering wheel.
Hopping out of the cab, I chat to Jim Ward, technical manager: foods division at Unitrans, and I ask him what he thinks about the new trucks. "They are very refined and quiet, and I like the gearshift," he notes. "This is just like a European cab."
Master of ceremonies for the day, Michael Jackson, is even more upbeat. "I've seen the writing on the wall for Fuso's competitors, and it says 'get the hell out of the way'. Fuso is going to win at a Canter!" he says with a huge grin.
Take that, competitors!
Focus on Transport
November 1, 2010
Published by