Fuso constructs its future
Fuso has an objective to double its market share by 2020. The new FJ 26.280C construction vehicle is the first in a line of new products that will take it there. GAVIN MYERS reports
As competition within the South African truck market gets more intense, original equipment manufacturers (OEMs) are looking at ways to provide more diversity in their product lines, higher levels of service satisfaction and increased efficiencies in order to meet their stated objectives.
For Fuso, that is to double its market share by 2020, over that which it achieved in 2015.
"We are sustainably growing our Fuso business in South Africa," says Jasper Hafkamp, executive director Daimler Trucks & Buses Southern Africa. "We grew the brand's market share by almost three percent between 2014 and 2017 with the introduction of new products and services. We have a clear ambition to further develop and support the brand and would like to see a double-digit share as we reach 2020."
As Naeem Hassim, head of Fuso Trucks Southern Africa, adds: "We aim to build an aspirational brand with some unique selling points and our future looks bright."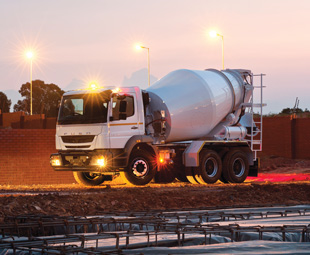 Product expansion up to and beyond 2020 is a clear part of that plan, as is the ability to manufacture the vehicles sold in South Africa locally. Following the launch of the FA9 and FJ 16.230 distribution trucks, the company now has its sights set on the construction segment with the new FJ 26.280C. All three of these vehicles are sourced from the Daimler India Commercial Vehicles (DICV) operation – but more on that later.
Built for construction
The Fuso team is aware that the previously uncharted and highly competitive construction segment accounts for only ten percent of sales in the local new-truck market. However, the team is confident that the new FJ 26.280C is the right vehicle for the job. It has, after all, already been launched in 25 countries with more than 10 000 units sold to date.
"Our customers have asked for a construction vehicle, and we are filling that gap in our product portfolio," says Harry Makitla, product manager Fuso Trucks Southern Africa.
"The construction business is all about robustness and uptime, while offering value for money and economic efficiency. Pre-launch feedback from our customers has been positive," he adds.
The FJ 26.280C is a 6×4 chassis cab with inter-wheel and inter-axle differential locks, as well as hub-reduction axles. It has a 4,2-m-long wheelbase and 27,5-t gross vehicle mass. Only one chassis is sold, which can be configured as either a tipper or mixer.
The chassis features thicker and deeper long members, while the cross members add additional strength. They are shot-peened and powder coated to increase surface strength and prevent corrosion.
Powering the vehicle is a 6,4-litre, Euro-3, direct-injection diesel engine. It produces 205 kW at 2 200 r/min and torque of 1 100 Nm between 1 200 and 1 600 r/min. A nine-speed transmission with a crawler gear provides flexibility to manage on- and off-road tasks. A power take-off (PTO) is a standard feature. Rear suspension is by way of a heavy-duty, multi-leaf bogie setup, while anti-roll bars are fitted front and rear.
The cab exterior is designed to be aerodynamic, to aid efficiency, and to enhance engine cooling to ensure reliability. On the inside, it features a fold-down bunk; three-way adjustable seats; a tilt and telescopically adjustable steering wheel; air-conditioning; and rear windows that open for ventilation.
"We have selected well-proven technology that improves efficiency and uptime. For example, the intelligent instrument cluster means aftermarket instruments and controls don't have to be retrofitted," Makitla explains.
Service intervals have been increased from 15 000 to 20 000 km.
Locally built
"Many operators will ask if this vehicle is ready for South Africa," smiles Felix Homburg, vice president operations, manufacturing and engineering at DICV.
"The FJ 26.280C has been tested in countries that have far more difficult conditions and worse infrastructure than South Africa; including Mexico, Chile, Dubai, India, Kenya and Indonesia. For example, in India, trucks are routinely heavily overloaded, while, in many other markets, fuel quality is worse than that found in South Africa. This is a well-tested product; it's ready for South Africa."
Ready for South Africa, and made here, too … by the time you read this, the first FA and FJ models will have long rolled off the Mercedes-Benz South Africa assembly line in East London. With 50 years of commercial vehicle production under its belt, the plant has been producing Fuso products (sourced from Japan) since 2002.
In excess of R3 million has been invested into the plant to ensure it is ready for the increase in production.
According to Homburg, South Africa is expected to become the biggest volume market for completely knocked-down (CKD) production, although no forecasted figures can be quoted at the moment. Local content of the CKD units will be evaluated as production volumes ramp up.
Hafkamp concludes: "This is irrefutable proof that further reiterates our commitment to the southern African market, as part of our overarching brand growth plan.
"The construction industry is one of the key indicators for economic growth, and what better way to underline our intentions than by launching what will soon be an icon in this industry, the Fuso FJ 26-280C."
Focus on Transport
June 12, 2017
Published by