Future-proofed fleets use Big Data
In many respects, fleet managers today work at the cutting-edge of information and communication technology convergence, where myriad hardware and software elements combine to deliver real-time information on the location and status of mobile assets
Every year, new advancements in fleet-management and telematics technologies are released and implemented in vehicle fleets to ensure their sustainability, safety, efficiency and profitability. However, progress can often be a double-edged sword…
In the fleet-management industry, the adoption of new technologies brings an ever-growing amount of data that needs to be effectively managed to deliver genuine business intelligence. This is a time-consuming exercise and fleet managers often lack the capacity (time and/or skills) to convert this plethora of data into functional and actionable business intelligence.
In essence, the exponential rise in fleet data, while enabling certain areas of the fleet operation, has the negative effect of swamping fleet managers with too much data. Alternatively, it cuts them off from valuable information by streaming this data to respective third-party storage silos (data servers) where it remains untapped.
This conundrum has in many ways been mitigated by what are known as "big data" management services, which strive to streamline and simplify increasingly complex data sets within fragmented/distributed business environments.
John Bell, general manager of FleetPro, a division of Altech Netstar, says: "The need to distil and integrate fleet data more effectively, so that it delivers enhanced management reporting, has ushered in a new era in the fleet-management arena.
"Big data is now being mined and filtered by third-party fleet-management service providers to empower fleet managers with increasingly powerful analytical and reporting tools."
The core of big-data services to fleet management is the gaining of access to and/or ownership of relevant fleet data from multiple business entities along the fleet's supply and demand chain.
"The fleet-related data residing on the servers of banks, insurance companies, fuel suppliers, vehicle suppliers, traffic authorities, vehicle workshops, parts suppliers and their customers, (to name a few), is critical raw material for the generation of superior business intelligence.
"When this big data is properly accessed and managed by a suitably designed and accredited fleet-management system like FleetPro, the chances of improving fleet cost efficiencies are significantly improved," adds Bell.
"Historically, fleet data has been stored for limited periods, due to the sheer volume of data generated by modern telematics systems. A large fleet could be sending millions of data packets per day – from various telematics units installed on the vehicles – with varying degrees of relevancy to that particular fleet's strategic objectives.
"Without smart, customised fleet-management software and related support services, much of that data could essentially be useless as a fleet-management enabler.
"FleetPro solves this problem by fetching data from fleet-associated data silos and integrating it in a manner that enables deeper historical reporting and 'predicative analytics', giving fleet managers more powerful 'rear-view mirrors' and 'telescopes'."
Forming part of Netstar's Vigil suite of fleet-management solutions, FleetPro spans the full spectrum of fleet-management reporting, including financial, maintenance, fuel and inventory management, as well as insurance, fines, driver database, vehicle and driver licensing, vehicle rental and vehicle-tracking management reporting.
"The purchase by Altech Netstar (traditionally a vehicle tracking company) of the FleetPro fleet-management software product is an indicator of the strategic migration towards the supply of an all-encompassing fleet-management service to the market.
"The ability of the FleetPro fleet-management system to extract relevant Netstar vehicle tracking big data is a game changer, and has already been successfully applied by Altech Netstar in a number of fleets utilising both products," adds Bell.
"For example, retrospective kilometre readings have been applied to transactions for both fuel and maintenance to ensure more accurate information. The Netstar driver-tagging data has also been accessed allowing the allocation of old traffic fines to the correct drivers. Combining this with driver behaviour data, the FleetPro system now provides a clearer picture of what is happening to mobile assets in their operational role."
"The introduction of next-generation management software and methodologies will always create a need for new skills, and Altech Netstar is constantly employing fresh talent to provide a specialist outsourced fleet-management service for its fleet customers via Vigil FleetPro," says Bell.
"The addition of big-data services to the FleetPro offering gives government, blue-chip and privately owned fleets unprecedented reporting speed and precision, allowing their fleet managers to focus on their core responsibilities.
"The big-data services in the FleetPro solution bring greater insight into the historical and current performance characteristics of both drivers and fleet vehicles. Furthermore, the consolidation and distillation of fleet data into predictive analytics enables greater proactivity in managing vehicle total cost of ownership," Bell explains.
The outsourcing of big-data management is a growing international trend and the fleet-management industry has been an early adopter of the technologies and processes that enable it.
FleetPro provides the solution by doing the hard data gathering and cleansing work and then delivering it to end-users via easy-to-use software with intuitive dashboard interfaces.
This allows for improved accuracy in the benchmarking process, while equipping management with a more comprehensive knowledge base from which to formulate strategies to future-proof the fleet against cost inefficiencies and rises in on-road risk.
"Information technology should never be intimidating, and people need to extract every ounce of value out of the data it delivers. Altech Netstar is a front-runner in this regard with a proven track record in big-data management, and FleetPro is the fleet-management solution that directly addresses the big-data management needs of the forward-thinking fleet manager.
"Big-data management is all about getting as comprehensive a picture as possible on the circumstances affecting the fleet's operating environment, and being able to pinpoint areas of weakness, while identifying opportunities for growth," concludes Bell.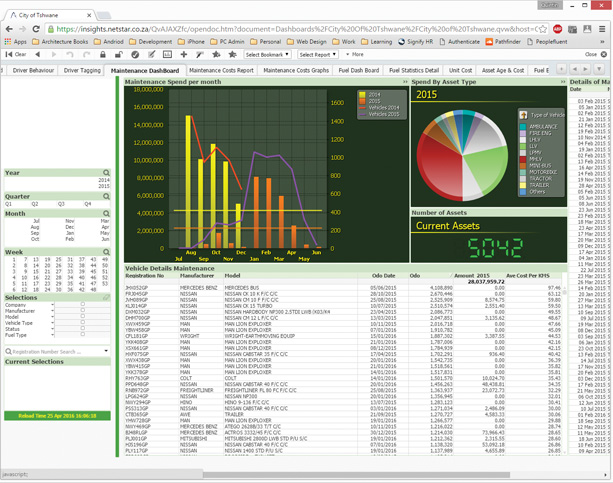 Focus on Transport
November 3, 2016
Published by